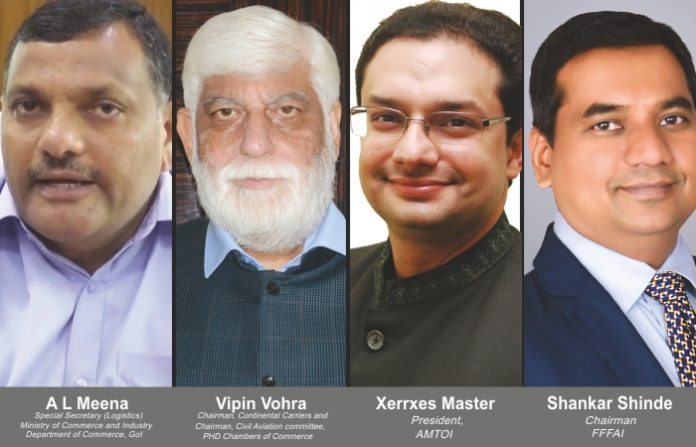 Industry experts give thumbs up to FM's budgetary announcements for developing four multi modal parks, constructing 25K-km of NHs and 100 cargo terminals under Gati Shakti framework to improve pan-India connectivity, reduce logistics costs and enhance manufacturing.
Priyanshi Bana
Presenting Union Budget for 2022-2023, Finance minister Nirmala Sitharaman, reiterated the importance of the PM Gati Shakti Master Plan. This masterplan will oversee all major infrastructure projects across different ministries. The plan will be used to develop 100 PM Gati Shakti Cargo terminals in the next three years, since the logistics efficiency is one of the seven engines of the masterplan.
A L Meena, Special Secretary (Logistics), Ministry of Commerce and Industry, Department of Commerce, GoI, said,  "Massive public investment for modern multimodal infrastructure and process digitisation, guided by the PM Gati Shakti Masterplan shall enhance logistics efficiency of the nation. The masterplan through transformative approach for economic growth, driven by seven infrastructural engines coupled with energy, telecommunications and sustainability, shall bring in competitiveness and enhanced job opportunities."
The development of multi modal logistics parks, roads, cargo terminals among others under the Gati Shakti framework is likely to improve pan-India connectivity and reduce the logistics costs.
Vipin Vohra, Chairman, Continental Carriers and Chairman, Civil Aviation committee, PHD Chambers of Commerce, said, "The budget is a great boost to the logistics sector. Out of the seven sectors under Gati Shakti, two of them are related to aviation. Developing 100 cargo terminals in the next three years will boost the logistics industry and the Civil Aviation industry. Four multi modal parks are to be developed by 2022-2023. About 25,0000-km of roads to be developed for cargo movement is yet another step in the positive direction. Another major step taken for the logistics industry is the development of the infrastructure in the North-East."
Praising the government's efforts in boosting the cargo and logistics industry, Xerrxes Master, President, AMTOI said, "This is a path-breaking budget. We welcome the government's vision for developing 100 cargo terminals in the next three years under the Gati Shakti. Multi modal parks at four locations are to be developed by 2022-2023. Seamless integration of all the spokes of logistics is the way to bring down logistic costs and make the country a manufacturing hub of the world."
Shankar Shinde, Chairman, FFFAI said, "For logistics sector this is going to be a booster dose, as this sector supports and improves the efficiency of growth engines such as Aatmanirbhar Bharat, Make in India, Digital India among others. The thrust of the growth-oriented budget is on capital expenditure and increasing the manufacturing base in the country. Another important announcement which is eagerly followed by logistics sector is pertaining to Unified Logistics Interface Platform allowing data exchange among all mode operators.