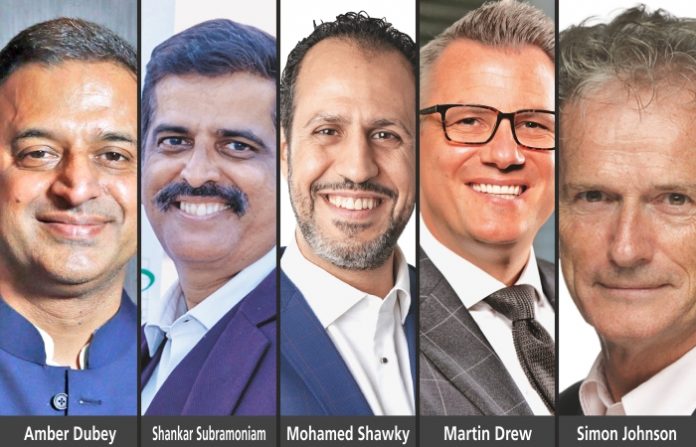 There is an appetite in the industry to develop and utilize drone technology that can deliver cargo. Can sophisticated drones overtake freighters to transport cargo? Having no pilot or crew on board, can a drone make deliveries swiftly, limiting quite a few overheads?
CT Bureau
Demand for drones has increased during the pandemic and there are more than 70,000 active construction projects in the Middle East countries, including the United Arab Emirates (UAE), Saudi Arabia, Turkey, Israel, and Egypt. The demand for drones in the construction sector for applications such as 2D and 3D modelling, mapping, land surveying, progress monitoring, waste reduction, and job site surveillance, is increasing and is, propelling the market growth in the Middle Eastern region.
The demand of drones has increased in applications such as postal delivery and agriculture, particularly in Africa. The agriculture sector is witnessing the highest demand for drones for soil scanning (nitrogen content monitoring and electrical conductivity monitoring), crop monitoring, pesticide spraying, pest, weed, and disease detection, fish population monitoring and other technical aspects. But can
drones take over the task of air cargo transportation?
Technological advancements such as hybrid propulsion in Vertical Take-off and Landing (VTOL) drones, which increases the loitering time, Augmented Reality (AR) technology for 2D and 3D Mapping, and Artificial Intelligence (AI) in crowd controlling, have propelled the growth of the drones' market in countries, such as Israel and South Africa.
Having no pilot, crew or passengers on board, a drone offers users a chance to make deliveries swiftly and limiting quite a few overheads.  Drone manufacturers are introducing new drones to attract customers in the Middle East. For instance, in August 2022, the dealer of DJI Enterprise in the Middle East, The Drone Centre officially announced the launch of two DJI Enterprise solutions in the region, the DJI M30 Series and DJI Zenmuse H20N. The drone market in the Middle East has huge growth opportunities in the coming years and will experience increased competition among manufacturers to tap into this market.
Drones, a hot topic
In February 2022, UVL Robotics launched the first delivery drone in the Middle East, day-to-day parcel delivery, based on drones. The payload of flying couriers is 6.6 pounds. Delivery drones can cover more than 25 miles. As of December 2021, Morocco and Israel were preparing to build two factories for unmanned aircraft in the Al-Aoula region of North Africa.
Martin Drew, Senior Vice President, Global Sales and Cargo, Etihad Aviation Group, said, "Drones have become somewhat of a hot topic in recent years, with several companies announcing the development and trials of autonomous drones capable of transporting cargo. The benefits of smaller and nimble aircraft capable of carrying loads make it easier to transport cargo to remote areas. However, despite the anticipated benefits, drones are not commonly used by air cargo carriers, with the new technology remaining largely untested."
"We do not foresee a time when drones will replace cargo aircraft completely. Drones do not have the capacity to transport large volumes of cargo on a single aircraft, making economies of scale challenging to achieve. Also, we anticipate significant barriers to entry for larger capacity unmanned aircraft as the ecosystem for the secure handling and air traffic management for crewless flights does not currently exist.
That said, there is an appetite in the industry to develop and utilize drone technology, capable of delivering cargo. In addition to offering quicker access to remote parts of the world, drones will increase the speed at which customers can receive goods. Drones also offer great potential in the delivery of lifesaving medicines and vaccines, which currently depend on road feeder services for last-mile delivery.
These benefits have placed drones firmly on the radar of many sectors, including e-commerce, healthcare, and engineering.
"However, we still have a long way to go before drones offer a viable alternative to traditional cargo-carrying aircraft. There are still hurdles in terms of regulatory acceptance. To date, drones also face capacity limitations, as they are unable to carry large volumes. Market perception is also a challenge, with end-users being unwilling to entrust their high-value and sensitive commodities to unmanned aircraft," he said.
Shankar Subramoniam, Executive Director, National Association of Freight and Logistics (NAFL) said, "The drones have lot of potential in logistics such as ship chandelling supply, oil field offshore supply, monitoring, surveillance, security controls, tourism, and health care support. Increasingly they are being used for warehouse operations, including inventory management, and searching for lost goods, shuttling goods between distribution centers and last mile delivery, often a very expensive part of a trip."
Mohamed Shawky, Co-Founder and Chief Executive Officer, GIS Drones explained, "For small objects such as deliveries from Amazon and medical supplies among others dones are already helping in this field but before they can be mass-produced and introduced as a solution to overcome some challenges. One of these is better AI technology for autonomous control. To conclude, drones can only be a viable solution for short distances and extremely quick delivery of small goods."
His company was established in 2020 and aims to become the foremost drone services provider in the UAE and the Middle East, focused on Drone-Powered Solutions delivery. Although his engaged in developing drone technology, he believed, "Drones cannot replace large-scale cargo operations that carry a huge load or cargo over long distances, but for short-range and small deliveries, they are a faster and cheaper alternative. But for them to be a good and viable solution, we need to work on perfecting a few steps before releasing them. Right now, drones re limited by their range, weight-lifting capacity, and multitasking. To increase their range and weight capacity, there are needs to be innovative breakthroughs in new energy-dense batteries that can last longer."
Currently, drones are being manufactured keeping a specific task in mind. If it is a surveying drone, it will have better cameras. If it is needed for thermal analysis, it will have better thermal sensors, but normal visual cameras. If it is needed for FPV analysis of tricky locations, it will be small and portable with a normal sensor payload. The innovative thing would be to come up with multipurpose drones that can handle any task with a slight change of sensor payload. And some examples of these are already available on the market but they can still be improved.
One thing unique about the drones being used in the UAE region is the FPV drones' niche. First-person drones that allow beyond visual sight drone operations are not fully legal in other regions of the world. But they are being tested in specific regions in the UAE and will be licensable and legally approved for drone operations during projects. That is one thing unique about the implementation of drones in this region.
Talking about cargo drones' perspective in India, Amber Dubey, former Joint Secretary Civil Aviation Ministry, Government of India, said, "Cargo drones are here to stay. This is a new breakthrough technology which is very versatile. It can carry very small payloads of just less than about a 1 kg to right up to 100 kg. There are also drones, which are currently being developed that can even carry human payload. These drones itself can carry about 2,000 kg. Since they carry from tiny 2 kg to 2,000 kg, the versatility of the drones is because of the technology."
He also said, "Here, we have this production-linked incentive scheme wherein, you will be surprised to know, the drone manufacturing turnover was about 60 crores and the government in the next three years will give  120 crores to the manufacturers. There is an unheard of kind of scheme wherein the government is giving double of what the entire manufacturing base of the industry was, and this will take place after three years. We have done the eligibility testing and I am happy to report that 23 companies have been shortlisted by the government and they will get the 120 crores in three years. The other good news is that these  the turnover of these companies has gone up in one year from 88 crores to 319 crores.  So this is the scale at which this technology is growing. We are working with more than 14 ministries, from mining to railways to transportation to agriculture, and we are working with them to see how we can proliferate drones, especially in rural areas, because they have immense use."
Autonomous drones
"We believe that autonomous drones show real potential and will have a place in the future of air cargo. Etihad Cargo is exploring the utilisation of drones in collaboration with DRONAMICS, which is developing a long-range,remotely-piloted and fuel-efficient cargo aircraft capable of transporting 350 kg over 2,500 km. The transportation costs will be 50 per cent lower than traditional aircraft. The airplane will fly autonomously and can be monitored and managed remotely via satellite," added Drew.
Simon Johnson, Aerospace Industry Expert, Innovaud recently made an interesting presentation at the Abu Dhabi Aix Expo. Innovaud is a Swiss based company that has a long history of supporting innovation by startups, scale-ups, Small and Medium Enterprises (SMEs), and large technology companies.
Discussing some of the drone innovations, Johnson said, "Long-range Beyond Visual Line of Sight (BVLOS) authorizations and over time full certification i.e., equivalent to manned aviation and with full airspace integration (VFR/VMC & IFR/IMC), Electric Vertical Takeoff and Landing (eVTOL) and extreme Short Takeoff and Landing (eSTOL). Swiss Dufour Aerospace is also working on a drone cargo version of their tilt-wing hybrid electric aircraft."
He quipped drones cannot take over cargo operations, "Only for certain use case such as delivering medical samples to laboratories or remote location. Belly and volume cargo on busy (long distance) routes will be handled by manned aviation for a few more years." Of course drones are "becoming cheaper to operate, quieter and emit less carbon than traditional air cargo. They will also land or airdrop cargo in locations not reachable by manned aviation".
Elaborating on some of the features that drones have which no other aviation mechanism has. Johnson said, "Autonomous operations in case of temporary loss of communication link or positioning/navigation/surveillance systems (mission hold procedure). A parachute in case of a major failure (mission abort procedure). With technology evolving at a break-neck pace and regulators looking at drones as a alternative to accessing remote airports and regions and supporting the delivery of sensitive commodities in smaller quantities, drones may occupy a niche market in air cargo. We could see drones replacing the road feeder services on short-haul routes, carrying smaller weights," said Drew.