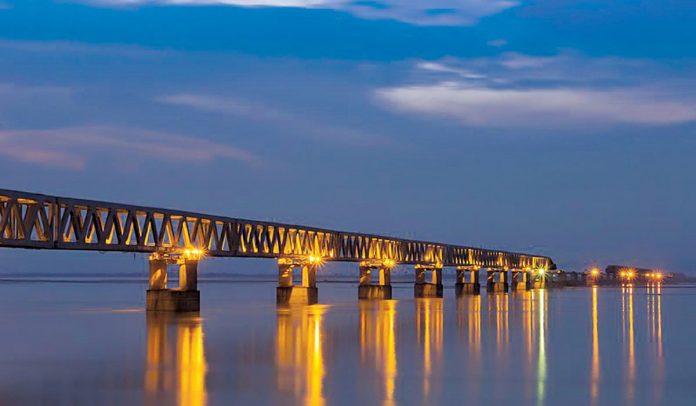 The 4.94 km-long bridge that connects the states of Assam and Arunachal will not only be of strategic significance to India's defence forces but will also boost trade through better and faster connectivity.
Scripting history in Northeast India, Prime Minister Narendra Modi has inaugurated the country's longest rail-cum-road bridge in Assam that improves road and rail connectivity in the region, especially to Arunachal Pradesh. The bridge is part of the infrastructure projects planned by India to improve logistics along the border in Arunachal Pradesh. This includes the construction of a trans-Arunachal highway on the north bank of the Brahmaputra, and new road and rail links over the mighty river and its major tributaries such as the Dibang, Lohit, Subansiri, and Kameng. India and China share a nearly 4,000 km border, with almost 75 per cent in Arunachal Pradesh. Before the opening of this bridge, the rail and road link to Arunachal was through three Assam bridges — Jogighopa in Bongaigaon district, Saraighat near Guwahati, and Kolia-Bhomora between Sonitpur and Nagaon. This means that cargo from Dibrugarh in the north-eastern corner of Assam had to take over a 600 km detour merely to cross the Brahmaputra. The Northeast part of the country possesses tremendous economic growth potential and it is high time we leveraged that potential to position India as a regional and global logistics power. Finding the logistics connect to the Bogibeel Bridge, CARGOTALK tries to explore how this bridge will boost logistics in India's Northeast.
Ravinder Kaul, Head – W&D (India), Pantos Logistics India, says, "The bridge and other new infrastructure projects planned by the government will not only benefit the logistics industry but also help other industries to set up plants or units in Arunachal Pradesh."
Vivek Kele, Director, Teamglobal, says that the bridge will be a big boost for the Indian logistics sector. He says, "Indeed, it is a big boost to trade and the defence sector; it will greatly aid the Indian armed forces for movement of men and material, so not only the logistics of the civil sector but also of the defence sector will see improvement."
Talking about how the country's longest rail-cum-road bridge is going to benefit logistics, Mahendra K Shah, Managing Director, V-Trans (India), says, "The Bogibeel Bridge is the country's longest rail-cum-road bridge built by Indian Railways over River Brahmaputra and provides crucial rail-road connectivity. This bridge is a boon to the logistics sector and provides connectivity to the lesser-developed districts of Assam and Arunachal Pradesh. The bridge has led to a reduction in travel time by rail from Delhi to Dibrugarh from the earlier duration of 37 hours to 34 hours, and the road distance has been reduced from Dibrugarh to Itanagar by 150 kms. This will allow the goods to reach their location faster."
According to Debarata Satpathy, Regional Business Manager – East, Snowman Logistics, "In larger metropolitan cities like Kolkata, Patna, Guwahati, Ranchi, Siliguri and Bubaneswar, road connectivity is not a major issue. However, in other regions like Meghalaya, Sikkim, Arunachal Pradesh and Tripura, road connectivity becomes an issue due to the rough terrain, and it becomes difficult for vehicles to deliver to those areas. Thus, in the Northeastern states, it is necessary for roads and railways to be better developed, to boost trade relations with Myanmar, Bangladesh and Nepal. This will in turn improve the logistics in these states, adding to the existing transactions taking place between India, Bangladesh, and Myanmar."
"We have also noticed that people residing in these states consume a larger quantity of fish. This is especially true in the West Bengal, Assam and Bangladesh belt, where a larger quantity of frozen fish is consumed, as opposed to fresh fish (Hilsa and Basa) being the leaders in this regard. Thus, construction of better roadways is going to boost the logistics in the region," he continues.
Piyush Kumar Singh, Industry Expert – Logistics & SCM Sector, shares, "Bogibeel Bridge will usher a new era of progress and development for India, with enhanced connectivity that will spur economic growth." He adds, "Built over the Brahmaputra river and connecting the Dhemaji district and Dibrugarh district located in the Northeastern state of Assam, the bridge reduces travel time from Assam to Arunachal Pradesh by four hours and will cut out a detour of over 170 km via Tinsukia. The bridge will play an important role in defence of the country by facilitating ease of mobility to the India-China border in Arunachal Pradesh. It will also reduce the train travel time between Delhi and Dibrugarh by about three hours."
N Ramakrishna, Vice President (Sales & Marketing), Kribhco Infrastructure, says, "Bogibeel Bridge in India's Northeast is the country's longest rail-cum-road bridge. Apart from the obvious fame linked to being the longest railroad bridge, the bridge is special for several other reasons. For one, it has been built by Indian Railways over River Brahmaputra and provides crucial rail-road connectivity to the lesser developed districts of Assam and Arunachal Pradesh."
"Since this bridge is part of infrastructure projects planned to improve logistics along the border in Arunachal Pradesh, other than bringing better connectivity and facilitating quicker movement of vehicles and easy access for the people of Dhemaji to major hospitals, education institutes and the Dibrugarh airport, this bridge will also serve the strategic interest of India. Infrastructure projects planned in the region include the new road and rail links over the river and its major tributaries," informs Shah.
"With Sikkim, Meghalaya, and Arunachal Pradesh being popular tourist destinations, the connectivity provided by the bridge will be a major boon. It will help connect those states which do not have any major ice cream or frozen food manufacturing industries, like Assam and Arunachal Pradesh, with the rest of India, thus making these products available in these regions. It will also act as an incentive to attract investors, while simultaneously boosting QSR. Several companies in the F&B industry are looking to invest in Arunachal Pradesh to set up their own plants; the completion of this bridge will hopefully benefit the connectivity and such plans can be taken forward to boost development here," says Satpathy.
"The import and export relations between China and India are also likely to improve after the completion of this bridge. With China procuring large amounts of raw materials from India – like shrimp from Odisha and West Bengal – the export connections will be greatly benefited thanks to the road connectivity the bridge is likely to provide. Additionally, even small-time importers will have access to Chinese products, which will help boost development in the concerned areas," he continues.
North east: Diversifying growth opportunities
The Northeast is one of the regions that has played a pivotal role in terms of logistics connectivity with the international and national corridors of India. Believing it to be a boon for Northeastern states, Singh says, "Enhanced connectivity in the Northeast will lead to two benefits. One, along with connectivity the level of economic activity is bound to increase. One reason why even fiscal concession in these states failed to attract significant industrial investment is that they were not enough to offset the logistical cost of moving merchandise to high-consumption regions. In this context, better connectivity provides a booster shot to economic activity, including tourism."
Explaining how the logistics in the Northeast is going to surge, Shah says, "The bridge is 20 kilometres from the Assam-Arunachal Pradesh border and connects Dibrugarh in Assam to Kulajan in Dhemaji district, making commuting to Pasighat in Arunachal Pradesh and other locations easier. This reduces the transaction time to the Northeastern states, which benefits logistics companies, manufacturers, business, and the end consumer. Companies now might also want to set up larger warehouses in these regions to cater to smaller towns and cities more effectively."
"This infrastructure project is really a boon for the Northeast states. It will reduce the travel time between Assam and Arunachal Pradesh and the rest of India. Surely it will boost India's 'Act East' policy. This bridge is among the various infrastructure projects planned by the Indian government to improve the logistics along the Arunachal border, hence providing defence security as well," says Ramakrishna.
"Bogibeel Bridge, with double-track and three-lane roads, will be the lifeline of the Northeastern part of India and will facilitate connectivity between north and south banks (starting from Chalkhowa station and Moranhat station at south bank and joining in between Sisibargaon station and Siripani station of Rangiya-Murkongselek section at north bank through the Bogibeel Bridge) of the Brahmaputra river in the eastern region of Assam and Arunachal Pradesh. The bridge will not only connect the Dibrugarh and Dhemaji districts of Assam but will also reduce the distance for over five million people living in Assam and Arunachal Pradesh. It will provide better rail-road connectivity to the lesser-developed areas in both the states, which will help in removing the logistical challenges the service providers were facing by moving goods from Assam to Arunachal. The rail-cum-road bridge across Brahmaputra River in Assam is an important step in improving connectivity in Northeast India," stresses Kaul.
Satpathy adds, "In the near future, we can hope to see major changes in the logistics industry, with warehouses being built in large numbers in the Northeastern states."
Providing a different point of view, Kele says, "It will not be an overnight boom as the market size is relatively small, however, it will certainly pave the way for economic development in the region."
DUAL CONNECTIVITY
India has a remarkable network of bridges, from river bridges to sea or rail and road bridges. Railroad bridges of India are the major part of Indian road and rail network, connecting every city. Commenting on the combination of both modes of transport working well for the logistics sector, Kaul says, "Connectivity through both rail and road in this region was lagging compared to most other parts of India on account of the terrain. With the completion of Bogibeel, the distance of the train journey between Assam and Arunachal Pradesh has been reduced by 80 per cent. The travel time in the region will continue to shorten as five more connectivity projects are under construction.
The enhanced connectivity in the Northeast will improve the economic activity in this region, and not only improve the timelines but also improve the growth of logistics which had to go through a lot of challenges all these years. Even fiscal concessions in these states failed to attract significant industrial investments because they were not enough to offset the logistics costs of moving merchandise to high-consumption regions. The new development in connectivity will provide a boost to improve activity in this part of India apart from being beneficial from a strategic standpoint for military logistics."
"The movement of commodities like grains, cement, steel, oil, etc., will become cheaper. This will lead to cheaper input costs and lead to growth of manufacturing leading to increase in movement of finished goods as well. This in turn will see better utilisation of the infrastructure built for both modes of transport – rail and road," emphasises Kele.
Shah states, "For any logistics company, both rail and roadways play a key role. Transport is the single biggest cost for any logistics firm and better connectivity allows the logistics company to optimise cost of service. With the construction of the longest rail-cum-road bridge, the transport infrastructure will improve, and that in turn will add to the speed and efficiency of the goods being delivered. Good physical connectivity in the urban and rural areas is also an essential element for overall economic growth."
"Also, as the Northeast part of our country is still not fully connected, a new option with both rail and road will hold better value, depending on the category of goods being transported, time available, and distance involved. The client or logistics service provider can opt for a suitable mode or a combination, and can optimise operations," Shah adds.
Satpathy says, "Apart from rail transportation, road is the only option, as air transport becomes really expensive and sea isn't really an option. Thus, the combination of road and rail transport will act as a major boon for the logistics sector."
"This will be the fifth longest bridge in India and the longest combined rail and road bridge in India with a total length of 4.94 kilometres (3.07 miles). Due to its location, the bridge will be of strategic importance to India as it will significantly enhance India's ability to transport troops and supplies to its border with Tibet in Arunachal Pradesh," concludes Singh.