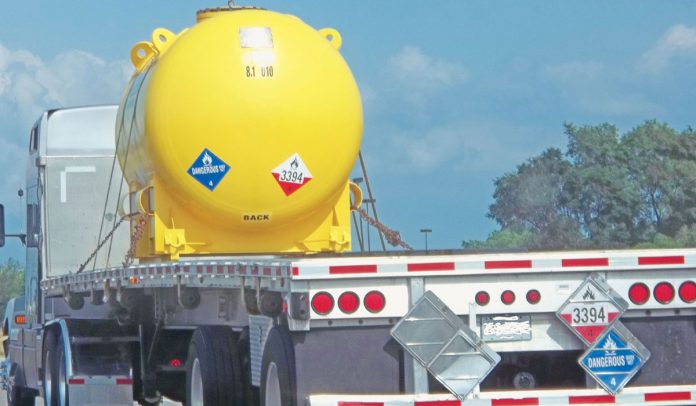 When moving dangerous goods, shippers need to plan a risk-free travel. From packaging and labelling to compliance and infrastructure, the smallest of errors can result in the biggest of catastrophes. CargoTalk delves into the chief requirements for safe transportation of hazardous goods.
Shipping dangerous or hazardous goods requires more detailed planning and execution at every step than regular goods. Shippers, airlines, terminal operators and ground handlers, everyone involved in handling dangerous goods needs to be well-aware of its sensitivity, criticalness, and urgency. Packaging is equally crucial, if not more, and dangerous goods should be in suitable containers that have sufficient cushioning, absorbent materials, and secure closures that will keep the shipment where it belongs inside the package. Through this feature, brings to light the nitty-gritty of handling dangerous goods.
Infrastructure & technology
The right infrastructure and sound technology can help mitigate risk and give the business a competitive edge. Commenting on the subject, Radharamanan Panicker, Managing Director, Dangerous Goods Management India (DGMI), says, "Compliance with dangerous goods' regulations is a requirement by international law. Therefore, it is important to understand that the two set of manuals, the IMDG code (for ocean freight) and IATA DGR (for air freight), can be intimidating and complex to anyone who sees them for the first time. Technology, which can simplify their understanding, makes it easier for shippers to follow regulations and thus mitigate risk."
Panicker says that they use an effective software called DG Office, which works for all modes of transport and helps shippers navigate through complex legal requirements while also facilitating a declaration by them. Airlines, too, have begun using this technology to digitise their acceptance-check of dangerous goods, he adds.
"Technology is also important, especially when it comes to airports and seaports because of the risk posed by the hazard that such goods constitute. Many airports and seaports lack proper facilities for handling and storage of such cargo, and packages get damaged during handling. However, if there is proper infrastructure, then risk can be contained and managed," explains Panicker.
Abhijeet Verma, Managing Director, Abhijeet Logistics, says, "Safety and compliance in transport of dangerous goods is a big challenge for all stakeholders, including the general public. Due to the absence of a clear policy and guidelines on the said matter, it becomes more challenging because short-term savings cannibalise long-term benefits. A combination of the right comprehensive policy as well as infrastructure and technology can mitigate risk and give the business a competitive edge and peace of mind."
Among the many dangerous goods, safe transportation of hazardous chemicals remains a key challenge, feels V Raju, VP – Chemical, Food & Pharma division, ACCI. He explains, "The abysmal quality of roads in India that has not been able to keep up with the transportation demands of rapid urbanisation has been a cause of concern for logistics players. Increased accidents and increased turnaround times on account of delays in adhering to timelines can lead to loss in productivity. The presence of a large number of toll booths while transporting a hazardous chemical enhances the chances of accidents and spillage, and disrupts its seamless transport. Strict emphasis must be placed on adherence to key regulations that determine the functional paradigms of warehouse infrastructure, safety norms, structure design, and the transportation system." He says that in addition to this, chemical warehouses also need to implement the Globally Harmonized System (GHS) which ensures that there is suitable labelling and packaging of goods and that warehouse workmen are attuned to material classification and hazard communication through harmonised data sheets.
Regulating transportation
Numerous sets of rules and regulations make it difficult for effective implementation of the law. The government, however, is now working on a comprehensive legislation for movement of hazardous goods. Agreeing to the view that the regulations for transportation of hazardous goods should be different from those of common goods, Ashish Mahajan, Managing Director, Landmark Logistics, says, "Today, millions of shipments are being classified as dangerous or hazardous. Resultantly, the risk involved has multiplied exponentially and so have compliance requirements or rules and regulations. The government intends to bring a new comprehensive legislation for movement of hazardous goods, to prescribe how transportation of hazardous goods will be different from those of common goods. With the successful implementation of e-way bill, the identification of hazardous goods can be done easily."
"There should be proper legislation and guidance from the government. This will keep shippers from incorrectly declaring anything and will make the carrier and the warehouse more confident in handling such shipments. Though there has been substantial increase in import and export of mobile and other battery instruments, their handling is still not clear to most carriers," explains Puneet Srivastava, Business Development Manager, M&C Aviation India.
Raju states clear-cut policy initiatives and speed in implementation of standard growth policies by the government to be game changers, especially for logistics and supply chain infrastructure. "Supply chain efficiency depends on the effectiveness of logistics which includes warehouse operations. Warehouse operations can be effective, provided warehouse design, layout, infrastructure, processes, staff safety norms, and transportation meet requirements. To achieve this, all functions must satisfy the desired parameters, and corresponding domestic and international legal requirements must be met. For warehouses that store chemicals and/or materials that may be hazardous to humans, plants, animals or the environment, it is extremely important to have a design that ensures safety," voices Raju.
Panicker strongly feels that any transportation law on hazardous cargo made locally, which is not in conformity with UN model regulations for transportation of dangerous goods, is recipe for chaos. "There cannot be a comprehensive regulation for transportation of hazardous cargo because each mode has its own requirements based on the nature of transportation. But, surely, there is a dire need to bring about an independent regulation for transportation of dangerous goods by road, by taking it out of the purview of the Motor Vehicles Act and Rules. The current rules for road and even rail are confusing because they are not aligned to the UN model regulations," he explains.
He also emphasises on the need to understand that most of the ex-im cargo moves by road or rail within the country, before moving out by air or sea, and if there is difference in the regulation it will be difficult for any shipper, consignee, or trader to follow two to three sets of regulations for the same movement. Pointing at one glaring area of confusion, Panicker says, "There is no list of dangerous goods by their UN number or proper shipping name in the Motor Vehicle Rules (MVR) nor in the Rail RED Tariff 20 rules, whereas internationally, that's how such goods are recognised. Strangely, the MVR asks the transport operator to mention the UN number of the dangerous goods being carried, without giving any information about it in the rules. Similarly, there are such issues in RED Tariff 20 as well. Hence, there is a need to overhaul the regulation in India regarding the transportation of dangerous goods, but it must be done in alignment with UN model regulations."
Among the various rules and regulations that are currently effective, two are very important: Hazardous Substances (Classification Packaging and Labelling) Rules, 2011 and Section 13 in the Carriage by Road Act, 2007. The first set of rules say that the packaged dangerous goods transported domestically must be classified, packaged, marked and labelled, and the vehicle carrying the goods be appropriately marked as well. Similarly, Section 13 in the Carriage by Road Act, 2007 has two provisions; the first says that no goods of dangerous or hazardous nature to human life will be carried by a common carrier except in accordance with such procedure and after complying with such safeguards as may be prescribed. The second provision says that every common carrier will scrutinise and ensure that the consignment is covered by one or more insurance policies under a contract of insurance in respect of such goods providing relief in case of death or injury to a person or damage to any property or the consignment, if an accident takes place.
"Multiple provisions give rise to confusion, errors, and omissions. Therefore, a concise and comprehensive regulation needs to be formulated for carriage of hazardous goods by all means of transport, thus leading to enhanced compliance. What is not needed is over stipulation and something which is not practical and not measurable," Verma says.
Highlighting the challenges in complying with international norms, Panicker says, "When you have a global regulation governing the transportation of dangerous goods, it is always challenging. Moreover, this regulation is not static but keeps changing depending on previous incidents or new requirements to mitigate risks inherent in transporting hazardous cargo. Coupled with this are changing priorities of the carriers; airlines or shipping lines create barriers by adding unwanted or non-critical requirements, making compliance a nightmare. Unlike specialised government agencies in USA and Europe, there is no single agency in India that can guide the shippers in managing their hazardous cargo logistics. Packaging requirements are stringent, but we don't have a proper system of having qualified UN-tested specification packages made available in India."
Mahajan is of the opinion that challenges faced by organisations are like fixing responsibilities due to various production lines, following old manual systems and not adopting new technologies, to name a few. "A single, serious safety offence or accident can spell disaster for a company's reputation and financial future. Companies should start using advanced systemic dangerous goods software solutions to automate and streamline the entire process, including accessing regulations, completing documentation, and validating every shipment," he feels.
"The biggest challenge that one faces as a seller or buyer is lack of comprehensiveness and seamlessness in dealing with such goods. Different geographies and customs have different rules and regulations for such goods, and one must comply with the strictest of these. An international regulation and guideline which is commonly agreed to and abiding to all would be the solution to this problem.
A challenge that logistics service providers face is keeping themselves abreast of the regulations and the constant pressure to cut costs even at the risk of reducing the compliance level. Insurance of such goods and the liability arising thereof is another aspect which is very important and critical in the entire process," explains Verma.
"With the Indian chemical industry traversing a global footprint, complying with global laws and standards will assume paramount importance for Indian chemical warehousing players. Implementation and execution of distribution risk management protocols also remain key challenges. Lack of an effective system of checks and balances can also prove to be an impediment while ensuring compliance with planned or existing regulations," iterates Raju.
Skilling is must
Logistics of hazardous goods requires knowledge training, leading to expertise in understanding the hazards inherent in the handling and transportation of such goods. Such knowledge training is also regulatory in nature.
Panicker says, "Unfortunately, most logistics companies give lip service to this mandatory requirement because regulatory oversight on this key aspect is again missing. We have few people being trained in the requirement of IATA DGR only with the express purpose of meeting the IATA cargo agency qualification requirement. Since it is regulatory in nature and not really applied in regular work, such knowledge training mostly gets lost. Retention is very low. Maybe it is better to give them a regular dose of safety training backed by some knowledge training through online or mobile capsules, without any certification requirement."
Mahajan says, "Everyone in the chain needs to be suitably trained not only in their job-specific tasks but also in the whole chain. Each employee should be aware of regulations relating to the cargo, the ports, the destination country, and the processes and documentation involved in the movement."
Raju says that the personnel manning a warehouse must constantly be updated with an awareness of the hazardous nature of the chemical, reading the MSDS and understanding the same, ensuring compatibility of chemicals with each other, the importance of protective measures, and adherence to key regulatory compliances.
"Suitable training programmes and classroom sessions must be held for warehouse employees on changing logistics trends in chemicals," he adds.
In his concluding remark, Srivastava says, "Carriers, shippers, and cargo agents must be qualified as per IATA norms. There should be proper coordination between all parties involved in handling of dangerous goods. DGR qualification should be a mandatory requirement for those directly or indirectly involved in handling of such materials. This will help in recognising the cargo and reporting concerns to agencies."