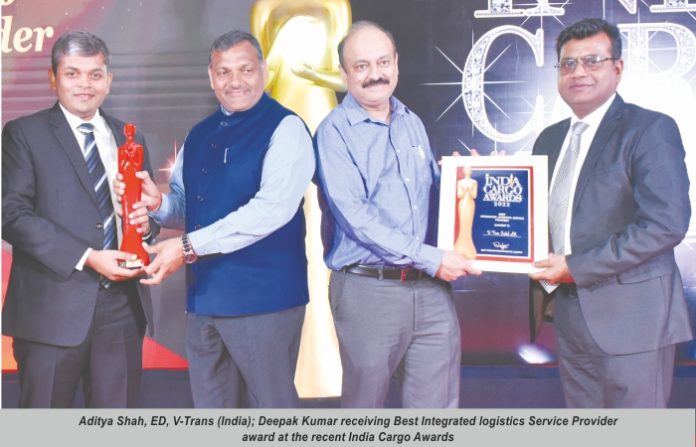 Last two years have been challenging for leading logistics & warehousing solutions provider, but with right digital and physical strategies in place, it achieved growth. Focus has always been on integrating latest, futuristic, and applicable technologies. Our new ERP System will be a game changer for logistics, says Mahendra Shah, MD and CEO, V Trans (India).  
Bryan Anthony Thomas
What are the new opportunities you are looking forward to in 2022 and how do you plan to implement them?
Automation and 100 per cent digitalisation among others are the achievements during the ongoing COVID-19. Data Science, Big Data, AI and ML have impacted different parts of logistics. Blockchain is being used widely now where multi-layer documentation is involved for higher transparency. Robots and automation assist in warehousing spaces—goods can be found, transported, and packaged in an efficient manner. Until now, this task had been a challenge for large companies, but now, with automation, it has become a much simpler task. At V Trans, we focus on integrating the latest, futuristic, and applicable technologies. We will also be introducing new ERP System, which will be a game changer for optimizing the administrative and operational environment, enabling error-free processes, and more efficient service. We are going to integrate various departments for better visibility and smooth operation process to provide unmatched service to our clients.
What do you think has been your biggest learning during the pandemic?
The health crisis had its worst effect on the companies. It has enhanced the technology infusion in the sector, which is supportive even for electronic commerce to grow. Overall, it has accelerated the digital transformation.
What is the one thing that needs a change for the industry to grow?
Another trend for 2022 would be the optimization of routes. Customers are becoming frenzied towards the environment, and this should be reflected in the logistics sector as well. We are focusing on the sustainable initiatives, for example, reducing CO2 emissions for hybrid vehicles. Other measures can also be adopted such as the use of eco-friendly packaging, better planning, among others for cutting down the number of trips for deliveries.
Moving forward, what sectors do you think will grow the fastest and why?
Some of the fastest-growing sectors are e-commerce, renewable energy, textile, retail, FinTech, EdTech, pharma and, healthcare. Indeed, the market will grow, and this boom will be backed by factors such as government policies, international affairs, and market conditions and so on. This growth will strengthen the sectors and enhance their limits.