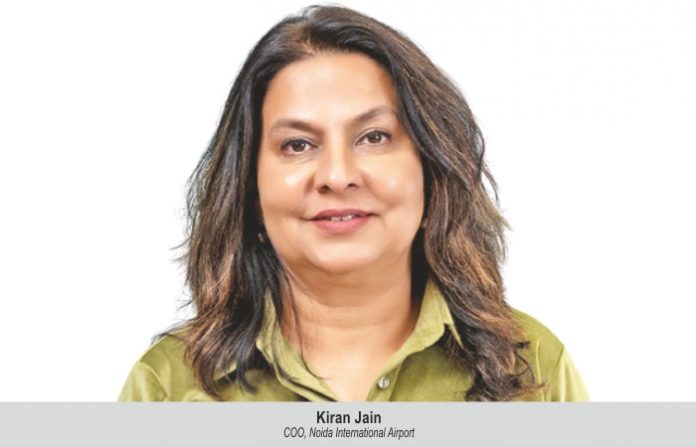 Cargo holds potential with govt's thrust on infra development. The proposal to increase the capital investment outlay by 33 per cent to ` 10 lakh crore in the Union Budget 2023-24, reassures the prominence of building infra to reinforce the country's position in the global supply chain map, says Kiran Jain, COO, Noida International Airport.
Ritika Arora Bhola
Cargo markets may come under pressure in 2023, states IATA. What could be the potential reasons for this distress?
Owing to economic uncertainties, IATA forecast continued pressure on cargo volumes this year. The COVID impact coupled with the uncertain economic recovery worldwide continues to linger. Also, we struggle with various regulations, high costs, inconsistent policies, inefficient infra, lack of supportive cargo aviation ecosystem, and a value chain where the rewards of connecting the world are not evenly distributed. However, the resilience shown by the industry has been the hallmark, especially post-COVID. We remain optimistic for the year ahead given the financial recovery in India and Southeast Asia, and we are certain the cargo segment will continue to contribute to this growth with India taking over as a global research, development, and manufacturing hub.
Suggest ways for air cargo and logistics sectors to accelerate recovery in the coming years?
Despite the economic uncertainties, there are many reasons to be optimistic about 2023. Lower oil price inflation and increasing demand will help to keep rising costs in check as the strong growth trend continues. Reports suggest airlines are expected to witness profitability in 2023. Cargo in India holds huge potential with the government's thrust on infrastructure development. The budgetary proposal to increase the capital investment outlay by 33 per cent to 10 lakh crore, reassures the prominence of building infrastructure that will reinforce India's position in the global supply chain map. The Noida International Airport (NIA) will reduce pain points in the cargo ecosystem with an MMCH comprising an Integrated Cargo Terminal
and Integrated Warehousing and Logistics Zone. This logistics zone will offer a transhipment centre and warehouse zone for freight forwarders and integrators. The MMCH will provide transportation facilities to support road-to-road, road-to-air, and air-to-road movement. Overall, the infra at the MMCH is focused on efficiency, scalability, seamless process flows and common digital infrastructure.
The government's focus on making the cargo and logistic sectors efficient will drive growth and create a multi-fold economic benefit for all. The NLP announcement was a step in this direction. The reduction of GST on freight charges to 5 per cent from the prevailing 18 per cent on freight charges would give an additional boost.  All such measures, initiated by the government, will benefit the shippers, and reduce the overall logistics/freight costs.
Digital innovation, collaboration, and e-commerce can transform the sector. What will be the important growth drivers?
Airports are working towards digitalisation— the launch of dedicated apps (Changi, Incheon, Schiphol, Heathrow, Frankfurt, Munich, Zurich, or Copenhagen airports) and covering key areas where digitalisation has the greatest impact: operations, security, passengers, and retail. Digital innovations will transform the sector by improving speed, efficiency, and productivity. Digitalisation on air freight took place much later than that on the passenger's side. The experience of functioning during COVID has shown digital solutions can increase efficiency of the business operational processes.
The MMCH will integrate a digital solution to simplify the documentation flow and end-to-end live tracking of shipments at the NIA through the e-Freight system, which is a global standard for paperless clearance and support of air cargo transportation, recommended by the IATA. With an Integrated Warehouse Logistics Zone at NIA, e-commerce, and other freight forwarders will have breathing space to help in the growth of the sector in India.  For air cargo to flourish, cargo operators, airlines, and freight forwarders adopted a few innovative ways and means. Best practises that work for the country could well be implemented. For instance, Amazon in the USA has been selling their space to integrators such as DHL to keep their freighters operating at full capacity. Similar collaborations should be done in India.
Main causes
The government in conjunction with the cargo and logistics stakeholders has introduced measures to support the industry. However, there are challenges that persist:
• Availability of adequate infrastructure at air cargo terminals in India
Slower movement from manual processes to digital processes, a hindrance in cargo-related activities
Lack of transparent coordination between stakeholders within the logistics/cargo industry
Support for startups/SMEs to be involved in cargo and logistics.
Government policies encouraging international trade and commerce do not always filter down. So, a movement towards educating the trader, and the farmer would be beneficial
Could you elaborate on global best techniques you are planning to infuse into NIA's operations for efficiency in business and network enhancement?
At NIA, we will leverage digital technologies to solve supply chain complexities
By automating labour-intensive operations and allowing decision-making at various points in the lifecycle
An end-to-end digital platform will promote efficiency, enhance data accuracy, and boost efficiency in business and network enhancement
Automation will enable choosing the best delivery method, carrier, and schedule, while taking time, speed, priority, and other factors into account
Liquid and solid waste management through proper segregation
All GSE fleet will be electrically powered
Use of sustainable products in operations
End-to-end live tracking of cargo/shipments
We will encourage a MMCH design that follows a straight line approach in terms of space and processes, allowing the goods to move from the trucks to the aircraft belly and vice versa in the least amount of time
Share with us your expansion plans and projects in pipeline?
To provide air cargo and logistics infra for catchment area of NIA, Yamuna International Airport Pvt Ltd (YIAPL) has invested in infra comprising integrated facilities to create differentiated offerings and build a thriving ecosystem of products and services and transform the industry. The NIA has awarded a concession for MMCH to Air India SATS. Spanning across 80 acres of land, the upcoming MMCH will provide quick, and intermodal connectivity to and from India. The cargo and logistics infrastructure and ecosystem will cater to a differentiated catchment and several upcoming industrial clusters in NCR and Uttar Pradesh, creating a cargo gateway for Northern India. The NIA will feature modern and efficient facilities at the multimodal cargo hub. These include:
Airside with dedicated freighter apron and transhipment centre
Warehouse Zone for freight forwarders, integrators, supporting built-up units with airside access
Logistics hub to support road-to-road, road-to-air, and air-to-road movement
A trucking centre, in each case, is supported with an overlapping layer of technology and process excellence to provide best-in-class facilities, infrastructure,
and processes
NIA and Air India SATS aim to build Smart & Connected cargo facilities leveraging Internet of Things, Artificial Intelligence and Machine Learning tech. We intend to implement some  of them at MMCH, these include  advanced technologies to measure cargo shipments and vision based non-intrusive technology to detect package movement and count.
Air India SATS will also bring SATS Tracer solution, which is an easy to use web-based platform providing real-time tracking services for special shipments and their Cargo App, providing flight status, shipment location, delivery order status among others on mobile devices thereby digitizing and integrating the air cargo supply chain. Once the cool port is developed at MMCH, Air India SATS will implement its Pharma Tag solution for end-to-end temperature tracking of sensitive pharma shipments from shipper warehouse to the aircraft.
Overall, the infrastructure at NIA's MMCH is focused on efficiency, scalability, seamless process flows as well as common digital infrastructure and systems.