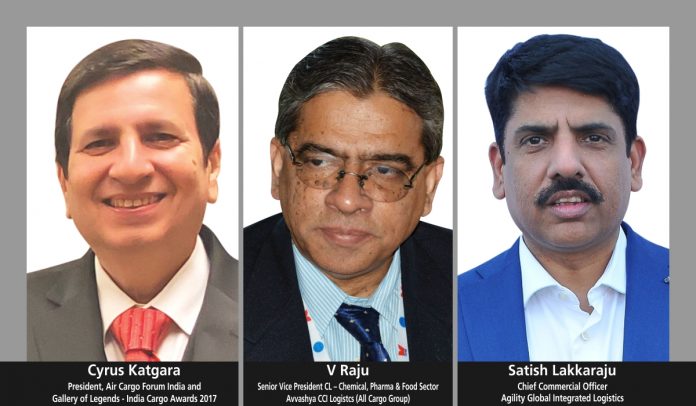 Digitalisation threatens to fundamentally disrupt logistics but could also help industry to reduce its inefficiency to shrink its environment impact. With a focus on how contactless logistics has become a necessity of the industry, CARGOTALK's digital conclave looked at the factors which are stopping the logistics industry to move to data and automate.
Kalpana Lohumi
The pandemic has reiterated the need of logistics and transportation industry to automate. Now is the time to forget going paperless and considering if the industry is ready to go contactless because paperless is not enough. With an aim to focus on the significance of going contactless in the logistics industry, CARGOTALK organised a virtual conference to discuss how this pandemic has made contactless business environment a new normal of everyone's life. However, where does the logistics industry stand? Are we on the path to fully contactless automated supply chain or it is still a distant dream?
The session was led by Cyrus Katgara, President, Air Cargo Forum India; V Raju, Senior Vice President CL – Chemical, Pharma & Food Sector, Avvashya CCI Logistcs (All Cargo Group); and Satish Lakkaraju, Chief Commercial Officer, Agility Global Integrated Logistics.
Now is the time to go contactless
Calling contactless logistics a dream coming true, Katgara says, "From last so many years we are asking to go paperless and adopt digitalisation but now is the time to go contactless. If we don't do it now and still rely on paper, sustaining in business for long would not be possible." He lists few bullet points on how can we go contactless:
Going paperless is the first step to go contactless; we have to be paperless to go contactless
Secondly, we definitely need to embrace technology like the way we have never done before
Smart routing, less handling and cost optimisation is the next thing on the list
We really need to eliminate manual processes completely
E-notification and digital signature to be used extensively; with such tools in place, we do not need custom officers or any authority for annexures or signatures. Everything has to be digital
Real-time digital order tracking from origin destination
Sea freight has gone one step ahead of us with the introduction of digital Bill of Lading (BL). This should be done in the air side also
Cheque payments are so outdated; it's time everyone should embrace e-payments, NEFT, online payments, etc. We need to continuously push our vendors, suppliers, customers and even the authority to accept the e-payments
Automation of customs process; customs has come a long way. In fact, for the first time customs is ahead of us and has taken steps in leaps and bounds. We should support this with maximum utilisation of green channels for custom clearance
Last but not the least, embrace Blockchain technology
Government moves are encouraging
Keeping it simple in terms of what COVID-19 has done and what contactless means, Lakkaraju says, "It's clearly visible from the way we have been doing meetings in the past and how are we interacting now. However, it's only operations that have still been on ground but the rest of the things are now contactless." He continues, "It is highly encouraging to see government initiatives on digitalisation and contactless movement. In the past, our fear used to be that government is slow to react but for the first time, customs is the least painful department to deal with as far as logistics is concerned. I have not gone to the custom officer in the last four years for my shipment to get cleared and my drawback to come back."
Digitalise existing system
According to Raju, "COVID-19 has only created disruptions for us in the supply chain and logistics and we need to learn to live in an uncertain world. Today the warehousing and last-mile distribution occupies such an important part in the entire supply chain management. What is more important for all the stakeholders to think is how can they modernise and digitalise their existing systems in a way that there is least manual intervention."
"The introduction of Warehouse Management System (WMS) in warehouses is required to find out the exact location of cargo and also plan our receipts, delivery and inventory management in time. Secondly, Blockchain technology can help in understanding and managing the inventory successfully. After this comes the racking; hence most of the warehouses now are scientifically planned and modern than the go-downs we used to have earlier. The warehouses, in order to take advantage of the vertical alleviation, are getting more and more racked and here an automatic storage and retrieval system (ASRS) works with the help of arbiter and least manual intervention and the machine is extremely successful in stacking and storing same type of cargo.
Stressing on the importance of the Traffic Management System (TMS), Raju continues, "With this in place the last-mile delivery can be planned skilfully in a route optimised model such that the least amount of time is taken by the vehicles to reach the end customer. They can be driverless vehicles which did a lot of work for China as well as US during this pandemic situation. We are talking of drones and conveyers system in the e-commerce warehouse. The robots and cobots are the final ladder in the success towards digitisation."
Customs & GOVT is ahead of us
Continuing on the steps taken by customs in leaps and bounds to improve logistics of our country, Katgara believes, "We are all in the same boat and we have to rock the boat. Customs is open for suggestions and they are doing such a great job. Now it is our responsibility to continuously push towards becoming totally contactless."
Commenting on what is stopping the industry from keeping pace with the government and who can take the responsibility to create more awareness on going contactless, he continues, "Associations do need to take the responsibility and we will take the responsibility. It is the time for collaboration between all the associations, be it, ACFI, ACAAI, AMTOI, CHAA, etc. ACFI has already started training programmes on how we can go contactless. It's all about the mind-set and will power of people to avoid contact and forget our old system of interacting with people for work. We need to have interaction for every other thing except for work. Today, also at the ground level we have examination and other queries where there is contact.
Terminals also play an important role in going paperless. In fact, it was Delhi International Terminal Airport which made a system of not accepting paper at all. Similarly, the airlines, freight forwarders, customs should say we don't want paper. If everyone doesn't want paper we will definitely go contactless."
Driverless vehicles & drones
Commenting on whether India is ready for driverless vehicles and drones, Raju highlights, "At a moment it seems like a distant dream. However, today things have gone to the scientific level. The entire planning in warehouse has been done by WMS; we never used to have them in the past. The forklifts, stackers are now battery operated ones; we never used to have even ordinary forklifts. This is how things have changed over a period of time.
As of now the drones and driverless vehicles appear to be a little off hand but the day is not far off when India will start operating them. But slowly over a period of time we will definitely reach to that point where drones and driverless vehicle become a part of our supply chain. People still grumble about the investments to be made, high costs, but over a period of time this will become essential."
Can industry be digitally advanced?
According to Raju, "Introduction of technology means productivity and productivity coupled with efficiency is really going to pay back. Therefore, modern technology will definitely be endorsed and already 50 per cent of your customers are prepared to pay extra just to get technology in your system. However, it is only the Indian customer who is still going to bargain with you and opt for the cheaper method which is manual dependent rather than technology dependent. But over a period of time everyone will realise the kind of savings that technology gives, though the initial investments are going to high. It won't happen in a day; it's going to take time because the knowledge about the productivity and efficiency that will come by technology has to move into the minds of all customers."
On this, Katgara notes, "The Indian customer is highly cost conscious; sometimes the value of the product is so low that he really can't afford to pay more but we also on the other hand have customers who are mature and would talk about value added services."
Is industry ready for Blockchain technology?
"We have to be ready for Blockchain because this is one of the end-to-end value adds which will benefit everyone in the chain, be it exporters, importers, shipping line, banking, freight forwarders, etc. Everyone is going to be the part of Blockchain and it will happen faster than we think. It's time that someone comes forward to take the lead in this issue," points Katgara.
Industry is running on trust
With going contactless, a lot of movement will get done on trust or faith. Expressing his views on the same, Lakkaraju says, "The logistics industry has been running dominantly for ages on the trust factor itself. A freight forwarder today is working with one laptop and internet connectivity; it is only trust with his customers that at the end of the day the cargo will move from point A to point B. There are hardly any contracts. If any customer walks to any freight forwarder, he would follow the process and the documentation but it is more of a trust than processes. It's up to the associations, freight forwarders and rest of the industry that integrity should be built in the organisation drastically and if we all work as a team and enhance integrity to the greatest extent then trust will further enhance and we can work jointly to make India a market in future for everyone to come. Globally, there is a conception or fear that India is quite painful in ease of doing business but I would surely say that working in India has become much better."
"To go contactless, first we have to understand the meaning of working 24×7. South Africa was contactless in 2008 because they used to work 24×7 and they meant what 24×7 means. On Sundays also custom officers would reply to your emails," he adds.
Explaining the factors which need to be looked at, Lakkaraju comes with a term called 'BIRD' which says embrace Blockchain, IoT, Robotic process and automation and Digital analytics.
Upgrade skills to stay in business
Commenting on the balance between people and job reduction due to technology, Lakakaraju emphasis, "There are two aspects to it; with technology coming in, scale goes up. It means there is a fear that if technology comes in then we will be losing jobs, but scale matters in every organisation to continue having people. However, if people don't upgrade their scale or their skills they will be out of business equally; one can have empathy towards people but at the same length and breadth if we keep telling them to upgrade their skills and they don't listen to it then ultimately they will be out of jobs not only with the current organisation but wherever they go, they will not be able to cope up with the demand that is required."
Sharing his thoughts on whether people will lose jobs with digitalisation, Katgara says, "It is only going to create more jobs. There is no point of getting afraid of losing jobs. With digitalisation business is going to grow and so are the jobs."
Are we equipped to handle the logistics of COVID-19 vaccine?
According to Raju, "By the time the vaccine is going to come, the logistics players will be ready. The vaccine needs big warehouses with temperature-controlled storage and temperature-controlled transportation as well. These are few important elements that are required for handling of vaccine which the bigwigs in the industry are already planning and by the time it will happen we will be ready for sure."
"India has been in the business of exporting pharmaceuticals from last so many years. All the airports in India have pharma facilities; Delhi & Mumbai have pharma centres and Mumbai has also upgraded its facility, Hyderabad always had a pharma centre, Bengaluru has a 'Coolport'. It now depends on where the vaccine comes. India is more than ready for the export; domestically if the need comes in there will be more upgradations to be done. However, we are ready and we have made investments in terms of upgrading the warehouses," says Lakkaraju.
"When the time comes, we are going to be ready. Today, it is difficult for a freight forwarder or a warehouse or service provider to know the capacity required. However, we have always stood up to the challenge and this time as well we will meet the challenge of exporters," adds Katgara.
UPDATES
We have to be ready for Blockchain because this is one of the end-to-end value adds which will benefit everyone in the chain, be it exporters, importers, shipping line, banking, freight forwarders, etc. It's time that someone comes forward to take the lead in this issue. — Cyrus Katgara
Introduction of technology means productivity and productivity coupled with efficiency is really going to pay back. Therefore, modern technology will definitely be endorsed and already 50 per cent of your customers are prepared to pay extra just to get technology in your system. — V Raju
The logistics industry has been running dominantly for ages on the trust factor itself. A freight forwarder today is working with one laptop and internet connectivity; it is only trust with his customers that at the end of the day the cargo will move from point A to point B. — Satish Lakkaraju