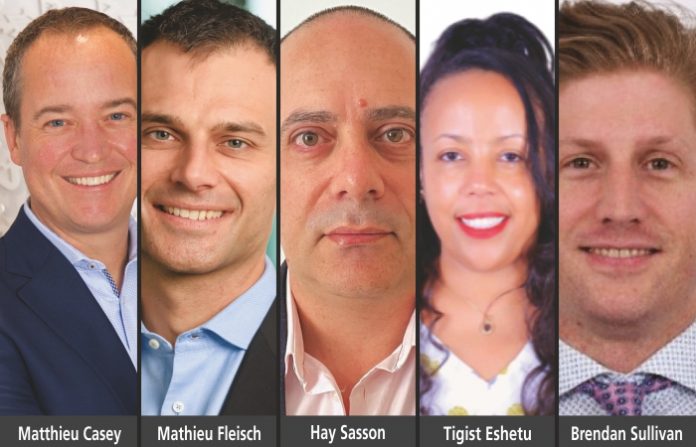 When eight Cheetahs were ferried into India recently, curiosity regarding transportation of these endangered species from Namibia to India arose. Airlines took special care during loading and unloading, temperature-controlled containers and pallets, skilled manpower and presence of expert personnel were some of the points highlighted by experts.
Ritika Arora Bhola
Moving animals: key factors to consider
The safe and humane transportation of live animals is of utmost importance. The IATA Live Animals Regulations (LAR) define the rules of transportation and handling of live animals for the entire cargo supply chain.  The airlines adhere to these standards for acceptance, handling, and transport of live animal shipments to ensure compliance, safe transport, and animal welfare throughout the journey. Many countries have adopted the LAR as part of their legislation on the air transport of animals. Some states and operators have additional, more stringent variations in place listed in Chapters 2 and 3 of the LAR.
Reservations and advance arrangements: To ship live animals, shippers must make necessary reservations and advance arrangements, ensuring that adequate space is available and confirmed for the transportation. The most direct route should be planned, transfers should be coordinated, arrangements be made with the consignee for prompt pickup, and it should be determined if an attendant is required.
Documentation: Shifting animals by air requires more documentation than standard cargo. Knowing what these documents are and how to fill them out correctly will simplify the shipping live animals. There is the shipper's certification for live animals, import/export documents, Air Waybill and CITES documents related to
the shipment.
Container requirements: It is also essential for shippers to be aware of the container requirements
specific to the species being transported. Chapter 8 of the IATA LAR covers 60 different container requirements, covering an extensive list of animals.
Animal behaviour: The animals do not like unfamiliar environments and unstable movements. Following
specific guidelines help to mitigate fearful behaviour, creating a safer environment for the live animal and the personnel involved in transporting
the animals.
Commenting on the same, Matthieu Casey, Managing Director, Commercial, Air Canada Cargo said, "The main factor to consider, while transporting live animals via air is ensuring the welfare of the animals and applying the best possible transport and handling practices. The journey needs to be planned to meet the animals' needs. We have procedures to cover every aspect of the journey, from booking to delivery. Our policies, procedures and processes are based on our quality management system and follow the IATA Live Animal Regulations as well as country specific regulations. We are also audited through IATA's Center of Excellence for Independent Validators (CEIV) Live Animal Program."
"The most important factor for Air France KLM Martinair Cargo is the welfare of the animal, that is the first thing we look at. The way we transport must comply with the IATA LAR (Live Animal Regulations) requirements. These requirements are clear and leave us no room to interpret them in our own way," asserted Mathieu Fleisch, Vice President, Products & Verticals, Air France KLM Martinair Cargo.
He said, "Local authorities see this as a code of law. The IATA LAR is a document reviewed annually by the Live Animal and Perishable Board (LAPB). It is a group of industry experts, and they look at new developments and possible changes or improvements that the shippers and organizations in the industry seek. In addition, we have our own expertise and employees who treat the animals in our Animal Station at Schiphol. In Paris, they are handled by STAVI. STAVI is located at Charles de Gaulle Airport and works along with experts under the supervision of the French authorities."
Acknowledging the same, Hay Sasson, Group COO, Challenge Group reiterated, "Animal welfare is  the key factors to consider, if not the first. At Challenge Group, we have made animal transportation one of our core competencies and we invest in people, equipment, and tools, to achieve the highest standards possible. Our subsidiary, Challenge Handling, is managing the Horse Inn facility in Liege, one of the best live animal facilities in Europe. Our expertise and commitment have been recognized recently by obtaining the IATA Live Animals CEIV certification."
Tigist Eshetu, former Regional Director, Indian Sub-Continent, Ethiopian Airlines commented, "As a key important player in the air cargo logistics of live animals, Ethiopian Airlines implemented IATA Live Animal Regulation LAR accepted by the Convention on International Trade in Endangered Species of Wild Fauna & Flora (CITES) and World Organizations for Animals' Health (OIE) as one-stop shop reference for entities involved in the value chain. Accordingly, procedures, policies, checklist, and SOPs are derived using this regulation as a standard primary reference document while handling Live Animals throughout Ethiopian Airlines service network. The airline has developed training curriculum, training syllabus and training material compliant to his regulation and ensures all handling personnel involved in decision- making process of live animals handling are trained in IATA LAR principles. When it comes to transporting live animals by air, it is crucial to verify and check certain details before transporting them by air. As a minimum, the Ethiopian Airlines considers the below key factors before the acceptance of Live Animals for carriage."
Check to see if the routing and any necessary amenities have been confirmed:
If a trans-shipment is required, the container must be received in advance, placed where it will be most useful, and equipped as and when needed.
A duplicate set of the shipper's instructions for caring of the animals is attached to the container's exterior.
The container should carry a note about any medications that have
been administered.
The package and its contents are weighed, measured, and verified for legal reasons, according to local and international regulations.
The packaging should be properly labelled, as per IATA LAR.
The container is labeled with the full names, addresses, and phone numbers of both shipper and consignee.
The name and phone number of the person who is available to assume full responsibility (if different from the shipper or consignee) 24 hours a day are also attached to the container.
Upskilled manpower for Animal Care
Carriers must ensure the presence of trained and experts, while moving animals from one destination to another, to avoid any mishap or unwanted incidents to occur. "Handling personnel must be trained on the LAR to ensure that live animals are transported in compliance with airline regulations and animal welfare standards. Pilots are advised of the species, location, and quantity of live cargo onboard. The flight crew is notified of the specific requirement for hold temperature or ventilation," informed Brendan Sullivan, Global Head of Cargo, IATA.
Casey says, "Live animal training is part of initial courses for our Customer Service Agents responsible for acceptance, our Call Center Agents responsible for booking and our Station Attendants responsible for handling. A recurrent live animal course is taught as well. The IATA live animal training is provided to various key personnel such as those responsible for quality control. At our global hub in Toronto, we have certified third-party suppliers available to handle comfort stops. Air Canada Cargo has an experienced veterinarian as well as an expert in international pet shipping to validate our animal travel policies and procedure. They are also available for consultation on
specific cases where veterinary opinion and services."
Fleisch said, "At Schiphol Airport and Charles de Gaulle Airport, all our staff working with live animals, have a background and education related to the handling of live animals. We provide them yearly training from our home veterinarians. Various animal transports require a trained animal attendant to fly along with them. Horses, for example, are only ferried under the supervision of a groom."
At Challenge Group, Sasson said, "We organize regular training sessions, in addition to the IATA CEIV training. We have cordial relations with all governmental agencies involved in the process. When it comes to horse transport, we offer a seamless experience for grooms throughout the journey, from acceptance, flight, and delivery. The grooms are allowed to rest next to their horses by having an immigration bureau inside the Horse Inn facility with airside access."
Ethiopian Airlines also has made an arrangement with local authorities and the private sector to avail professional vet inspectors operating 24×7 to ensure seamless connectivity of animals in collaboration with the handling team.
Special containers/ pallets for carrying animals
Choosing the right container for shipping live animals is imperative as it ensures that they arrive safely at the destination. Containers must be safe, secure, and well-ventilated, and other comfort and safety provisions must also be met. Therefore, the IATA Live Animal Regulations (LAR) clearly defines requirements for 60 different types of containers from aquatics animals, small and large land mammals, to insects among others. The container requirements must cover the following:
Construction requirements
Ventilation requirements
Safety requirements
Animal welfare and health
Food and water requirements
Specific pathogen-free requirements
Symbol for rigid plastic pet container
Pet Containers
Symbol for a closed ULD
Some specimens may be transported together. To order to ship animals in bulk on a given aircraft, the following points must be checked: weight of the animals, space of the aircraft, temperatures, and density of the grouped animals."
Air Canada Cargo follows the container requirements listed in the IATA Live Animal Regulations. Each species has an identified transportation container specification designed for their well-being. These containers are inspected at acceptance to ensure the correct container has been used for booking. A live animal checklist is used to standardize the process, ensuring that critical factors such as labelling, temperature requirements, feeding and watering have been checked.
Fleisch said, "As said in the beginning, all regulations are clear regarding the transport requirements. The way crates must be constructed, which are specified per animal is defined in the IATA LAR. If we see that it needs to be changed or improved, based on our own experience, or when new requirements are set by local authorities it will be adjusted. This is discussed during the LAPB meetings once a year. Or at any given moment in urgent cases."
Sasson said, "We consider ULD and equipment a key enabler to an efficient operation. All our horse stalls are owned, certified by EASA, and meet the SAE standards for transportation by air of horses. For other types of Live Animals, the IATA LAR-based containers are being provided by the shipper and checked by our staff for compliance using the IATA checklist for Live Animals."
Eshetu said, "The container requirement of Live Animals varies from the type of species to be transported along with several occupancies, type of material used to construct the container, segregation, design, size, ventilation requirements, stacking and cushioning requirements. In most circumstances, transporting different species in the same container is not allowed for the behaviour and infighting of the animals among others."
Animal Friendly Environment Control
Ventilation is one of the most critical aspects to consider, while shipping animals by air. The Live Animals Regulations (LAR) outline specific requirements for each of the animal containers. Other environmental parameters are also considered such as humidity and the ability to extract Carbon dioxide. Knowledge of a species' environmental needs is a must because of the differences in temperature and humidity to which animals are often exposed, on the ground prior to flight, in the cargo hold, and during stops enroute. For example, in humid conditions, dew can form as the temperature in the cargo hold drops. If shippers advise that dew deposits on a bees' wings can be fatal, the pilot could control the ventilation of the cargo hold to prevent dew formation.
Acknowledging the same, Casey said, "Our facilities are equipped with sensors that can provide the operation with alerts, and the designated aircraft will be equipped with ventilation and temperature control systems. When live animals are to be transported, a careful review of the aircraft limitations is done to ensure live animals loaded is within limits, there is proper supply of oxygen and appropriate segregation."
Focusing on humidity levels, Fleisch said, "It is almost the same in all the planes. It varies from country to country and airport to airport. We use 'last in and first out' solution and depending on the station and the temperature, we do this with temperature-controlled vehicles if necessary. If the temperatures are too high or too low, we put an embargo. This may be an embargo during the summer and/or winter seasons. When we cannot guarantee good conditions of the animals, these are decisions that we must make, because animal welfare always comes first."
Sasson also adds, "Our team uses ECS systems to ensure the correct ambient temperature and CO2 levels at all times."
Eshetu said, "Ethiopian Airlines invested on equipping Live Animal's Handling centers and aircraft with necessary facility required for unbroken suitable temperature range. In addition, we have a strict policy to know whether containers used to transport live animals are suitable to allow proper air circulation and follow IATA Live Animal Regulation LAR and other applicable regulations required in the supply chain."
Major hurdles
The obstacles which shippers come across while transporting live animals include lack of skilled specialists, inadequate airport infrastructure, absence of road feeder services, temperature-controlled surroundings during transit. Casey notices, "Live shipping is considered along the journey due to need of the logistical issues involved. Aligning all the stakeholders to make it a safe and smooth operation is the key to a successful operation."
Fleisch said, "The transportation of wild animals is done from zoo to zoo or from breeding centers to zoos. Animals from private collections, confiscated by the authorities, are also transported by us, if this is not for commercial purposes. An example of this is the transport of lions and tigers. This type of transport is a challenge, so coordination and meeting before the flight is important." Sasson said, "We have set up a special team of SMEs and station administrators to anticipate and deal with live animal issues 24×7, seven days a week." "State and operator regulations always keep changing, so it is important to stay up to date with the latest regulations," said Sullivan.
"Because of the regulations for containers, shippers can feel overwhelmed, while choosing the right container. IATA addresses this problem by establishing exact specifications for 60 different containers covering an extensive list of animals. Knowing the exact container requirements for transporting live animals is essential to ensure the safe and humane transport of live animals."
Key precautions
Already established animals loading procedures by the IATA mitigate risks, but it is better to avoid any kind of stress and make the environment animal friendly. Sullivan said Animals must be loaded as close to the time of departure as possible. "Attention is paid to the temperature, ventilation, and the way the animals are loaded into the cargo compartment and what is loaded near them. Depending on weather conditions, animals should be loaded in a manner that does not expose them to local temperatures
when the cargo compartment doors are opened. Containers with live animals must be handled and secured in both vertical and horizontal positions," he adds.  Casey agreed, "Avoid rough handling, movements, and vibrations so that there is less likelihood of stress for the animal/s. Ensuring proper ventilation and temperature along with timely handling are very important." Meanwhile, Fleisch added, "The facilities must be clean and make as little noise as possible. The team needs to be familiar with the natural behaviour of the type of animals and to understand them better."