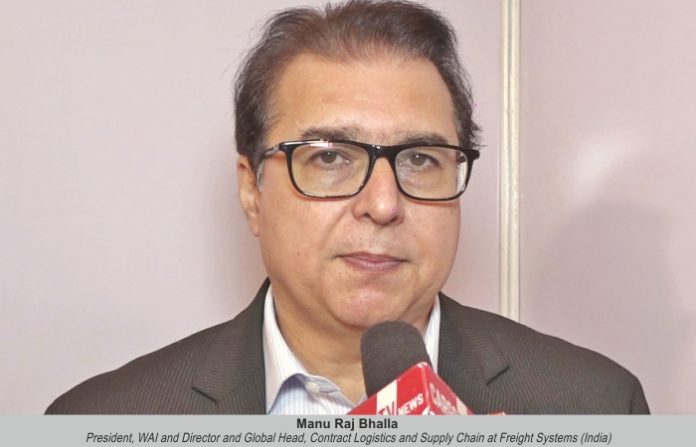 Warehousing Association of India (WAI) was formed to address issues being faced by warehouse operators. Manu Raj Bhalla, President, WAI and Director and Global Head, Contract Logistics and Supply Chain at Freight Systems (India) says govt should introduce business-friendly policies to ease establishment and operating of warehouses in India.
Ritika Arora Bhola
How do you foresee the future of Indian warehousing sector?
The future of Indian warehousing sector is bright. However, there is a huge shortage of grade A warehouses which needs to be developed to meet the growing demand of warehousing in India.
What are the key growth drivers for the warehousing industry?
The focus on manufacturing and the growth in the retail trade not only in tier I, but also II and III cities will be the key growth drivers for the warehousing and logistics industry for 2022 and beyond. The government is taking steps to improve multimodal connectivity, which will bring efficiency to the supply chains and help reduce logistics costs.
Grade A asset class warehousing facilities and logistics parks are being developed not only in metro cities but also in tier II and III cities. How would it boost logistics and the country's overall GDP?
Grade A asset class warehousing facilities and logistics parks in tier II and tier III cities in addition to tier I cities will facilitate the movement of goods across the country in an efficient and cost-effective manner and will enable storage of goods closer to markets thus improving the time and cost to serve.
What are the factors that led to this shift in tier II and III cities? How would you rate the infrastructure in such cities for developing facilities or business operations?
The shift to tier II and III cities is demand-driven. The consumers in these markets have higher disposable income with industry and service sector industries also moving into these areas where the cost to operate is lower than the metro cities.
How can the industry utilize tech in a meaningful manner to create business value for clients?
Deployment of technology in warehouse and logistics operations are key to ensure the efficiency and productivity. Transport Management Systems and Warehouse Management Systems help bring real-time visibility while ML and deployment of Robotic Process Automation help improve efficiency and productivity. Artificial Intelligence (AI) tools help predict demand of products in markets to have a higher fulfilment rate.
How can cargo agents and end-users benefit from the warehouses in remote locations?
Moving goods in bulk closer to the consumption centres bring down the per unit cost as well as time to market.
Multimodal linkage is the major concern now. This apart, what are the other key issues plaguing the industry?
The government is seized of the challenges pertaining to multimodal connectivity and is taking positive measures to establish the same in key markets and key trade routes
What are WAI's upcoming plans and projects or events in pipeline? WAI is working with Department for Promotion of Industry and Internal Trade and with many states to operate warehouses. We have made representations in this regard. They are being examined by the DPIIT and WAI. Soon, a book on warehousing standards will be published.