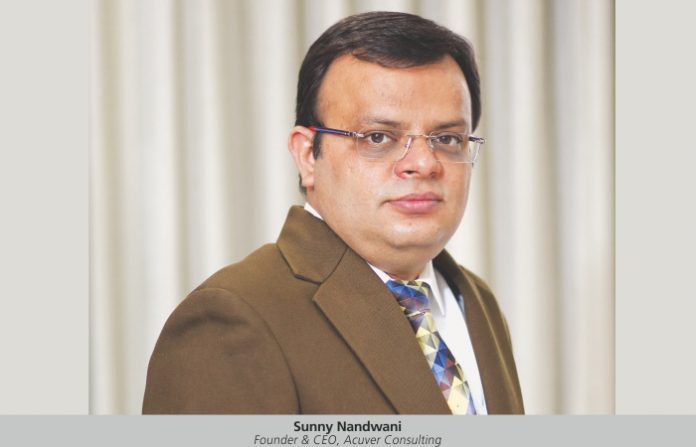 Traditional technology and equipment lacks end-to-end visibility and real-time updates on operations. The majority of businesses now use AI-driven cognitive solutions to improve supply chains and help them move forward in line with market trends, stresses Sunny Nandwani, Founder and CEO, Acuver Consulting.
The main objective of supply chains has always been to meet customer demand on time. In recent years, the ever-evolving market trends and shift in demand patterns have made the management of supply chains more complex. The increasing range of products demands for frictionless supply chain management. It has led the companies and stakeholders to focus more on building agile and resilient supply chains that are cost-effective and flexible.
Transformation of supply chain management
Amidst the gamut of shifting trends in the market, companies face a wide range of supply chain challenges. The changing demands based on product segments, price fluctuations, and geographies make the market volatile and unpredictable. Digitalisation across different industries has shifted the customer behaviours, where the need for on-time delivery, customised products, localisation, and multi-channel buying platforms has risen multifold. This has resulted in supply chain players taking a step ahead, using tech-based solutions to enhance their day-to-day operations to ensure success in businesses.
While traditional supply chains employed technology and machines, they lacked end-to-end visibility and real-time updates on operations, causing a lag in logistics, miscommunicated operations, and unhappy customers. Today, most companies adopt AI-driven cognitive solutions that make supply chains efficient and help move the business forward in synchronisation with market trends.
With intelligent supply chain solutions, the companies can keep real-time track of inventory, orders, trends, logistics and gain relevant insights. It helps in better decision-making while ensuring seamless operations across all levels of the supply chain. A report by Mckinsey states that the early adopters of AI-enabled supply chain management improved their logistic costs by 15 per cent and service levels by 65 per cent compared to those who lagged in scaling up with new-age technologies.
Re-defining supply chain processes with Technology
Organisations across industries are gradually adopting AI-enabled supply chains, helping in demand forecasting while providing complete transparency, be it in inventory, procurement, production, logistics, or delivery. The data-driven insights allow the organisations to ensure customer-centric and intelligent strategic planning leading to customer satisfaction, business progress, and increased profit margins. Let us take a closer look at how AI drives supply chain transformation and growth.
Enhances end-to-end visibility: Tech-driven intelligent solutions capture and analyse vast set of structured as well as unstructured data to provide real-time visibility as well as valuable insights. This helps in managing complexity and taking informed decision across the system. Powerful resolution engines, powered by AI, facilitates automation and optimisation to meet strategic objectives. With mammoth data to process, these engines can perform real-time, what-if analyses and supply chain management (SCM) modeling across a host of variables determining the impact on key performance indicators and ultimate business outcomes. Thus, a real-time visibility and insights helps business to take right decision at right time and bring in desired returns.
Improves agile decision-making: In most cases, following conventional methods involve manual management of supply chain activities to drive sales. Powering up with cognitive intelligence and smart technology facilitates seamless integration of all data flowing through different verticals in the supply chain. Participants can share real-time data and decide for better implementation of logistics and operations. Besides this, a collaborative AI-based platform helps rule out any hindrances or delays by taking data-driven immediate actions.
Creating flexible and personalised value chain: Organistions are now opting for strategic planning based on data-driven insights. AI and ML-driven technologies help understand consumer behaviour, predicted market shifts, and the urgency of potential trends. This empowers business to strategise their initiative to deliver desired business outcome. Also, tech-enabled platform helps in making an integrated supply chain network modular, flexible and efficient.
Optimising ops to enhance business performance: If you think about any business, the
goal is to ensure continuous successful performance.
This is what an AI-driven supply chain helps in. The advanced analytics helps determine the business's performance based on operational costs and profit margins. By getting insights from predictive trends and the current state of the business operations, intelligent tech-based tools help in devising remedial plans. For instance, if an organisation predicts an increase in demand for a particular product, it can revise its procurement, production, and shipment plans by communicating with vendors, suppliers, and logistic partners in advance.
The next-gen technological advancements, augmented by data, fuels evolution and efficiency in supply chain management. By incorporating new-age AI-enabled cognitive technologies, businesses can unearth operationally efficient supply chains to create sustainable competitive advantage, to meet the competitive market demands, ensuring customer satisfaction and supporting accelerated business growth.