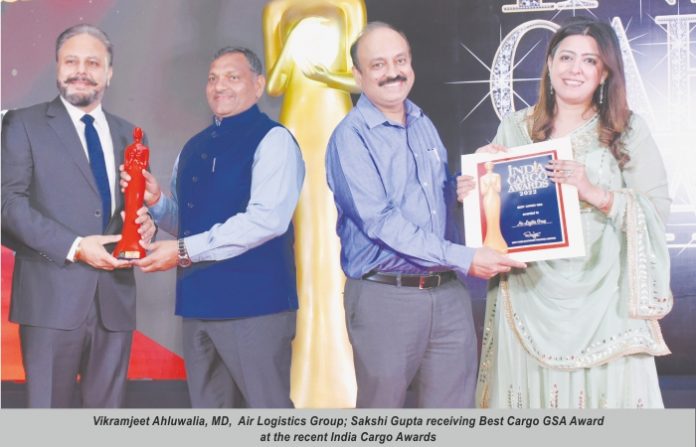 Vikramjeet Ahluwalia, Managing Director, India at Air Logistics Group shared with CARGOTALK  in a video interview that it is always wonderful to meet the stakeholders in person rather than through virtual meetings. He says it is high time that Russia-Ukraine war should end, and air freight prices should be rationalised.
CT Bureau
How does it feel to be back in an offline event meeting people face to face?
When we heard about India Cargo Awards, a physical event organised by the DDP Group, we got excited as it is always wonderful to meet the industry leaders in person rather than through video cameras or computers. All the industry leaders did not miss the opportunity. It is a fantastic and exciting start to the year 2022.
What are the major growth drivers for the industry now?
Capacity must be added, and air freight prices must be rationalised. Until that does not happen, the exporters will feel the pressure, as their costs are rising. Coming together under one roof is memorable indeed. The ongoing conflict between Ukraine and Russia which has come at a wrong time, should come to an end. The war has only resulted in an increase in prices, be it fuel, freight costs among others.
How does it feel to be honoured as Best GSA – Cargo?
It is a lovely feeling, and I am looking forward to a fantastic year ahead .
How important are the cargo awards for the industry in general and to you in particular?
It inspires you, propels you onward, and drives you as an industrialist to achieve more success in your own league.
How do these award functions boost the industry leaders to work and motivate?
Meeting people one after the other after a long break is a terrific experience. It is a fantastic experience for the logistics sector to communicate and get to know the players in the supply chain. I would like to thank CargoTalk magazine and all the stakeholders  of the supply chain, the freight forwarding fraternity, the ground handling agents (GHAs), the ramp handlers, the loaders,  the Information Technology industry, and the air logistics team for the India Cargo Awards. We have been through an unprecedented crisis following the ongoing coronavirus, and we have evolved, fortunately.
Let us make 2022 a year to reckon with, grow and evolve in this ongoing pandemic.