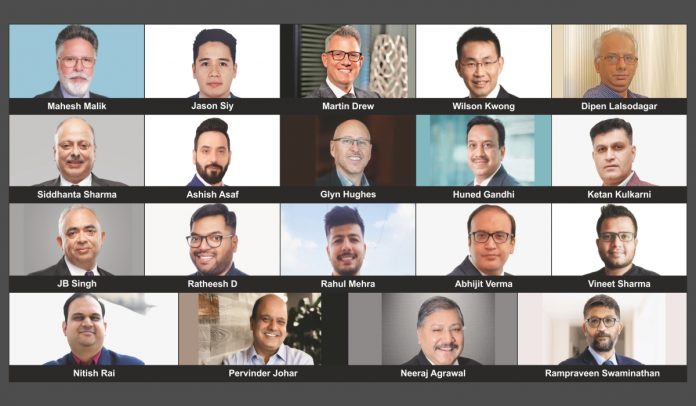 Though sectors witnessed growth in previous year, experts believe in New Year, air cargo and logistics will not only witness robust growth, but also solve existing challenges. Measures will, however, be taken to improve the performance of the two sectors, which is likely to grow five folds by 2050.
Ritika Arora Bhola
The New Year promises to bring a lot of growth and optimism for the Indian air cargo and logistics sectors, as both the industries seem to be steadily recovering from the plethora of challenges thrown upon them by the crises such as the pandemic, lockdowns in China and Russia-Ukraine war in the past two years. Despite the disruptions, the Indian air cargo and logistics sectors have witnessed substantial growth in 2022. India's air freight market was estimated to be US$12.41 billion in 2022 and is expected to reach US$16.37 billion by 2027, growing at a compound annual growth rate (CAGR) of 5.7 per cent, as per reports.
According to Cushman and Wakefield's latest report, the country's logistics and industrial markets attracted global funds and investments worth 8,257 crores in 2022. With massive investments by central and state governments and by private players in advanced technologies such as Artificial Intelligence, Machine Learning, Block Chain, Robotics and Automation, Internet of Things (IoT), and Data Science and in developing world class logistics infrastructure, dedicated freight corridors, Multimodal Logistic Parks (MMLPs), national highways, building more regional cargo complexes/terminals, improving multimodal connectivity, Indian airlines increasing capacity and expanding dedicated freighter fleet, to improve supply chain efficiency and enable seamless cargo operations, the logistics industry is expected to grow five folds by 2050.
With resilience, robustness, and agility, the logistics and supply chain industry certainly proved its mettle in the trying times and now, there is no more looking back. The industry is ready to move forward for growth and the key growth drivers include:
Automation and digitization have accelerated the growth of logistics industry and helped in creating the era of e-commerce—a key driver of air cargo growth. According to McKinsey Global Institute, the transportation and warehousing industry has the third-highest automation potential. Artificial Intelligence, Machine Learning, computer vision, connected Internet of Things networks, and Blockchain can be applied to simplify logistics operations, make them more efficient, and optimize resources. Automation is expected to rise in 2023.
The introduction of National Logistics Policy has facilitated integrated, seamless, trustable, resilient, and green logistical operations. The logistics policy is based on automation, standardization, and informal labour. It intends to lower the cost of logistics by 10 per cent by this year
Increased industrial collaboration, which would provide Indian businesses a competitive edge in the international market.
Indian airlines increasing its cargo capacity with the segment emerging as a promising revenue stream. The country's freighter fleet has seen a dramatic rise to 28 aircraft from five over the past few years.
Globally, the investment in P2F conversions and in production freighters will ensure the industry has sufficient capacity available when the current downturn in demand reverses
Increased exports of heavy industry components, pharma, and perishables from India
Industry moving towards sustainable operations
Air cargo industry moving towards achieving 10 million tons target by 2030, by adopting various efficient growth strategies
Source: Mckinsey Research
CARGOTALK spoke to industry experts about their predictions, expectations and strategies for the New Year.
Improvement in domestic cargo movement in recent years :
Developing Grade-A warehousing
Establishing more terminals for inland waterways transportation and private freights
Establishing temperature-controlled transportation for perishable goods (such as cold storage chains)
Establishing containers depots
Allotting huge budgets for developing corridors for rail freight transportation, multimodal parks for logistics among others
Establishing projects such as Bharatmala and Sagarmala for better PAN India connectivity
The Union Ministry of Commerce and Industry stated the logistics sector accounts for 5 per cent of India's GDP and provides jobs for nearly 2.2 crore Indians
(Source: PIB)
Freighter fleet expected to increase in India in 2023
Mahesh Malik, Chief Commercial Officer, CarGo, IndiGo
The CarGo business was a silver lining for the aviation industry amidst COVID. It furthered the potential of the CarGo business with revenues in the absence of normal scheduled commercial flight ops. Indian airlines are increasing their capacity, with the segment emerging as a promising revenue stream. The freighter fleet has seen a rise to 28 aircraft from five over the last few years. As demand increases, the fleet is expected to increase as airlines are looking to add more dedicated aircraft for cargo ops. The cargo ops across the industry fared better than passenger segment amid the pandemic and helped the aviation industry stay afloat. Our plan is to develop a profitable network, which will include expanding to global destinations such as Hong Kong and Vietnam. However, we will continue to build a robust CarGo domestic network and focus on expansion to tier II and III cities through our fleet of passenger narrow body aircraft.
Freight forwarders optimistic about growth in 2023
Jason Siy, Vice President, Cargo Business, Philippine Airlines
International Air Travel Association (IATA) is seeing slower traffic rate for 2023 based on their semi-annual report. An expected growth of 43.6 per cent year-on-year to US$727 billion is mainly driven by higher passenger yield behaviour. Freighter activities are slowly being taken again by belly space due to the return of passenger activities, except for Asia. Members of Air Forwarders' Association remain optimistic despite the flow of air cargo, which is stalled in China. The United States of American.S. consumers will have a disproportionately high impact on air freight demand, especially in the third and fourth quarters of the New Year, as the inventory levels tick up and international demand for electronics decreases.
We will evaluate new markets and opportunities in 2023
Martin Drew, Senior Vice President, Global Sales & Cargo, Etihad Aviation Group
As 2022 ends, we have seen demand for air cargo soften compared to 2021. While forecasts have been adjusted downwards, the air cargo sector is still projected to grow and outpace pre-pandemic levels in 2023. We are likely see a reduction in cargo capacity, especially out of Asia-Pacific (APAC) region. We can expect to see some softening of global yield levels following the return of more belly-hold capacity. However, an imbalance between strong demand and available supply in significant cargo origin markets along with a high freighter capacity, which will continue to demand higher yields. Some of the challenges that we faced in the year gone by will continue to remain in the New Year. We will need to monitor macroeconomic factors, high fuel prices, supply shortages and ongoing border and travel restrictions. Even with these challenges, several opportunities are available to the cargo carriers, which are agile and collaborate with the stakeholders across the cargo sector and can easily adapt to evolving the market conditions. We at Etihad Cargo are exploring new territories and countries and focusing on our existing network to provide market-leading services, based on customer demand. As we say goodbye to 2022 and look to the New Year, we will continue to evaluate new markets and opportunities to grow our offering to our customers as part of the wider cargo strategy of Etihad Cargo. We at the cargo airline have identified pharmaceuticals as a high-growth sector and are investing heavily in infrastructure and new product features in order to enhance our PharmaLife offering.
Supply chains need reliable and consistent capacity
Wilson Kwong, Chief Executive, Hactl
2022 has been a challenging year for the global industry, and Hong Kong is no exception. The combination of high inflation, post-COVID economic adjustments in developed economies that are major consumers of airfreighted goods, the Ukraine conflict and continuing anti-COVID measures affecting Chinese manufacturing and logistics, have all caused a sharp drop in airfreight traffic. Even e-Commerce, which seemed to be growing exponentially, has slowed down. But, while this is disappointing, it was inevitable and to be expected. Airfreight growth could not possibly have continued at the growth rates of 2020 and 2021, much of which was COVID-fuelled demand that we knew would be short-term. The long-term trend of air cargo is to grow at the same rate as global GDP; therefore, 2020-21 should be viewed as a blip and a readjustment is to be expected. New digital ramp processes, our new integrated Hactl Control Centre (iHCC), a new GSE tracking and monitoring system and re-designed management systems for our giant automated cargo handling machinery are among new initiatives introduced during COVID. We expect the New Year to be slow, with a return to modest growth of circa 3 per cent from 2024. We believe the relative importance of freighters in providing the industry's capacity will remain greater than in the recent years, as supply chains look for reliable and consistent capacity.
Heavy lift cargo, pharma & perishables to drive growth
Dipen Lalsodagar, Deputy Director, Cargo Sales, Global Aviation Services
As India opened for travel, airlines started restoring/adding new routes. This year, our principal carriers increased their capacity into India, and we have been working hard to increase their market share. The best way to sum up 2022 is with the proverb, "what goes up must come down". The Russia-Ukraine war not only affected supply chain distribution but also economies worldwide, resulting in drop in exports and widening trade deficit. A supply and demand mismatch resulted in persistent yield decrease. A distinct demand trend was seen for commodities. From India, exports of heavy industry, pharma, and perishables rose, while general merchandise saw a decline. High airfreight plus GST shifted some business to the sea. Though experts are sceptical of air cargo growth in 2023, I feel the growth would be slow and steady. Seasons may vary, but certain markets will perform better. From an Indian perspective, domestic air cargo market will be robust due to a strong economy and high demand for consumer durables. With many industries setting up production under Make in India initiative, we can see India as a big exports hub in heavy industry, technology, IT, and defence sectors soon. Also, digital development will create efficiency for air cargo in future. Sustainable aviation using energy-efficient tech will bring changes in the air cargo transportation.
Govt initiatives will have positive impact on air cargo in Q2 2023
Siddhanta Sharma, CEO of InterGlobe Air Transport (IGAT)
In the aftermath of the pandemic, the cargo industry experienced strong growth. Since the impact of curbs was felt by the rest of the industry, the cargo sector was fuelled by the increase in e-commerce demand. The first quarter of the year 2022 witnessed the same volume and yields of cargo shipments as that of 2021. Since passenger flights gradually returned to pre-pandemic levels, cargo capacity in the aircraft's belly increased significantly. However, 2022 also saw a decline in sea freight rates and the easy availability of containers, making sea transport a viable option once again. Simultaneously, international inflation, rising oil prices, and the Russia-Ukraine conflict dampened consumer demand and impacted the cargo sector's growth in the past few months. IATA, global cargo volumes are expected to come under increased pressure, and economic uncertainty could lead to a decrease to 57.7 MT in 2023. Revenues are anticipated to be better than pre-COVID times. However, measures taken by all the governments in a bid to reduce inflation and the possibility of an end to the Central European conflict may boost consumption of goods, anticipated to have a positive effect on air cargo in Q2 2023.
Decarbonization of air transport is our top priority
Ashish Asaf, S.A. Consultants & Forwarders
Moving towards decarbonization of the air transport sector shall be be accorded priority as we track towards the year 2030. So, the cargo capacity disruptions and increase in cost are bound to take place during this period. Hence, there could be an additional demand for space, while the older aircraft go for scrapping or an engine refit to meet the goals related to carbon emission reduction. The air freight demand will be offset by the near and medium-term challenges posed by a host of challenges such as inflation, reduced purchasing power, consumption pattens, and geopolitical issues rocking European region among others. During this time, probable incremental cargo volumes can rise due to an increase in the e-commerce segment from certain Southeast Asian countries as well from the probable disruptions in the ocean freight thanks to congestion of ports or the COVID-induced lockdowns.
Investments in P2Fs will ensure cargo capacity
Glyn Hughes, Director General, TIACA
2022 was an excellent year for TIACA, we moved many of our key programs forward and saw an increase in membership. We increased our event portfolio to enhance member engagement. We expanded our regulatory outreach and engagement and participated in several ICAO sessions with senior government officials. We advocated for support to air cargo at government level, including supportive regulations and flexible operational scenarios and increased our work to link with next generation workforce and participated in many campaigns. We were pleased to launch the TIACA BlueSky program, the industry's first independent assessment program, designed to support an organization's journey to sustainable transformation. From an industry perspective, we were pleased to see increase in innovation and digital connectivity. The investment made in P2F conversions and in production freighters will ensure the industry has sufficient capacity available during the current downturn if demand reverses. We need to enhance the value proposition and increase the awareness of what a vital role this industry plays in the global economy and global society. I think the key question for 2023 is when will the current economic challenges, which have impacted consumers, subside? High inflation, high energy costs and high interest rates have conspired with job insecurity to create defensive patterns in consumer spending. When these influences turn positive, we can expect to see resumption of significant industry growth. For TIACA, we expect to see focus on sustainability issues.
National Logistics Policy will boost growth
Huned Gandhi, Managing Director, India, Air & Sea Logistics, Dachser, India
The previous year has been great for Dachser India, and we are happy that all industries are back to working normally as they were during the pre-pandemic times. Most industries have shored up production and are trying to overcome the challenges faced. Issues such as chip production, inflation continue, but I hope we will see the situation improve from Q2 onwards in 2023. The New Year is going to be a challenging one with the issues mentioned above, but at the same time, we got a push from the government thanks to its initiatives such as the PLI scheme, the NLP, which provide us the tailwind to keep growing consistently. India is well positioned in the global market, and we will see more opportunities for business growth in the years to come.
AI, cloud, automation, robotics, IoT will enhance growth
Ketan Kulkarni, Chief Commercial Officer, Blue Dart
Our enhancement in air and ground package handling capacity is on track, and our company, Blue Dart, has initiated actions to build on the infrastructure front. Blue Dart will expand its fleet with two Boeing 737s. This cargo aircraft is ideal as it can reach smaller airports, following increased air connectivity, and create value for stakeholders. In the previous year, we signed the United Nations Framework Convention on Climate Change (UNFCCC) Climate Neutral Now pledge as a step towards sustainability roadmap and is making strides towards creating technology that is future ready, thereby opening the door for the stakeholders to accept sustainable logistics that aim to shrink the ecological footprint. The National Logistics Policy (NLP), which was launched last year by the Government of India, will seek to accelerate the development of transportation and logistics infrastructure of the country.
With digitization of the logistics industry, there will be technological developments in the coming years,including Cloud Computing, automation, robotics, Blockchain, big data, and Internet of Things (IoT) will be used in logistics, making the industry smart and at the same time being time sensitive.
The future of the Indian logistics sector is indeed exciting with the introduction of independent drones delivering packages to their destinations among various overhauls within the logistics industry. Businesswise, the air cargo industry is a crucial sector, given the volatility, uncertainty, complexity and ambiguity (VUCA) world that we work in, with investments needed in talent. The central government has extended its support through the National Logistics Policy and the Prime Minister Gati Shakti National Masterplan for multimodal connectivity infrastructure in various economic zones, which is a tailwind for the logistics industry. This |will contribute support towards creating an integrated, cost-efficient, resilient, and sustainable logistics ecosystem in the country as it covers all the bases of the sector along with streamlining rules and addressing supply side constraints.
Technology adoption is significant to success
JB Singh, Director InterGlobe Enterprises and Board Member, MOVIN Express
As we move into 2023, we have realized that the sector is gaining momentum with the right infrastructure, and the launch of the National Logistics Policy is a game changer for the logistics industry. With major differentiators like digital customer journeys starting from account creation, a daily MIS dashboard, and its transparent processes, MOVIN is creating new standards in the industry, aligned with the National Logistics Policy as proposed by the Government of India. As volumes grow, operational handling becomes complex, decision-making becomes tougher, and expansion plans become unreliable and uncertain. Data-driven, dynamic, and Intelligent logistics systems will solve those issues as it improves route optimization, operational planning, exception management, and communication between stakeholders and provides business intelligence through interactive dashboards to make informed business decisions. MOVIN plans to invest heavily in technology in the coming years, as our systems and processes are built to be agile and drive efficiency; thereby enhancing the customer experience throughout the shipment journey. We believe that technology adaption is a key to our operational success and a strong tool to reach a wider audience with best-in-class delivery services.
Logistics must focus on AI-driven supply chain tech solutions
Ratheesh D, Director CABT Logistics
Today, the logistics sector is in the country is about offering a seamless and time-optimized service to the consumer, at the same time, maintaining operational and time optimization. In order to achieve this, logistics will need to focus on Artificial Intelligence-driven supply chain technology solutions. Processes such as sorting, order picking, and FDA will adopt automation. Besides this, strategic decisions such as micro-warehousing, setting up dark stores, sorting facilities, manpower, and rider tie-ups based on pin codes and demand and supply will no longer be tedious processes thanks to advanced technology and Artificial Intelligence. Efficiency, advancement, and convenience are the outlook for logistics sector will be in the New Year 2023.
EVs will provide cost-effective logistics solutions
Rahul Mehra, Co-founder, Roadcast Technologies
Logistics is all about convenience and the outlook for the logistics sector in 2023 will be about optimized shipping via technology. For logistics, there are multiple modes of transportation involved now. Such as e-bikes, which have completely replaced fuel-powered two-wheelers. The EVs not only provides a cost-effective solution for logistics but also vehicle connectivity. Logistics is now using three-wheelers for the first mile and mid-mile. These EVs are helping companies ace the rapid inter-city movement of goods, making logistics more efficient and sustainable. These connected vehicles allow for a handshake model of delivery wherein the three-wheelers bring most goods to a sorting centre/micro warehouse and from there e-bikes complete the last-mile delivery. This increased cost optimization, time optimization, and increased connectivity and mobility via tech will be the key point for logistics in 2023.
Grade A industrial warehousing to be resilient
Abhijit Verma, Managing Director, AA Holdings
The warehousing and logistics segment of real estate has emerged as relatively risk-immune and may gain further strength and attract more investment in 2023 led by demand from the e-commerce and 3PL players. Activity in Grade A industrial and warehousing facilities continues to be resilient, with gross absorption during H1 2022 in the top five cities at 10.8 million square feet, a 7 per cent increase year-on-year, driven by large deal. A favourable regulatory environment, along with the support of the government through policies such as National Logistics Policy and reforms are further expected to boost the spending on infrastructure and, in turn, the overall demand for modern warehousing. Speed and technology to emerge as key considerations for occupiers' warehousing strategy.
National Logistics Policy to promote economic growth
Vineet Sharma, CEO & Co-Founder, FleetX
If there is one factor that can keep India ranking globally on the ease of doing business, it is logistics. Logistics is India's most unorganised sector, and because of the pandemic, it has faced fragmentation and challenges in recent years. Nonetheless, India's strong logistics sector push, combined with technological advancement and structural reforms, has resulted in the growth of the logistics sector making growth from US$250 in FY21 to US$380 billion market by 2025. On top of it, increased online marketing and on-spot freight transportation has resulted in a compound annual growth rate of road logistics of 8 per cent. Additionally, the sector has seen immense growth in 2022, be it with the release of the NLP promoting economic growth, the Logistics Master Plan focusing on inter and multi-model transportation, or promoting programmes such as LEEP and MMLP, or with the upgrade Gati Shakti.
Digitalization to create future-ready logistics
Nitish Rai, CEO and Co-Founder, FreightFox
The previous year 2022 has been a year of reckoning for the international logistics and supply chains. The year created the sensitivity and need for strong supply chain visibility and resilience across manufacturing logistics. This year has been instrumental in laying the foundation of rapid digitalization and data-led transformation in order to create future-ready logistics. Also, the previous year saw strong tailwinds with organizations internationally talking about ESG/sustainability also as a core theme and taking aggressive objectives towards building net zero value chains. We also believe that the previous year was a foundation in many ways and learnings, especially after the pandemic cases subsided and carved a well thought out future path for transformation and resiliencein the New Year.
Supply chain optimization will be at forefront
Pervinder Johar, CEO, Blume Global
In 2023, Artificial Intelligence and Machine Learning will continue to show potential as both remain largely untapped. With AI/ML, many applications show progress in systemizing information and bringing organizations to the next level. The future of the logistics industry is automation that exists with delivery vehicles, dark warehouses, and some port terminals, but we must ensure that automation is working in tandem with straight-through processing (STP) and that the systems have the knowledge. Additionally, supply chain optimization should be at the forefront, as cutting-edge technology is not restricted to only big guns anymore. For this, we should observe the evolution of visibility post the ongoing recession, as many technologies often experience a hype cycle and slowly fades away. In the future, the enhancements in visibility will make it ubiquitous and part of every supply chain planning and execution system. It will cease to exist as an independent product. This year, more companies adopted tech to streamline supply chain operations, but we also experienced the direct and indirect effects of various geo-political issues and supply chain disruptions.
Better data will enhance industry capability
Neeraj Agrawal, Executive Director, Crescent Enterprises
With extreme weather impacting cargo movement and leading to the potential disruption of supply chains coupled with economic challenges and ongoing geopolitical issues, the logistics indu stry may get off to a bumpy start this year. The rising cost of fuel is weighing on global GDP growth. Although, most recently we have witnessed benchmark energy prices converge to more "normal" levels, this is often accompanied by a lag due to broad use of commodity price hedging in the industry. In addition, market volatility will mean businesses must adapt to continued volatility with potential price rises which could lead to more exporters opting for sea freight rather than air freight to cut costs. To mitigate rising costs and uncertainty, more businesses will be further incentivized to embrace the use of digital technology to enhance operational processes – resulting in faster, more accurate and more accessible processing when it comes to cargo documentation. Better data will enhance industry capability by increasing visibility, especially in terms of tracking cargo through the supply chain.
Moving towards decarbonizing supply chain
Rampraveen Swaminathan, MD and CEO, Mahindra Logistics
Auto industry's recovery and ongoing volume growth in other sectors have driven the overall business volume increase. We continued to invest in last mile and B2B express in addition to 3PL contract logistics, both of which have maintained a growth momentum. We observed the broader effects of inflation, an increase in the cost of frontline labour, and shortages in the supply of trailers and car carriers during the year. While the short-term operating environment is still characterized by general inflation, price volatility, and global recessionary trends, we continue to push for operational optimization for clients and ourselves. One of the previous year's biggest highlights has been the launch of NLP believed to have the potential to boost digitization, multimodal logistics, and lower logistics costs, acting as a catalyst for industry reforms. We anticipate a few industry trends in the coming year, wherein multimodal transportation systems to be used frequently in fulfilment logistics and warehousing services. In lines with our commitment and plan to become carbon neutral by 2040, we have undertaken various initiatives towards decarbonising the supply chain, including a network of Net zero warehouses and an ecosystem of Edel—our electric fleet for LMD to carry on in 2023 and beyond.
Conclusion
The air cargo and logistics sectors may see a gradual shift from survival mode to growth mode, as they have overcome the pandemic-related disruptions and emerged as a winner. High air freight rates, lack of trained manpower, inadequate infrastructure, congestion at the terminals will remain as the main areas of concern, however, the New Year will bring many opportunities in improving the supply chain efficiency. Experts forecast advanced technologies such as Artificial Intelligence, digitization, automation, and cloud-based solutions to act as a catalyst in improving overall operations. Air cargo ground handling and warehousing industries will see more of automation and robots taking care of storage of goods. Indian domestic air cargo market will be strong due to increased demand for consumer durables. Experts said in the times to come, India will become a big exports hub in Information Technology and Defence sectors, consumer durables, pharmaceuticals and heavy lift industry will project growth. Sustainable operations using biodegradable, and energy efficient technology will bring noteworthy changes in the air cargo handling, storage, and transportation.