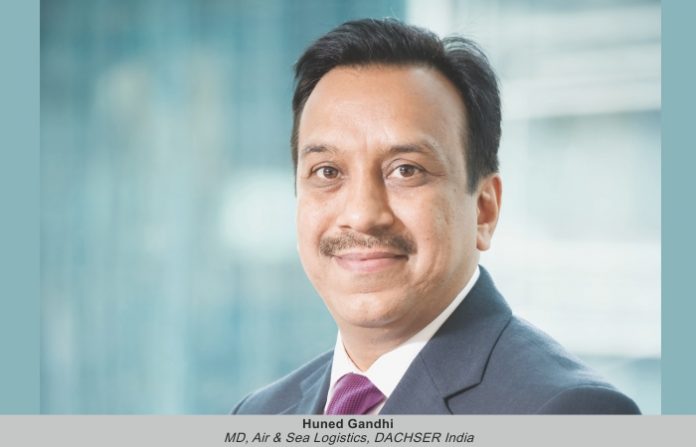 Logistics industry is in focus with initiatives such as Gati Shakti masterplan and Self-Reliant India. We see demand with bi-directional traffic growth. Multimodal transportation will result in savings for exporters and importers, making them more competitive, says Huned Gandhi, MD, Air & Sea Logistics, Dacsher India.
Ritika Arora Bhola
What is your company's role in future air cargo and logistics, and services evolving around these concepts? Are such developments in Europe being planned for India?
We believe air and sea logistics in India will grow in the years to come. Contract logistics; warehousing and distribution is a mature business in Europe and Asia. In the next five years, we expect similar developments to take place in India. Our focus has been to provide quality services leveraging our road logistics network and standardize processes. I would like to highlight Life Science and Healthcare market in India. While ocean freight has been garnering increasing share of Life Science logistics spends, it is evident the air logistics will be the key in pharma supply chain in terms of value of goods shipped. It is likely to grow in the next decade; it shall remain one of the key industries for Dacsher India to focus on.
Dacsher's global revenue exceeded EUR 7 billion for the first time in 2021. Kindly share with us the growth strategies adopted by you to move ahead?
Our approach is designed based on customer expectations and maintaining high quality services in these evolving market trends. Certifications such as CEIV, AEO, ISO provide customers assurance of an expertise, quality, and compliance. Over the years, the Dacsher has expanded to be able to provide its valued customers with seamless services across the globe. Investment of time and resources in training, development and upgrading our skills in business field solutions such as Life Science and Healthcare Logistics has ensured we can cater to the specialised service needs of valued customers.
What are the growth drivers in 2022 and beyond?
The supply chain management (SCM) technology landscape is changing rapidly, hence, the capacity for technology and innovation optimizes the way firms are working to remain competitive. In the future, real-time data and analysis will become crucial to address uneven demand fluctuations across different geographies. It will help adjust transport routing plans ahead of time, along with the ability to forecast and adapt to the volatile global geopolitical and supply chain situations—they are the key drivers for sustained growth. The demand for eco-friendly products and processes will play a vital role in demand-supply model. Our climate protection initiative focusses on efficiency, innovation, and inclusive responsibility. By 2022-end, our deliveries to the city centres will be emission free. Sustainable capacity solutions, enhanced handling capabilities for specific business and the ability to motivate employees will remain important too.
Which trade lanes exist at Dacsher Air & Sea India? What are additional ones planned for 2022 and beyond?
Being a Germany-based company, the largest trade lanes for Dacsher India are to Europe followed by intra Asia and to the United States. In the recent times, we have seen growth within Asian markets and the US trade is booming with all vessels running to full capacity. For the future, we see the US as one of the major trade lanes for our growth. The markets of Thailand, Singapore, Vietnam, Indonesia, and Malaysia hold potential, and we are looking forward to explore these markets, considering that we have offices in these countries.
May we expect to see more shippers divert freight from ocean to air this year? What kind of commodities are most likely to see a surge in air freight?
Air cargo has come a long way and with new age aircraft and technology. It has proved itself as a cost-effective solution for many products and continues to register growth over the years. Having said that, in ocean freight the container shortage and blockages in production activities, the supply of PPE during the ongoing pandemic, and pent-up demand—all this led to a surge in demand for air freight. A similar situation is likely to persist until
the SQ of 2022 , though at a much lower scale. This will lead to a surge in air freight demand due to a diversion from sea to air.
Could you elaborate on the strategies being devised to enhance efficiency in the company's business and network enhancement?
We are having a well-defined and proven quality management system. We invest in employees training and development, have a structured approach to laying out standard operating process, documentation, route validation, and lane assessment. Deviation, exception handling and, a subcontractor management are some of the areas where we are implementing tried and tested best practices followed by our network, which
are often customized in collaboration with customers.
Today the world seeks to ship to India. Where do the trade activities with India stand at the moment?
We are looking at growth in 2022-23 and the logistics industry is getting the right focus from the government. The PM Gati Shakti Masterplan covers relevant aspects of logistics. Atmanirbhar Bharat initiative and PLI scheme will see a rise in manufacturing activities. The resultant output will also be targeted for exports to the overseas buyers seeking to diversify their sourcing. Increased production will most invariably need imported inputs and raw materials. Thus we see a demand with bi-directional traffic growth. Multimodal transportation will result in savings for exporters and importers, globally.
Do you think the stakeholders are collaborating and uniting for growth?
Collaborative efforts for collective good of shippers, forwarders and carriers is always welcomed. Collective representations to government bodies for facilitation of EXIM processes, infrastructural development and trade facilitation are needed to keep up with the evolving business situations.