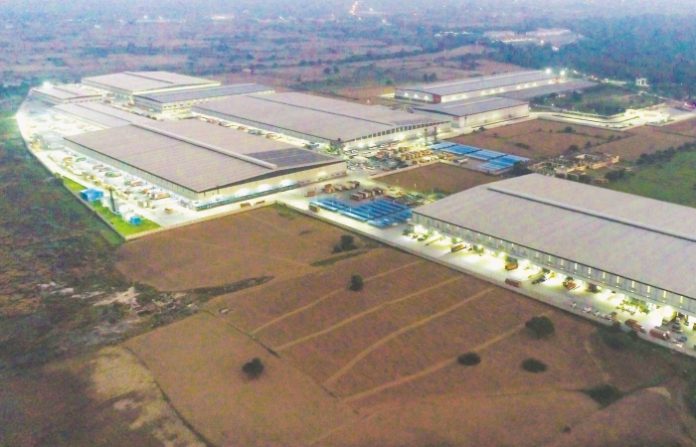 In keeping with its stance of being a proactive and responsible citizen, and taking an approach to ESG, Allcargo Group has built its Grade-A warehouses and logistics parks to minimize energy consumption and conserve resources. This development will be carried out through Transindia Realty, set up due to demerger of Allcargo Logistics.
Of late, India's logistics parks and warehousing sector is witnessing a tremendous upswing in demand. This growth is not only restricted to metros, but also encompasses many tier II and III towns. It has brought to the fore several industrial clusters and consumption centres that are integral for seamless movement of goods and products across India.
In a vantage position to leverage this are logistics players such as Allcargo Group that have achieved progress in construction, operation, and management of Grade-A warehouses and logistics parks across the country. CREDAI and Anarock reports indicate India's demand for Grade-A warehousing is estimated to touch 223 million sq. ft. in the next three years. Currently, the total Grade-A warehousing area leased in the top seven cities of India is 160 million sq. ft. According to a study conducted by Knight & Frank, the warehousing transactions across eight primary markets—NCR, Mumbai, Pune, Bengaluru, Chennai, Hyderabad, Kolkata, and Ahmedabad—may grow at a CAGR of 19 per cent over FY21-26. Warehousing and effective supply chain management will play a key role in helping India reach its goal of becoming a US$5 trillion economy.
It is here that Allcargo Group has the potential to drive progress, not only with world-class warehousing facilities, but also with their expertise across diverse other logistics verticals, including international supply chain, express distribution, CFS-ICD, contract logistics and the like to provide integrated and customized solutions. Having leased over five million sq. ft. of Grade-A warehouses to marquee customers across India in just the past few years, the logistics giant is already looking at an upcoming 8 million sq. ft. of warehouses and logistics parks spread across Gurugram, Mumbai, Bengaluru, Hosur, Hyderabad, Kolkata, Patna, Lucknow, among others.
With continued policy support from the government, which includes infra status to the logistics sector, permitting 100 per cent FDI in warehousing and storage, and implementation of GST, the sector has attracted decent investments. Allcargo Group too, has acquired 300 acres of land to expand its nationwide warehousing footprint. This development of Grade-A warehouses and logistics parks would be carried out through its group company, Transindia Realty, set up because of the demerger of Allcargo Logistics.
The growth in warehousing will be spearheaded by 3PL players, followed by e-commerce, manufacturing, automotive, and consumer electronics. Adept in catering to logistics requirements of all these sectors, Allcargo Group, has invested in build-to-suit logistics parks that offer connectivity to industrial hubs and transport routes in compliance with global engineering and construction standards.
With fully and semi-automated solutions that enhance human capital with technology, and flexible business models of dedicated or shared user solutions for warehousing and transportation, logistics major is indeed a transforming the sector.
Be it the facility at Farrukhnagar, Haryana, which links to all major NHs, or those in Pune, Nagpur, and Mumbai, that minimize transit times and offer line-haul movements without congestions, each one is equipped with a host of services that customers would require. RCC roads, 24×7 power and water supply, public transport connectivity, security, weighbridge, streetlights, dormitory and play area, medical centres, parking, are few of the many amenities that enable safe and seamless cargo movements and storage for customers.
Today, the conversations around green warehousing and sustainable logistics are getting stronger by the day. Customers, investors, regulators, and multiple stakeholders are monitoring and seeking clarifications on the environmental impact of logistics activities. In keeping with its stance of always being a proactive and responsible citizen, and taking an approach to ESG, Allcargo Group has built its
Grade-A warehouses and logistics parks to minimize energy consumption and conserve resources.  Solar panels for green energy have been set up at Farrukhnagar and Malur, and rainwater charging pits, wastewater management among others to help conserve water and use it judiciously.
In addition to the benefits of such facilities for business and economy, what cannot be denied is the impact they have on social welfare and lives of communities in and around the vicinity. Allcargo Group, for example, provides direct and indirect jobs to 5,000 individuals, just through its facility at Malur, Bengaluru. The group provides employment to women (20 per cent of the workforce) across its different locations, thus enabling their empowerment and well-being.
Bearing testimony to Allcargo Group's strides in the warehousing and logistics parks sector are the Platinum Rating by Indian Green Building Council for its warehouse at Malur and recent recognition of its facility at Jhajjar being awarded as the 'Best Industrial & Logistics Park of 2022' at the Realty Conclave and Excellence Awards 2022 (North).
Backed by strong governance and leadership, along with a relentless focus on lending support to initiatives such as NLP and PMGS that aspire to take the global competitiveness of India's logistics sector to the next level, market leaders like Allcargo Group set an example for the industry.