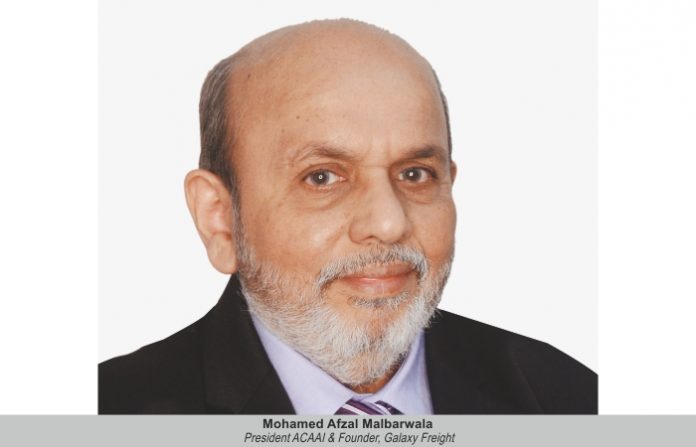 The 46th convention of Air Cargo Agents' Association of India (ACAAI) will begin in Bangkok, Thailand from Nov 24 till 27. The Convention's theme is 'Resilient Air Cargo Industry-Post Pandemic'. Mohamed Afzal Malbarwala, President, ACAAI says, with rise in cargo volumes and country becoming a manufacturing hub hassle-free movement of cargo is required.
Ritika Arora Bhola
How is the Indian air cargo industry gearing up for growth in new normal?
The ongoing pandemic has had a major impact on the air cargo industry. Nevertheless, the industry performed exceptionally well and delivered good results despite the severe challenges. Learning from disruptions faced, the air cargo industry is focussed on enhancing the infrastructure at all major cargo points, ensuring our airports are aligned to modern day cargo handling requirements and developing long due connecting links from the manufacturing zone to the airports. With cargo volumes growing and the country becoming a favoured manufacturing hub, we need to ensure seamless, resilient, and hassle-free movement of shipments. To this extent, utilizing modern-day
advanced technologies will be a significant factor.
What, according to you, are the key growth drivers?
As in any developing country, Ease of Doing Business, reliable infrastructure complemented by competitive pricing are the key drivers of growth. Our businesses are time critical, when customers are willing to pay premium costs, they expect services in return.
How do you justify the theme of ACAAI Convention. What will be the key focus points?
We will discuss extensively about the challenges faced in the ongoing pandemic, the increased freight rate and scarcity of space, issues being faced with the airlines when COVID cases have started subsiding, and lastly, the GST waiver on freight charges, which every year we have been discussing with central government.
What innovative solutions can you suggest for resolving the above-mentioned issues?
Despite the air cargo industry's contribution to the Indian economy, we still lack standardised infrastructure at our airports. This is connected directly to the Ease of Doing Business and result in excessive costs. Our next step forward must be aligned to standardize processes where customers experience the same delight and ease of shipment execution irrespective of the airport they operate from. Hence automation is the key to achieving this.
Where do you see ACAAI heading towards in the next five years?
ACAAI is still young by 52 years, and is always looking at the betterment of the air cargo industry by bringing to light the crucial areas of concern, addressing the core issues with its members and government, and suggesting innovative solutions to overcome the challenges.  We have been doing this ever since ACAAI was set up and we will continue with it.
How would you use your expertise to transform the cargo industry, and benefit the industry stakeholders?
We believe in understanding the pulse of the customer. We make efforts to understand the challenges they face and by employing innovative solutions, we try to bridge the gap and help them to ship faster, and in a cost-efficient manner. By bringing likeminded industry stakeholders together, we believe we can achieve the desired results.
How important is an association's role in transforming the air cargo sector?
Associations help in putting across ideas and thoughts to bring about a change. It is of paramount importance to have frequent interaction with the industry stakeholders and government to get in a transformation.
How do you think the government's latest initiatives such as PM Gati Shakti Master Plan, and Make in India can boost the sector?
Industry supporting solutions such as PM Gati Shakti Master Plan are welcomed by all the stakeholders. We are happy to see this initiative finally come to life. Planned connectivity of key places across the Indian geography is vital to enhance production in India and thus support export growth and a balanced import movement. Apart from providing the required connectivity domestically, this will set the tone for future initiatives involving multimodal transport solutions from and into India.
As converted freighter aircraft will continue beyond COVID, do you think there will be a boom in freighters. Will preighters' survive in this scenario?
There was a space and capacity issue during the peak of pandemic. Airlines converted a majority of their pax aircraft to P2C and operated freighters. Once the pax flights start in full, there will be enough belly space. However, preighters will operate but not as much as were being operated during COVID.
Do you think India needs more Air Freight Stations (AFSs). What are the initiatives taken in this connection?
Yes, India needs AFSs. Today, only the major gateway airports are heavily congested during the peak season and shipments get delayed. Expansion of air cargo complexes are also a challenge due to scarcity of space. Here the AFSs will be an advantage and generate more employment opportunities for the local people of the area.
Do you think the country has the potential to become a transhipment hub with the kind of developments going on in the domestic air cargo sector?
Today, it might be a new chapter for India, but it is happening all over the world. We are constantly in talks with government, and we believe the officials will shortly allow transhipment to begin with metro gateways.
Many regional airports across the country are getting new cargo complexes and terminal buildings. How will it boost the cargo movement, especially in tier II and tier III cities?
With new cargo complexes being built in regional airports, domestic carriers should be given permission to carry bonded cargo to gateways where international flights are operating. Even the local movement of vegetables, fruits, and general products will be an advantage, in this case, the cost of air freight must be worked out, it should not be high else the cost of the product will increase for local people.