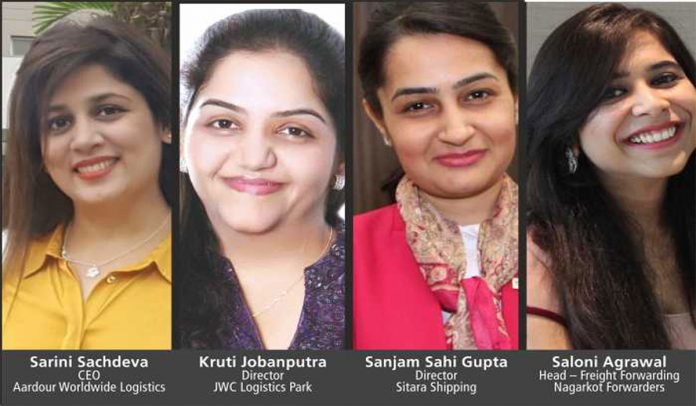 When the entire nation is sitting at home, logisticians are working day and night to make the ends meet. The logistics and supply chain industry is planning a refined budget and working on a seamless transition to offer logistics excellence remotely. CARGOTALK speaks to the women of the logistics industry to understand their strategy to remain in the business.
Kalpana Lohumi
It has been more than a month that the industry is struggling because of the nationwide lockdown. The lockdown is undoubtedly good for all but the pandemic has affected the global trade to the point where almost every business has come to standstill. The logistics and supply chain industry is grappling with supply shocks across the markets amidst the outbreak. The women entrepreneur of the logistics industry talks about their strategies to mitigate business risk and what best can be done to cope with this pandemic.
"Women have always been good at multi tasking," says, Saloni Agrawal, Head – Freight Forwarding, Nagarkot Forwarders. She continues, "Even during these difficult times we are managing our work responsibilities from home. In the past two years, the logistics industry has become fairly digitised. This has made it easy for all of us to work from home and still manage the business. These are difficult times and we as logistics professionals are at the forefront in moving essentials across continents. And women are wholeheartedly playing a major role in this part. At Nagarkot, all our women employees are working efficiently and performing well from home."
Sharing her approach, Sarini Sachdeva, CEO, Aardour Worldwide Logistics, tells, "We are focusing on companies who are searching for suppliers in different geographical locations in anticipation of re-routing shipments from affected countries or consider having a secondary source outside the primary region to mitigate the impact. We are reaching out to technology companies so that they can consider diversifying production facilities with local sources of supply in each of its major markets, rather than relying on a single source. While keeping the economic state in our mind, we are trying to keep the cost low. We are not focusing on profit; just concentrating on staying in business."
"We work on 'people first strategy'. Hence, people are the most affected throughout this pandemic; we have found flexible internal solutions for our employees and their families to do our part in containing the COVID-19," she adds.
"Today, the Government of India has announced the logistics industry as an essential industry since it is the backbone of the country; we women in the logistics industry are taking all the efforts and pains by coming to work to keep the operation working and servicing our customers and trade," shares Kruti Jobanputra, Director, JWC Logistics Park.
Calling work from home the new normal, Sanjam Sahi Gupta, Director, Sitara Shipping says, "It has cut down travel time and costs. Using virtual meeting apps have proven work can be done just as efficiently from home."
She continues, "The COVID-19 pandemic has changed the way of working and I believe in the long run, the work from home will continue at least for those jobs that don't need a physical presence at work. This poses huge opportunities for women. Women can get more engaged, have more opportunities to work from home, greater flexibility. I believe a lot of work will be given by companies to freelancers or outsourced to cut costs."
Mitigate risk
Challenges are there, but rather than only talking about the issues, it's time to make strategies and alleviate business risk. Having a clear picture of company's risks is an essential part of risk mitigation. On this, Sachdeva list five strategies to assist with the process of risk mitigation:
Risk identification and assessment: Risk is inherently entwined with business. For a business to grow, it must engage in opportunity and not avoid risk altogether. Rather than avoiding risk, companies should try to understand and identify the levels of risk, and then properly engage in strategic planning and mitigation to increase development and growth. By establishing the context of any given risk, you help to identify the effects and from there you can plan a comprehensive management strategy.
Developing risk management strategies: After analysing the context of a possible business risk, a business must launch an investigation to identify the source of that risk. Choosing the right methods and/or techniques to identify and analyse risks will help with the development and preparation of control structures and policies. SWOT has always been a useful technique to identify and evaluate risk.
Implementation of control activities: Internal control activities cover policies and procedures that fit each business individually. The right application of internal control may help a business to either mitigate, or at least reduce, the effect of a risk. Control activities (automated and manual) should be developed by the leadership team and should be cost-effective. It is important to remember that the cost of implementation should never exceed the cost, if the control fails.
Respond to the risks: When a risk is identified, the company must implement the control strategies that were prepared. First, the leadership team needs to decide if the risk is positive or negative. Is it something that could be exploited for the betterment of the project, or should steps be put in place to avoid the risk altogether? For each major risk identified, there should be a strategy, or a preventative contingency plan implemented to mitigate and neutralise, or resolve the risk altogether.
Monitoring risk management performance: The business' leadership team must be involved in monitoring the level of risk on a regular basis. For continuous growth and later reference, organisations should expand the control process further to the step of reviewing and post-process evaluation.
While one cannot avoid certain losses in this scenario and this pandemic was not something one could foresee; Sahi has always been cautious and planned ahead. She continues, "Our senior crisis team is working on our business continuity plan. As with all, we have to tighten our belts because we have hit a speed bump. The only silver lining exists in this situation are great stories of learning. It's time to think the worst case scenario and plan a more refined budget and a seamless transition to offer logistics excellence remotely. Identifying areas of cost, increasing organisation reserves and focusing on revenue enhancement is the need of the hour."
According to Jobanputra, "Since logistics industry is a service oriented industry and manpower is of prime importance. We, as a company, are taking all possible measures of safety for our people and other people coming to work."
"We are in touch with all our clients and offering as much support possible to them. In long run, this will build their confidence in us. We are adopting strategies to talk to potential clients and take this time to build relations with them. Furthermore, because our clientele majorly complies of pharmaceutical clients we are on duty for them to arrange for logistics of essential medicines, devices and protective equipments across the world. This has built a sense of long-term reliability in us and enabled them to refer us to new clients," informs Agrawal.
Heading to a hopeful future
"There is 60 per cent slow down in the logistics industry and we might see a slowdown till the third quarter of the year. Final quarter might show some signs of improvement. However, there is huge opportunity for the logistics industry to grow as well. With government support we can attract more MNCs to start manufacturing in India."
According to Gupta, "Industry will take two to three years to rebound. We need to be more flexible instead of rigid. Work from home will lead to more productivity with the reduced costs and travel time for employers and employees."
Commenting on the post-COVID scenario, Jobanputra says, "There is a big potential for the logistics industry to grow along with all the other industries. Post COVID-19 the companies who have consistently worked towards development will sustain and survive the market. The industry will surely be more organised as the non-ethical and non-organised companies will not be able to sustain in such conditions."
On the other side, Sachdeva is of the opinion that we have no clue how things will restart once this is under control but we suspect the recovery will be slower overall. She says, "Though, certain industries will boom and there will be new industries to emerge. We can ensure that after this our transports will continue and companies will get the goods they need."
Sharing the brighter side, Agrawal says, "COVID-19 has in fact helped us tackle the issues that were once thought to be possible only through manual intervention." She believes that logistics industry is under a major digital transition, in adding, "Gone are the days when logistics industry was ridden with institutional voids. We are already close to achieving the mettle of an organised sector by introducing single window scheme, e-DO and other such facilities. We are heading towards complete digitisation and this will lead to a major boom of innovation in the industry."