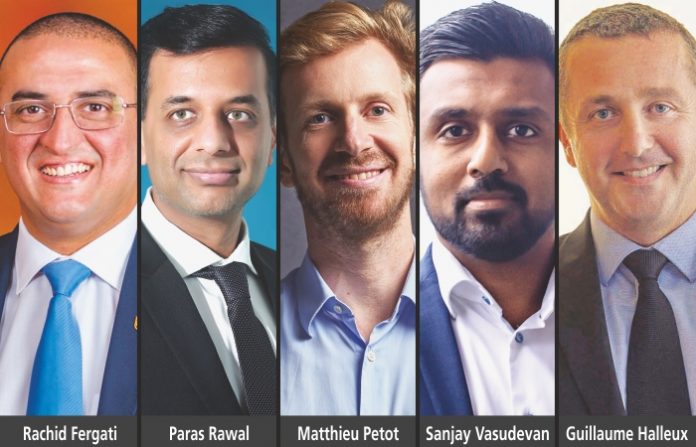 Sooner or later, logistics providers and shippers are realising the significance of giving back to the community and renewing their focus on sustainability. Moreover, the pandemic has accelerated the importance of bringing sustainability in cargo operations. CARGOTALK explores what is driving logistics companies to step into sustainable logistics practices.    
An environmentally focussed business consider more than just profit and contributes to the health of the structure within which it operates. Eventually, sustainability has become the buzz phrase in the industry today. However, what is important to understand is what sustainable logistics is and why it is important for business? Bringing sustainability in logistics is more than just reducing cost but looking at the resources being used throughout the production and delivery process. Seeing the growing numbers of logistics providers incorporating sustainability in their operations, CARGOTALK speaks to industry experts and understands what is driving them to adopt environmental sustainable practices and achieving carbon neutrality.
Sharing his thoughts on logistics service providers coming forward and incorporating sustainability in their operations, Rachid Fergati, Managing director for Middle East and Indian subcontinent, UPS, says, "Sustainability is a collective and individual responsibility. As cities transform and there is a shift in the way we live and work, businesses will need to be more committed than ever because commerce and communities are two sides of the same coin. It requires a collaborative and continuous effort to support environmental sustainability, foster safer, healthier, and more resilient communities."
Calling it great that there is more and more realisation by various logistics providers to fully integrate sustainability in the day-to-day operations, Guillaume Halleux, Chief Officer Cargo, Qatar Airways Cargo, says, "In fact, it is a strategic for many companies. The COVID-19 pandemic has further accelerated sustainability and its importance to the air cargo industry. While the industry remains committed to reducing environmental footprint and we are seeing several initiatives in this area such as digitalisation, we must remember that it is wider than just the CO2 emissions. For us, sustainability is understood in the broadest sense. That's why WeQare, our sustainability programme focuses on the key pillars of sustainability: environment, society, economy and culture."
Paras Rawal, Managing Director Indian subContinent, CEVA Logistics believes that sustainability is everyone's job and that it is the foundation of good management practice, contributing to the long-term success of the company and better, risk-adjusted returns for our customers. He says, "Our sustainability focus areas are closely linked to our business objectives and operations. Through a series of actions, we aim to achieve the objective of maximising long-term value creation while minimising waste and costs."
According to Matthieu Petot, CEO, CargoAi, "The increased interest and initiatives to incorporate sustainability in logistics are great and really show that mindsets are evolving in the right direction. It also reflects what the final consumers want and goes up to every level of the supply chain. Sustainability is part of our values and DNA, and we feel we have the responsibility to contribute and help where we can. It is great to see that our customers are embracing what we propose in this regard.
"Sustainability is something that we need to look at from a holistic perspective. It is not just about logistics providers incorporating sustainability in their operations, but it is also the customers who have an appetite for decarbonisation. We believe that everyone across the supply chain is recognising the risk for the planet and is willing to be committed towards sustainable operations for a better future for all," says, Sanjay Vasudevan, Head of Key Client Management & Sustainability, A.P. Moller – Maersk.
He tells, "At Maersk, we have as many as 90 customers out of the top 200 who have set themselves an ambitious science-based zero-carbon target for themselves. So, going beyond our own goals and ambitions, it is also our responsibility towards these customers to support they achieve their targets. The whole industry also understands that isolated efforts are not going to get us where we want to be tomorrow and that has led a lot of the logistics providers to incorporate sustainability in their operations."
How logistics take on sustainability
Logistics negatively impacts the environment in many ways, mainly by releasing greenhouse gases (GHGs), impairing air quality and causing noise disturbance. Adopting sustainable practices has become a need of the hour. Sharing how CargoAi has been committed to sustainability in air cargo industry, Petot says, "CargoAi is about digitizing the air cargo industry, and this leads us to curate a very large great amount of data on a daily basis, enabling us to calculate or predict CO2 emissions for each shipment on every route. There are a few existing CO2 calculators available, but we are the first and only company to take a step further and incorporate this calculation in all our products, from flight schedules to track and trace so the forwarders using our application can see CO2 emission for each option when they want to make an adhoc or booking request. This brings another dimension for them to choose from along with pricing, flight time and quality and we are confident that sustainability will play a growing role in the whole airfreight procurement process.
We have also added those CO2 emissions to Air Cargo Schedule and Track and Trace solutions that can be consumed via APIs by any system (TMS or others). Our customers can now enjoy a more complete solution compared to the traditional existing solutions, with much better data refined with CO2 emissions.
Finally, we also offer Business Intelligence tools where our customers can monitor and report on CO2 emissions for all their Air Cargo shipments that are tracked via our solution."
"Qatar Airways Cargo remains committed to sustainability. The 'WeQare' programme is driven by our employees who are always keen to share new ideas on incorporating sustainability in our everyday operations. Through this programme, we hope others will also join us too, as sustainability is indeed everyone's business," shares, Halleux.
The carrier has launched two chapters; One Million Kilos (Chapter 1) and Rewild the Planet (Chapter 2). "Through the first chapter, 1 million kilos were donated to selected customers who then allocated it to the charities of their choice to transport humanitarian aid, medical supplies and PPE. We were glad to involve our customers in this worthwhile initiative and we received a good buy in. Many of the forwarders were delighted to be part of this initiative. Few of them even went to the extent of providing their own services, like pick up or customs clearance, free of charge.
Chapter 2, called Rewild the Planet, was launched on February 1. Since, rewild is a word used throughout conservation efforts, it refers to ecological restoration. Animals have an important role to play in preserving the ecological balance which ensures the stability of the environment. Through our second chapter, we are offering free transport to rescued wild animals and bring them back to their natural habitat. There are a number of chapters already outlined, additional chapters will be rolled up in the course of 2021."
"Maersk is attacking the decarbonisation and sustainability topics through various actions. By shipping with Maersk ECO Delivery, the first carbon-neutral solution in the shipping industry, one helps to decarbonize ocean freight today using biofuels instead of fossil fuels. The fact that this large an uptake happened during the slowdown months of 2020 proves how keen our customers are to decarbonise their ocean freight. The uptake is led by consumer brands in fashion and technology, but the trend is picking up in retail and other industries across geographies.
On a long term view, we have set ourselves the target of going fully carbon-neutral by 2050. We had also set ourselves the target to introduce the first carbon-neutral vessel by 2030, something that we will be achieving seven years in advance by putting first carbon-neutral vessel on water in 2023.
There are other efforts that are also ongoing in which some of the industry leading customers are partnering with us in joint innovation projects such as the LEO (Lignin Ethanol Oil) Coalition which is focused on zero carbon fuels of the future."
UPS is focussed on delivering what matters for its customers and communities. Fergati continues, "We do this by creating more sustainable solutions; introducing innovative logistics models for crowded cities, investing in next-generation vehicles, route optimisation technologies, and encouraging our people to contribute towards environment protection. We have announced an investment in the UK-based technology start-up Arrival and committed to buy 10,000 of its electric vehicles."
The company also plans to purchase more than 6,000 natural gas trucks through 2022. "UPS will also be including the Fernhay eQuad to its growing fleet of sustainable delivery solutions that improves air quality, decreases congestion, and reduces emissions. Less than three feet wide, this four-wheeled electric-assist cycle is catering to complex urban deliveries allowing the driver to easily move through congested narrow streets and to pedal in bike/cycle lanes. As the official logistics partner of Expo 2020 Dubai, the eQuad will be one of the cutting edge solutions showcased at Expo 2020 Dubai.
Recently, UPS together with its subsidiary, UPS Flight Forward, announced plans to purchase electric Vertical Takeoff and Landing (eVTOL) aircraft from Beta Technologies (BETA) to augment its air service for select small and mid-size markets. These aircraft will take off and land on-property at UPS facilities in a whisper-quiet fashion, reducing time-in-transit, vehicle emissions, and operating cost. These new aircraft will create operational efficiencies in our business, open possibilities for new services, and serve as a foundation for future solutions to reduce the emissions profile of our air and ground operation," he adds.
"Taking a lead in the air cargo industry to reduce the logistics-related impact on the environment at the source by creating demand for more sustainable aviation fuel, CEVA Logistics has joined United Airlines Eco-Skies Alliance to promote the use of sustainable aviation fuel in passenger and transport flights," informs Rawal.
Sharing CEVA's strong commitment to the protection of the environment, he continues, "As a whole, the Group is significantly investing in research and development to help the emergence of future energy sources and technologies to reduce the impact of transport and logistics on the planet. We aim to become carbon-neutral by 2050."
Save fuel, reduce carbon emission
According to Qatar Airways Cargo, it is very important to give back to the communities we serve. "At the airline level, Qatar Airways environmental management system is certified to the highest level of IATA's Environmental Assessment Programme (IEnvA) and covers passenger and cargo airline operations, flight operations, catering and cabin services, aircraft maintenance and repair, cargo ground services and all corporate functions," Halleux   informs.
"We are also collaborating with industry associations IATA, AACO and SAFUG on the development of a global policy for managing aviation's greenhouse gas emissions and are fully compliant with regional schemes such as the European Union Emission Trading Scheme. Qatar Airways is enhancing the efficiency of air travel through hour fuel optimisation programme, this involves testing and implementing new ways to save fuel and reduce carbon emissions. The carbon offset programme is completed for passenger side and now we are working on the same product offering for cargo," he says.
Petot thinks that our generation has grown with this mindset and sustainability as well as other topic like equality are completely part of our core values. Sharing what led him to step into environmental sustainable practices and achieving carbon neutrality, he adds, "It is always in the back of our mind when we have designed our product. And, it has become rewarding when we see it answers the latest expectations from our customers.
There is a long journey before carbon neutrality in air cargo but if CargoAi can help orientate every booking to a slightly better routes or flights, we will certainly move in the right direction and eventually massively disrupt the current airfreight procurement practices."
UPS global 'rolling laboratory' with a whole zero-carbon fleet is contributing at every stage of the supply chain to eradicate emissions and deliver what matters: a better world.