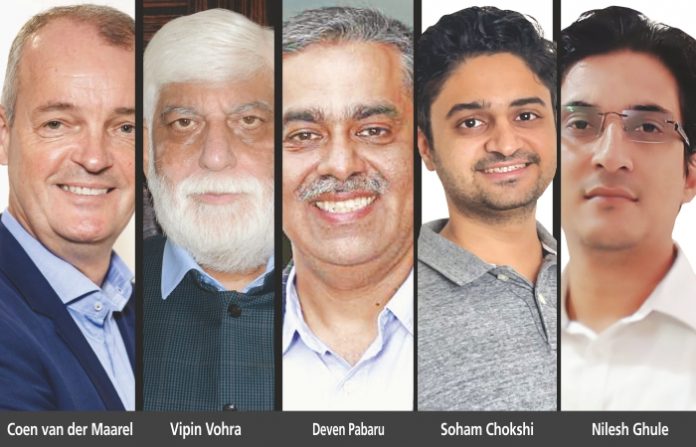 COVID-19 outbreak has shaken global supply chains worldwide followed by ongoing Russia-Ukraine conflict, which has brought international trade to a grinding halt. To devise with future crises, experts have devised strategies and embraced sustainability as survival tools in order to mitigate risks and achieve growth.  
Ritika Arora Bhola
Embracing tech to bolster supply chains
It is time for the logistics companies to rapidly assess, recover, and build a resilient supply chain, which will be at the epicenter of future discussions for years to come. Observing the above, Coen van der Maarel, Managing Director of Kuehne+Nagel India, Sri Lanka, Maldives said, "Primarily, the logistics industry is responsible to safeguard the environment. Sustainability is the foundation of everything we do. In line with the Science-Based Targets Initiative (SBTi) and commitment to a low carbon business model, we are developing transparent sustainable shipping options. We are investing in technologies such as big data and predictive analytics. Our myKN App provides information regarding multimodal sustainable options to customers for their shipments. We have launched various green initiatives in India such as subsidizing the use of biogas stoves and investing in electric vehicles for local movement of goods."
To facilitate seamless operations, Vipin Vohra, Chairman, Continental Carriers revealed plans to open India's first Greenfield air freight station, where customs clearance, cargo consolidation, and palletization will take place, and goods will be delivered in pallets ready to load on planes at the Indira Gandhi International Airport. "We are constantly working to reduce costs through innovative solutions and provide the best service to our customers. We have strived for accurate and near real-time visibility of forecasts, orders, shipments, inventory, and locations to improve business performance, and we have invested heavily in technology, digitization, and skilled workforce, among others," he added.
Technology is at the core of all our solutions, said Deven Pabaru, CEO, Stellar Fulfilment Solutions. "We focus on providing modern, compliant, and tech-friendly solutions. We offer Grade A warehouses and tech-enabled fleet in varied sizes as per the client's business needs. Implementation of cross belt sortation, WMS, temperature sensor tracking, proprietary transport management system and customised app are some of the resources offered to our clients," he averred.
Soham Chokshi, Chief Executive Officer (CEO), and Founder, Shipsy affirmed, "Our advanced SCM solutions break logistics silos by making systems interoperable, and intelligent APIs foster seamless data flow across various logistical touchpoints. When it comes to sustainability, our Machine Learning-powered Route Planning and Optimization Solution reduces the distance travelled by 5 per cent and trip volumes by 6 per cent. It eliminates empty miles, slashes vehicle idling, and enables multi-drop pick-up/deliveries to curb emissions. Shipsy's sustainability dashboards help businesses monitor their carbon footprint and deliver actionable insights to battle emissions. The Artificial Intelligence (AI) and automation capabilities empower businesses to build data-driven, agile, and self-governing supply chains."
Tech-enabled logistics company, TruckBhejo, provides fully automated solutions to trucking companies so as to improve efficiency and minimise delays, said Nilesh Ghule, Co-Founder and CEOs. He added, "At every step along the route, our stakeholders, including vendors, customers, and internal teams can track vehicles, drivers, and cargo in real-time through their mobile apps. This guarantees operational efficiency, transparency, and certainty that deliveries will reach on time. By choosing automation over manual operations, we can chart out the most optimum route for delivery. If there are any roadblocks along the way, they would be flagged off so that there are no unaccounted 'missing hours.' Digitization helps cut down 'empty miles' from unnecessary and repeat runs. We ensure that our drivers do not have to return with empty trucks, which brings down carbon footprint and promotes sustainability."
contingency plans to deal with crises
Being future ready is the need of the hour. The ongoing pandemic has taught the industry to be ready to deal with any future crises with efficient strategies and reliable growth and contingency plans in place. "We face supply chain disruptions on a regular basis. We test our Business Continuity Plans (BCPs) to address different crisis scenarios," said Maarel. "The BCPs are designed to protect the well-being of our employees and to ensure an uninterrupted service of our customers. We had executed continuous risk assessments, business impact analysis and implemented new measures into our business continuity framework based on alert levels following COVID-19. Our sea-air programme with multiple connection points in South East Asia, the Middle East and West Coast in the USA help avoid potential congestion spots and provide additional capacity," he added.
For Pabaru, agility and safety are the key concern areas. Stringent rules, and policies have been framed, implemented, and monitored, which enabled us to rise during the peak of COVID-19 and caused minimum disturbances. We offer fully automated warehousing and transportation solutions to our customers. Adequate infrastructure, technology and trained manpower helped us deal with
the health crisis.
Agreeing, Vohra said, "There is a need to place the supply chains risk resistant by devising and implementing certain  strategies. "It becomes critical for logistics providers to stay prepared and take proactive measures to address any challenges that may arise. Organizations could moderate the risk to some extent by using real-time tracking and visibility into various transportation routes. Flexibility and agility are the keys to navigate through these difficult times."
No doubt, technology saved the industry during the ongoing pandemic. "AI, Blockchain, Predictive Intelligence, Big Data Analytics, and automation made a winning combination for enterprises in building robust strategies for addressing unprecedented supply chain disruptions," noted Chokshi.
Resolving issues plaguing industry
High logistics cost has been an area of concern, though the government has taken steps to reduce logistics cost by 5 per cent from the current 14 per cent. If the target is realised, it will catapult India into the league of developed nations where the logistics cost is around 8 to 10 per cent of the GDP.
"Measures such as framing state-level logistics policies, use of single-window clearance for logistics, establishment of grievance redress mechanism, and large-scale skilling will help to achieve ambition," said Marrel. The government is establishing air, rail, road linkage, and waterways transportation within the country since another crucial area is transportation. Addressing another issue of unskilled manpower, Maarel said, "Logistics companies must offer cross-training opportunities that can help create career paths within and establish a reliable talent pipeline."
Pabaru, however, said, "The government is also looking at expanding the infrastructure with initiatives such as 80 new airports by 2025."
Vohra pointed out, "We must focus on developing a trained workforce, promote technological adaption, build digital infrastructure, and raise industry standards to meet world-class standards. The need of the hour is for a solution-based strategy to give the best available solutions. The
air freight stations will transform the air cargo landscape in India by reducing airport terminal congestion and dwell time, thereby increasing efficiency and maximising utilisation of existing capacity, while lowering logistics costs."
Meanwhile, Ghule said, "The government can help by setting up training institutes that are technology-driven, invest in more highways and freight corridors to improve existing infrastructure, along with faster connectivity."
Government support
Logistics industry has gathered support and back-up from the government in the past few years in terms of rail, road, air, sea, infrastructure development and multimodal connectivity. The Centre's ambitious targets have motivated stakeholders to work hard and achieve growth and raise global benchmark.
The Union Budget 2022-2023 has provided a thrust towards improving logistics, efficiency based on digitalisation, and creating multimodal logistic parts and cargo terminals.
The recent announcement for multimodal connectivity under Gati Shakti is a boon in disguise for making 'Make in India' drive not just a reality but a success too.
The proposed commissioning of the Eastern-Western freight corridor by June 2022 and three new dedicated corridors will improve connectivity and reduce logistics cost as a percentage of GDP.
The government has announced to expand the NH network by 25,000 km in 2022-23 to boost logistics connectivity and LMD.
The increase in CAPEX by 35.4 per cent to Rs. 7.5 lakh crore and focus on infrastructure is a significant growth booster.
US$ 6 to 7 billion is likely to be invested in warehousing and industry.
The digitization of land records and Ease of Doing Business will help boost private investment in the sector.
Maarel said, "The advantage of these initiatives is to bring in visibility on the importance of logistics and supply chain management. It is an area, not considered as crucial in the past. These initiatives will go a long way in improving logistics index for India, to make the supply chains seamless and competitive, leading to improved exports."
Pabaru opined, "The logistics sector is complex in India, with the involvement of over 20 government agencies under various ministries, 40 partnering government agencies and 37 export promotion councils. They deal with around 500 certifications, covering as many as 10,000 commodities." However, he added, "Initiatives such as Prime Minister Gati Shakti Master Plan are aimed at boosting business. Make in India has been conceptualised to enhance exports and reduce import and strengthen domestic logistics infrastructure. All these policy measures and development initiatives will transform the country's logistics eco-system. "
On a positive note, Vohra commented that positive results are already there thanks to Make in India and Self-Reliant India. He shared, "Manufacturing facilities are expanding, and many foreign investors are showing interest and approaching to share knowledge."
In line with above stakeholders, Chokshi said, "While the industry is a significant contributor to the Indian economy, policy measures are a booster. Under Gati Shakti, the idea is to create a network of roads that will feed into railway lines. The concept is about using modern technology and the latest IT tools for coordinated infrastructure planning. It is obvious road transport stakeholders will be the key players—64 per cent of the freight in India moves through roads."
Union Minister of Finance Nirmala Sitharaman pointed out that logistical efficiency is one of the seven engines of PM Gati Shakti Master Plan under which 25,000 km of new highways and 100 cargo terminals with multimodal logistics parks are being developed in the country. Not just key logistics hubs, but also tier II and III cities will reap the benefits of increased connectivity, while attracting more investment.
Ghule further added, "The Rs 20-lakh crore initiative—Atmanirbhar Bharat, an advanced version of the Make in India initiative, is expected to benefit the MSMEs and SMEs. The success of these businesses is dependent on the kind of customer experience delivered by the logistics partners. Thus, all the new initiatives by the regulators are contributing to the logistics industry positively. The GST introduction has reduced the turnaround time (TAT) of trucks by more than 20 per cent."
Building supply chain of the future
Moving forward, the industry dreams of building a supply chain, which is fast, agile, flexible, and resilient. In the past few years, the private players and the government have taken initiatives to build world-class infrastructure, freight corridors, NHs,
cargo terminals, and invested in digital infra, and manpower to ensure seamless movement of goods. According to reports, India's logistics sector may expand at a Compound Annual Growth Rate of 10 per cent, increasing from US$ 200 billion in 2020 to US$ 320 billion in 2025. Digital transformation will be the only way forward, experts forecast.
Maarel said, "In a supply chain 4.0 world, forecast is made about 'smart factories' to utilize real-time analytics and automation for making the process easier and the outcome more profitable. The future will lead to real-time transparency, which will be beneficial in tracking performance. The usage of RFID tags is a good measure as it is helpful in all sectors. Integrating AI and Internet of Things will help companies carry out tasks efficiently and maximise business potential. Sustainable operations will help the industry grow exponentially."
As per a report by Gartner, 50 per cent of supply chain organizations would invest in applications that support AI and advanced analytics capabilities. Referring to the same, Chokshi said that moving ahead, businesses will need to build sustainable, self-governing, agile, and resilient supply chains to meet evolving customer expectations, reduce costs, stay compliant and manage unprecedented logistics disruptions.
Pabaru said, "World class ready to use infrastructure backed with technology to ensure speed, efficiency, and transparency manned by skilled manpower collaborating with large supportive vendor partners to deliver sustainable solutions to lower cost, freeing cash and enhancing service levels of clients to their customers is how I see the future. Most importantly, we are already making headway in that direction."
Highlighting Prime Minister's Make in India drive and a target of US$ 400 billion in exports in 2021-22, and an increase in ecommerce segment, Vohra said the future of logistics and supply chain in India is certainly bright. "The government has announced 25,000 km of new highways, 100 new cargo terminals with multimodal logistic parks to be built over the next three years, and initiatives to connect urban transportation to railways, boosting new warehousing and logistics facilities across the country to meet the demands of the supply chain. Gati Shakti is expected to improve pan-India connectivity and lower logistics costs by developing multimodal logistics parks, roadways, and cargo ports," added Vohra.
Drones and 4.0 technology will revolutionise the supply chain business in India, said Ghule.  With a positive outlook, he shared, "Efficiency and speed are becoming critical success factors for the logistics industry.  Especially in the last mile, express delivery is increasingly becoming important wherein we are already eyeing for the drone deliveries to kick in.
Technology has increased the pace and in 2022, it is poised to go to top gear. The 4.0 technologies have and will revolutionise the supply chain. Tech-led solutions involving Blockchain, the Internet of Things (IoT), Robotic Process Automation (RPA), and data science are allowing us to reimagine logistics in terms of speed, transparency, and traceability. Blockchain minimizes the risk of payments, while automation can reduce expenses in warehouses. Tech-led solutions are enabling customized solutions, which will be the prime requirement of the customers going forward."