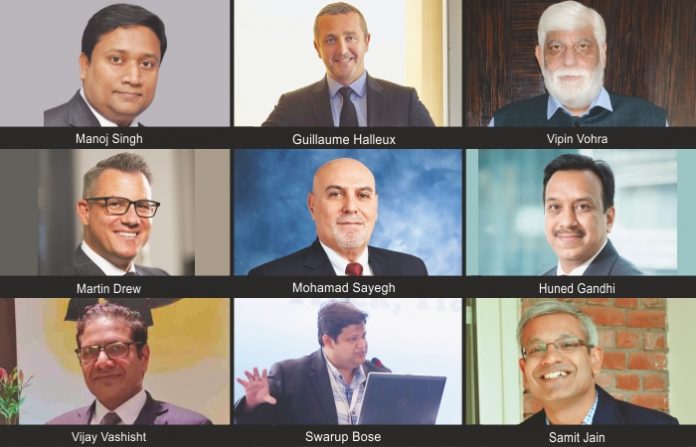 The coronavirus pandemic and its resultant lockdown badly affected all major sectors of the economy. Pharmaceutical industry was no exception to it. Restrictions and lockdowns created many unforeseen situations during the early phase of COVID-19, which the industry stakeholders have gradually learned to work in uncertainty and keep the competitive spirit alive.
Priyanshi Bana
Role of Air Cargo in Vaccine Transportation
Today, the industry stakeholders have already prepared well in advance for the vaccine distribution with temperature-controlled warehouses and logistics channels. Says Manoj Singh, Senior Vice President and Head – Cargo & Express, CSMIA, "During the time of the pandemic, pharmaceutical products proved to be of core importance for the air cargo sector. Air cargo played a vital role in transporting pharmaceuticals, COVID vaccines etc. throughout the ongoing pandemic. Pharmaceuticals and perishables are some of the key commodities which kept the logistics world on the toes, encouraging airlines to maintain additional capacity across the globe. In Q1 FY22, when India was battling with the second wave, huge quantities of COVID medications, oxygen concentrators, oxygen generators, ventilators, PPE kits and other critical medical equipment were imported to the country as our global partner countries extended timely support with required medical aid. The excellent collaboration between the governments, scheduled airlines, charter operators and logistics providers, established a strong logistic network to provide COVID relief to the country. The air cargo industry has witnessed a huge portion of regular pharmaceutical cargo shifted to other modes of transport due to pricing issues and better inventory management. In order to enhance the market share of pharma in air cargo and ensure its continuity in the future, air cargo stakeholders need to closely work with associations like IATA & Pharma.Aero and the pharma shippers will have to control the logistics cost and offer end-to-end quality supply chain to the life-saving cargo. There is a need for the pharma logistics players to adopt 100 per cent digitisation and seamless interface of individual cargo processing systems to cater real-time visibility to the customers. The collaboration coupled with technology offering accurate flow of information, transparency in transactions and real-time cargo tracking would enable air cargo to compete in a bigger way with other modes assisting pharma clients with better planning, faster movement of goods and cost-effectiveness."
Expounding on the same lines, Guillaume Halleux, Chief Cargo Officer, Qatar Airways, says, "Pharmaceutical logistics was not immune to the complete shakeup witnessed globally due to the pandemic in the past months. The extraordinary demand for PPEs around the globe during the first few months of the pandemic required additional capacity to be deployed. Due to the global capacity crunch, many of the healthcare products that would move with other providers were supported by Qatar Airways due to the reach of our network and fleet versatility and also the fact that we continued flying, operating all our aircraft except for the A380s. We have seen an increased demand of active container usage due to challenges at airports posing risks to the products if shipped as passive and we have also seen an increase in demand for charter options to destinations where no regular scheduled flights were available.
The situation currently, although not back to "normal" or pre-pandemic conditions, is seeing an improvement in terms of destinations reached and most importantly, the frequency of those. We have gone from destinations with two or three weekly flights to daily or several frequencies a day, which give us more options to move the time and temperature-sensitive shipments in terms of connectivity and speed to customer. There's still a need for freighter operations depending on destinations and commodities. Thanks to our increased dry-ice limits across the fleet, we are able to support large quantities of products requiring this type of cooling agent, notably the COVID-19 vaccines." Stating further the impact on air cargo supply chain of the pharmaceuticals, Vipin Vohra, Chairman, Continental Carriers, adds, "Initially, during the first wave in 2020, there were just disruptions as airport facilities were badly affected due to staff shortage and cargo offloading was a colossal task.  Less export, high freight rates, rising oil prices, shortage of staff at airports, unavailability of in-house staff, truck drivers and delivery boys, everything was messed up.  Innovative thinking and 'out of the box solutions' in collaboration with authorities made us manage the situation effectively. During COVID 2.0, we were prepared with solutions and were equipped to face the situation. We effortlessly shipped all pharma & other logistics requirements including three charters carrying oxygen, raw material for oxygen."
Challenges in transporting the vaccine across
Several other factors like lack of uniform industry standards for handling pharmaceutical shipments among all the stakeholders is another weak point in the pharmaceutical supply chain. Non-uniform standards lead to time loss as well as hinder optimised use of the cargo capacity of an airline. The pandemic did just that. The industry was not well prepared for transporting vaccine at such a massive level. However, things started looking more organised by the time the second wave hit. Yet, there were challenges in the colossal task of transporting the vaccine. Says Martin Drew, Senior Vice President Sales and Cargo, Etihad Airways, "The reduction of passenger flights continues to significantly impact available capacity and is a key consideration in routes adjustments that ensure we can provide the required airlift where it is needed most for our customers worldwide. The ability to adapt our schedules, optimise both our freighter and charter services, and work closely with our partners and customers has ensured we provide vital support across the globe at a time when our customers have faced unprecedented challenges. Amongst many challenges, deep frozen or frozen requirement for certain vaccines implied much larger dry-ice usage as a coolant into their packaging. Dry-ice is considered as a dangerous goods and its quantity is limited per aircraft. At Etihad Cargo we managed to increase by five the amount of dry-ice per flight in order to facilitate movements of these vaccines."
According to Mohamad Sayegh, Vice President, India Operations, FedEx Express, "While visibility and control are important in most industry supply chains, they are essential for the healthcare sector. From manufactured biological items to pharmaceuticals, the healthcare industry ships sensitive, critical, and valuable items. Logistics is increasingly playing a larger role in addressing some of the biggest challenges faced by this industry, which can have an impact on cost, quality, and access.
As the world seeks to control the impact of COVID-19 and speedy delivery of vaccines to global recipients, FedEx is proud to deliver critical pharmaceutical and medical supplies in India and across the globe. From specialised and temperature-controlled packaging to expedited services for critical medical equipment, FedEx supports the healthcare industry with its local and global air and ground networks. Our reliable and time-definite connectivity, ability to manage sensitive products, and expertise in customs clearance, has also enabled us to manage clinical trial initiatives using specialised packaging solutions and robust networks to ensure safe delivery of these shipments."
Commenting on the challenges in moving vaccine, Huned Gandhi, MD, Air & Sea Logistics Indian Subcontinent, Dachser India, says, "Global shipping processes of pharmaceuticals, Life Science and Health Care (LSH) products are complex, it requires intensive management and expertise. For vaccines and alike, it requires strict temperature control at all stages during the transport and storage process. Any deviation, even small ones, could cause severe challenges and make the vaccine invalid / ineffective. Therefore, the collaboration of all the stakeholders at all the stages is the key. At Dachser, we always ask our customers to provide full product specifications and Material Safety Data Sheet (MSDS), which helps us to understand the product aspects like stability, temperature range, humidity requirements etc. and accordingly we create "tailor-made solutions based on the needs of individual customers".
We have Implemented Service Level Agreements (SLAs) with all our sub-contractors to ensure complete transparency and to provide reliable solutions to our customers."
According to Vijay Vashisht, AVP-Business Marketing, Safexpress, "Global supply chain of vaccines and many other pharma products for that matter involve two basic constraints – one is that of the availability of raw materials for the manufacturer and the second being the specialised infrastructure that can be customised to preserve the efficacy of the product in transit and during storage. In case of COVID vaccines, a group of chemicals known as nucleoside phosphoramidites and the associated reagents that are used for creating DNA and RNA sequences are essential for companies developing DNA-based or mRNA-based COVID vaccines. But many of the key precursor materials come from South Korea and China. The sourcing firms are also very particular about focussing on a narrow range of products but nonetheless, depend on a range of suppliers themselves. This arrangement has its benefits and works well so long as balance is maintained but it is vulnerable to disruptions. So, once the demand for m-RNA based-formulations grew, the supply was hit and prices escalated.
The other aspect of availability of vaccines and many other pharma products need refrigerated solution to maintain certain drugs' efficacy and reduce wastage. COVID vaccines developed by Moderna and Pfizer are stored at -20 to -70◦C.  To keep this temperature sensitivity maintained and customisation along the entire breadth of supply chain till consumed, is highly expensive and fraught with obstacles."
Digitalisation: Oxygen to supply chain
Facing the daunting task of vaccine transportation, digitalisation came in as a breather for the supply chain industry. It revolutionised the way of working and the operations moved much faster and seamlessly with greater visibility than ever. Says Swarup Bose, Founder and CEO, Celcius, "The conventional methods of the cold chain industry lacked collaboration and the sector encountered challenges revolving around tracking and monitoring. Digital implementation of the cold supply chain can help with the aggregation of various cold chain entities like shippers, transporters and manufacturers. Digitisation of cold chain processes has made it easier to maintain uniform temperature of pharmaceutical products en route by employing IoT devices and thermal sensors that can send alerts in case of temperature fluctuations. Also, when transporters are hauling the shipment they can utilise thermal mapping/imaging technology that can help them better gauge the conditions of the vehicles. The vehicles can also be monitored seamlessly with the help of GPS tracking systems and challenges like vehicle breakdowns can be dealt with efficiently. These live monitoring systems and interconnected digital processes have made it possible for the cold chain industry to reduce the amount of pharmaceutical waste generated and in ensuring that these products reach every part of the country."
Applauding the role played by digitalisation, Halleux says, "We are a customer-centric airline and are always investing in digitalisation and innovation to provide transparency, efficiency, convenience and value to our customers. Digitalisation is also one of the key pillars of our Goal22 and Big Five strategy as we are actively driving it across our network and operations. Our recent agreement with Validaide provides stations capabilities and unlimited lane risk assessments on key trade lanes that our customers can access at the click of a button. We introduced active container milestones automation at our hub in Doha so customers can receive regular, real-time updates on active container temperature and battery readings whilst in transit through our hub.
Temperature mapping of all cool storage for winter and summer profiles is another digital implementation that assures customers of the optimal functioning of our controlled temperature facilities at Doha.  A new smart temperature monitoring system is being installed for our cold chain management at our hub which will help to integrate data into a single platform as we define temperature thresholds, set up alarms as well as retain data for longer periods through a secure gateway. We are in the process of developing
an in-house CAPA portal to further enhance customer experience in this critical area of healthcare management and continuous improvement.
To ensure booking and data compliance as well as to automate various functions related to pharma transportation, booking screens are being implemented globally to reduce manual tasks and improve accuracy. When lockdowns were enforced globally, digital solutions were the only option and fortunately for Qatar Airways Cargo, we had many of these in place already."
Commenting on the same, Singh adds, "Cargo network expansion is one of CSMIA's key segments contributing to its standing in the logistics and supply chain industry, making Mumbai one of the major touchpoints in the region. As one of the busiest airports in the country, CSMIA has played a key role in facilitating the transportation of essential medical goods and emergency services thanks to its well-equipped infrastructure, digital innovations, strategic foresight and trained and dedicated workforce. CSMIA is equipped with the world's first and one-of-its-kind Air Cargo Community System that offers web-based electronic interface with the stakeholders' systems, digital communication, accurate message exchange and real-time visibility. To provide the information handy to its customers, CSMIA has facilitated an extended arm of the community system through a Cargo Mobile Application. Besides facilitating paperless transactions, faster clearances and reduced processing times, the community system has also supported industry revolutionary concepts like e-freight and digital corridor and inter-connectivity among various IT applications and devices.
According to Sayegh, "To achieve effective, and timely distribution of pharmaceutical shipments, logistics carriers have leveraged four essential capabilities in the digital space.
 Enhancing delivery efficiency: utilise intelligent insights derived from machine learning and advanced
analytics capabilities
 Visibility and control: tracking and sharing information about the movement of goods, including delivery notifications, flexible delivery windows, and instant support service
 Advanced forecasting: analytics are used to predict collection and delivery locations, and time of order. These forecasted orders are provided to the route optimisation engine to improve route efficiency
 Optimised delivery routes: responding to traffic flows and changes by leveraging real-time data analytics
For many businesses, the pandemic fast-tracked the implementation of newer technologies, enabled digital transformation, and brought higher levels of automation. The FedEx proprietary SenseAware technology has the latest near real-time tracking technology with the ability to monitor the status and location of shipments, and if needed intercede."  Further stressing upon the need for digitalisation, Drew says, "As the pandemic has illustrated, it is hard to predict the unpredictable. That said, more widespread digital adoption is guaranteed and Etihad Cargo's recent investment in a comprehensive digitalisation strategy has supported our operations and clients during the pandemic, especially with many customers across the globe working from home. We recently developed an ecosystem together with HOPE Consortium co-funder Maaqta Gateways in order to share data such as handling steps and geo location in real-time through API. We are ensuring that vaccines are digitally managed, tracked and delivered, from production to those in need, around the globe safely, transparently, and on-time. In November 2020, we launched Etihad Cargo Control Center. The facility enables the company to actively monitor all shipments in real-time across both flights and road feeder services on a 24/7 basis overseeing road feeder shipments on more than 100 lanes in Europe and the Americas."
Contribution from the Industry
Despite facing many roadblocks, airlines, airports, cool chain companies took upon themselves in the seamless transportation of the pharmaceuticals and related essentials during the pandemic. According to Halleux, "We have a clearly defined roadmap towards service excellence in our product offering, including our cool chain transportation. Our strategy is to have the most robust Quality Management System in place along with product differentiation, keeping our customers in the centre of our decision making and investing in our digital future. Transportation of pharmaceuticals, healthcare products and more recently vaccines during the critical times of the pandemic has been challenging. However, through our dedication and agility, we were swift to support world trade and increase our pharma network to 85 destinations and launched our customised QR COVID product for the safe, swift and monitored transportation of COVID-19 vaccines.
WeQare, our sustainability programme was born out of this dedication to give back to communities we serve. WeQare launched with Chapter 1 in June last year, provided free transport of 1 million kilos of humanitarian aid and medical equipment to charitable organisations during the unfolding of the pandemic. Since the onset of the pandemic, we transported more than 500,000 tonnes of medical supplies, PPE and pharmaceuticals to impacted regions around the world, working closely with governments and NGOs. We are very proud to have signed a Memorandum of Understanding (MoU) with UNICEF for a five-year period in support of their Humanitarian Airfreight Initiative to prioritise the transport of vaccines, medicines, medical devices and critical supplies across our extensive global network and capacity.
Till date, over 100 million doses of COVID-19 vaccines have flown on our flights globally including 35 million doses of vaccines for UNICEF. This has been the largest vaccine logistics we have undertaken successfully in a short period. We introduced Envirotainer's latest innovation – The Releye RLP container and signed an agreement with SkyCell to lease their temperature-controlled hybrid containers, adding to our extensive container portfolio. Both these containers provide cost efficiency and outstanding environmental performance, aligned with our sustainability goals. Pharma Quality Agreements in line with GDP are being rolled out with our ground handling partners across the network to ensure expectations are clearly agreed and customers receive a seamless experience with their products along the journey. Qatar Airways Cargo has recently joined Cool Chain Association and Pharma.Aero through which we can share and receive market knowledge and also collaborate with different air cargo stakeholders in the supply chain which will ultimately lead to continuous improvement of life science, medtech and the pharma air cargo supply chain. Along with other members, we will deliver contributions in improving the cool chain and sustainable transport of temperature-sensitive pharmaceuticals. Our Senior Manager for Cool Chain products, Miguel Moreno has been elected to CCA's Board of Directors."
According to Samit Jain, MD, Pluss Advanced Technologies, "There are several challenges faced by a logistics company while transporting temperature-sensitive pharmaceutical essentials. Some of the challenges are, need for end-to-end cold chain, preventing 'freezing' of the pharma essentials, wastage owing to variations in ambient temperature and high cost of the cold chain, among others. In case of biologics and some vaccines, negative temperatures of -20 degrees C are required and conventionally dry-ice which has many harmful effects and is classified as a dangerous good, is used.
Pluss makes products with patented 'Phase Change Material' (PCM) technology, it's a 'green technology' created after a deep understanding of material science. The boxes made from PCM technology can maintain the product temperature passively, without electricity, at desired levels for over 100 hours and serves as an energy efficient and safer alternative to refrigerated containers, conventional icepacks or even dry-ice, which are considered hazardous, unsustainable and unsafe for carrying in airlines. For small-scale distribution of pharmaceutical products, Pluss makes PCM technology-based Celsure and Celsure Express cold-chain pharmaceutical solutions. For bulk pharmaceutical transport, Pluss makes Celsure XL for pallet-size packaging. Another product PronGO derived from Product on the Go serves the last-mile delivery services for e-commerce companies, distributors, pharmacies, and diagnostic labs. These PCM technology-based products are available in different sizes and are manufactured in over 20 variants across the three most commonly required-temperature ranges of 2-8°C, 15-25°C & -25°C to -15°C. Products can be customised for any temperature range based on the over 40 different material compositions that Pluss offers. These solutions are as per the WHO guidelines for last-mile delivery of COVID vaccines.
Vaccine distribution has certainly been a challenging task since it requires temperature-controlled atmosphere throughout, starting from the manufacturing unit to the delivery point. Though a lot has been done in a short span of time, a consistent approach is the need of hour.