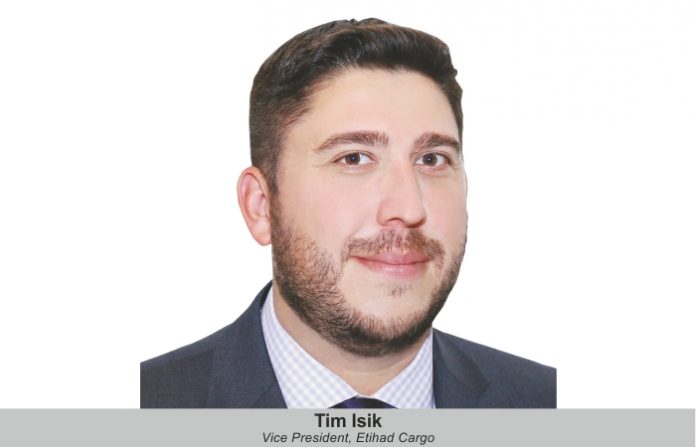 Despite COVID-19, Etihad Cargo remained at forefront and worked to keep key trade lanes active. It services 72 network destinations across Middle East, Asia, Europe, Africa, Australia and Americas. To meet increased demand, Etihad Cargo has signed an LoI with Airbus for A350 freighters, says Tim Isik, Vice President.
Ritika Arora Bhola
Now that cargo ops are back to pre-COVID-19 levels, how is Etihad Cargo gearing up to meet the increased demand and 100 per cent capacity utilisation?
Etihad Cargo has been working with customers and partners to address clients' specific needs and allocate necessary capacity; this resulted in a record tonnage of 729,000 tonnes in 2021. The Middle East's cargo sector was less hit than other regions around the world, and Etihad Cargo has worked to ensure that key trade lanes remained active. We currently service 72 network destinations across the Middle East, Asia, Europe, Africa, Australia, and the Americas. Our active fleet comprises 65 aircraft that operate 430 weekly rotations and hundreds of annual charter flights that service demand across non-network destinations. For the remainder of 2022, we believe the demand for air cargo will continue, albeit with constrained global capacity as passenger loads continue to increase. To meet the increased demand and ensure that customers' capacity requirements are met, Etihad Cargo has signed a LoI with Airbus for five A350 freighters and is exploring other options. Our existing fleet comprises five Boeing 777 freighters, seven Boeing 777s, 40 Boeing 787s, 14 Airbus A320s and five Airbus A350s, with more 787s joining the fleet in 2022. Additional capacity through the complete conversion of Boeing 777s is another opportunity that Etihad Cargo will explore in partnership with Etihad Engineering.
Please elaborate on the destinations covered and the kind of cargo is moved to and from India.
India is our top perishable product destination, and the main trade lanes originate from North and South Asia, India, the Middle East, and Europe. The company's routes address the Middle East and Asia's demand for goods that originate from Europe and Africa. In 2021, inbound PharmaLife tonnage increased by 7 per cent and Indian fresh exports ranked as Etihad's Cargo's fourth-largest market and increased shipment volumes by 40 per cent. Etihad Cargo's tonnage in and out of Ahmedabad increased by 254 per cent in 2021 compared to 2020. We achieved 65 per cent in Thiruvananthapuram, 40 per cent in Hyderabad, 30 per cent in Bengaluru, 10 per cent in Mumbai and 7 per cent in Delhi. Demand for India's exports is driven by fruits and vegetables. This product group makes up two-thirds of all exports from India transported by Etihad Cargo, and we saw 383 per cent y-o-y inbound growth for our FreshFoward product in 2021. Demand for Indian mangoes is driven by UK markets, and they are Etihad Cargo's second most popular commodity shipped from India—from 10 to 14 per cent of all perishable goods out of India. Etihad Cargo continues to add capacity to key destinations in India, including daily flights to and from Mumbai, Delhi, Ahmedabad, Bengaluru, Hyderabad, and Kochi.
Please shed light on the new freighters launched or routes initiated for cargo operations by Etihad Cargo.
We will boost our services to key destinations during the summer months, increasing the number of flights across Asia, Africa, and Europe. We will continue to operate Boeing 777 freighter network with flights across Chicago, Dhaka, Frankfurt, Hanoi, Ho Chi Minh City, Hong Kong, Johannesburg, Kenya, Milan, Riyadh, and Shanghai. As Etihad Cargo continues to add capacity, the inclusion of new territories and countries will be introduced to expand our global footprint. We will also continue to evaluate new markets to grow our offering to our customers in 2022 as part of our wider cargo strategy.
Share with us digital and physical infrastructure for storage, handling, and transportation of all types of cargo, especially pharma, high-end equipment, and bulk cargo.
From our hub in Abu Dhabi, Etihad Cargo supports global operations with a team monitoring the status of all shipments transported in and out of the UAE and tracking cargo until it arrives at its final destination through our Cargo Control Centre. We have a specialised team dedicated to our cool chain products—FreshForward, PharmaLife, SkyStables, LiveAnimals, FlightValet, FlyCulture, SafeGuard, and AirMail. In 2019, Etihad Cargo received IATA CEIV Fresh and Pharma certifications and received CEIV Live Animals. In the next few months, we will be launching a new cool chain facility at Abu Dhabi airport. It will expand our current cool chain storage capacity for pharma and high-end equipment, among others. We have collaborated with Abu Dhabi Airports Company (ADAC), Brussels Airport Company and Pharma.Aero to set up a fully compliant origin-to-destination pharma air corridor between Abu Dhabi and Brussels airports. The trade lane will unite key compliant and sector-certified supply chain stakeholders, including forwarders and ground handling agents.
Sustainability has become the buzzword in the air cargo sector. Please elucidate on the green initiatives taken by the airline in the last few years.
Sustainability remains the key pillar of Etihad Aviation Group's agenda. Etihad Cargo pledges to achieve net-zero emissions by 2050. To achieve this goal, we will reduce emissions by 20 per cent by 2025 and slash emissions to 50 per cent of 2019 levels by 2035. We have taken huge strides to lead the development of sustainable aviation fuel (SAF). Etihad has one of the youngest fleets in operation. It is the most efficient aircraft currently available. About 450 per cent of materials used to manufacture Boeing 787s are composite, while 70 per cent of Airbus A350s, which recently entered the fleet, provide an efficiency advantage to Etihad Cargo that positively impacts emissions. The airliner recently performed the world's most intensive sustainable flight-testing programme, operating as many as 30 flights over five days to test operational efficiencies and procedures to reduce carbon emissions. The results will contribute to reducing the sector's carbon emissions and environmental impact as the learning is implemented industry-wide. Etihad Cargo will work to identify cargo-focused initiatives, which will be announced in the near future.
Are there new plans and projects in the pipeline?
We have plans to launch an airline-specific passive temperature-controlled solution for transportation of life-saving medicines and COVID-19 vaccinations. Additional features will be introduced to online booking portal of Etihad Cargo in the coming months. Upon successful completion of artificial intelligence solutions POC, these digital solutions will become tools in minimizing leakage and optimising offload recovery. We will be announcing more exciting projects and partnerships that will further cement the carrier's position as the air cargo partner of choice.