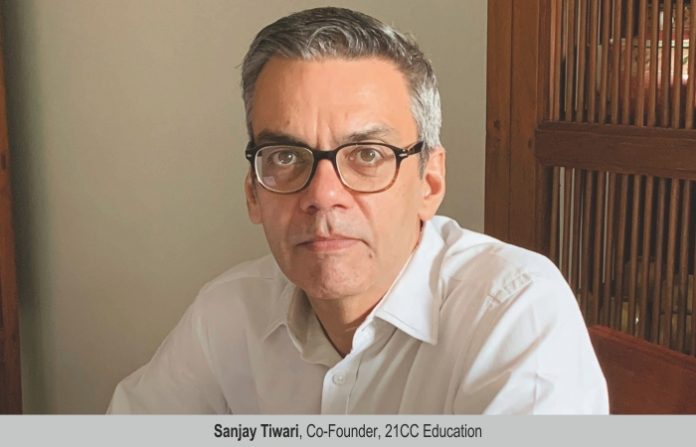 The logistics industry today is completely tech-driven and infused with generous innovations every day. Sanjay Tiwari, Co-Founder, 21CC Education explains how 21CC's last-mile training on a mLearning platform makes the employees productive faster, allowing them to hit the ground running.
Priyanshi Bana
Q How has pandemic created the need for upskilling the blue-collar workforce?
The pandemic had already caused a lot of companies and work processes to go digital. Suddenly along with advancement in technology, changes in processes also required the blue-collar employees to develop new efficiencies and skill sets. The deadlier second wave stirred fear among migrant workers causing many to return to their native places. This time India's villages were also hit hard causing many rural areas to go under lockdown. The resultant labour shortage has stalled operations and impacted manufacturing, creating an urgency to create a job-ready blue-collar workforce.
Q Kindly elaborate on a platform which places an emphasis on upskilling and reskilling workforce.
Companies in capital-intensive industries such as e-commerce, airlines, shipping, trucking and warehouses struggle to get skilled people in the door who know what to do, how to do it and why it matters. Scalable solutions, designed especially to meet the needs of the blue-collar workers are the need of the hour. Why a mobile-first training platform (mLearning) for this sector works is owing to the increased outreach of smartphones. Add to that the ability to quickly scale solutions to address the unique challenges this sector faces like; job discovery, job-ready skilling, elimination of middlemen, and gamified content to drive retention.
The pace at which logistics is growing requires all hands-on deck and taking the blue-collar workers out of circulation for a day of training is not possible. Last-mile training on a mLearning platform makes the employees productive faster, allowing them to hit the ground running. The growing logistics sector is in dire need of skilled talent which holds the industry back. India needs skilled labour to build globally competitive supply chains. The sector is witnessing a surge with mega-infrastructure projects, investments and supportive regulatory policies. The need of the hour becomes to match the quality of skills with this growth. We train personnel in logistic functions like warehousing, supply chain, freight forwarding, container yard management – building efficiency, interest as well as a deeper understanding of the sector.
Q How do you plan to help businesses accelerate their profitability with a future-ready workforce?
The skilled labour shortage is a pain point for most businesses today slowing their growth, impacting quality, and resulting in losses. 21CC Education's training modules are industry relevant and delivered through an easy access app. The methods of gamified content, audio/visual course material and virtual reality elements allows users with even language and literacy barriers to easily understand complex concepts. The immersive experience gives them the feel of a day on the job, taking decisions and risks in a fail-safe environment.
This makes them job-ready by understanding everyday scenarios and helping them build on-the-job like skills that employers need. The app's ability to connect the user's new-found skills to relevant job openings also brings the appropriately skilled employee to the interview stage, further benefiting businesses by matching the right man with the right job and lowering turnover.
We have also partnered with NSDC to increase outreach to freshers in order to provide them with the latest skill-based training. We have partnered with big players in the industry providing training to all their employees and creating measurable impact.