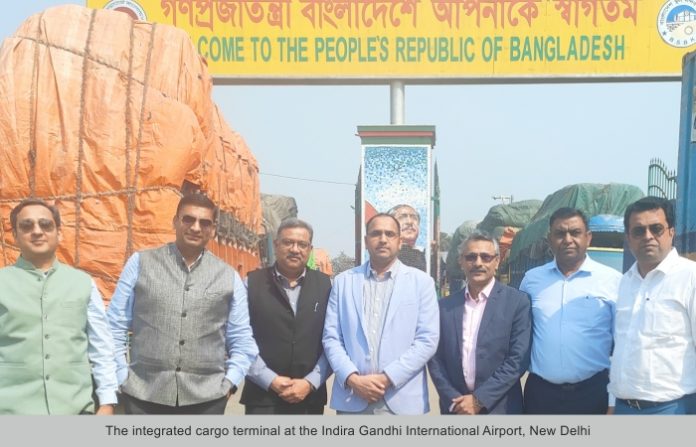 With this initiative, Delhi International Airport Limited (DIAL) is on its way to become the international cargo hub of the world, serving as a transshipment centre between the East and West. Cargo will reach from Dhaka to Delhi via Bangladesh-India border at Benapole-Petrapol, says Videh Kumar Jaipuriar, Chief Executive Officer.
CT Bureau
Delhi International Airport Limited (DIAL), a subsidiary of GMR Airports Infrastructure Limited, welcomed the first batch of transshipment cargo from Bangladesh, paving the way for a faster and cost-effective route of shipping export cargo globally. The first batch of cargo, which left Dhaka on 26 February 2023 reached the Delhi Airport on 3 March and left for Spain on 5 March.
Delhi Airport received approval from Centre on 7 February, allowing DIAL to serve as transshipment hub for export cargo between Bangladesh and other destinations. The government's decision may boost the national economy, while reducing the shipment cost for manufacturers and increasing the daily export of global cargo via Delhi airport, including ready-made garments, handloom, footwear, leather products, jute products and pharmaceuticals.
Bangladesh has emerged as a global hub for ready-made garments. The new route of transportation may create new vistas of opportunity for the South Asian country. Since the manufacturers there rely on India for raw material, including threads, textiles, jute, leather and pharma raw material, any boost in exports will result in a rise in demand for produced in India raw material in Bangladesh. Bangladeshi ready-made products are in demand in Germany, the UK, France, Spain, Italy, The  Netherlands, Denmark, parts of Eurasia and the USA. With Delhi airport's linkage to most European nations, this route will boost the Centre's initiative of reaching countries of the sub-continent to their full potential. The transshipment cargo will reach from Dhaka to Delhi, via the Bangladesh-India border at Benapole-Petrapol. Once it left the Petrapol border after all security checks, the manufacturers tracked their shipment throughout its journey, including its arrival at IGIA, security checks, and uploading on the aircraft. To ensure EoDB, DIAL has created a special truck docking facility and a dedicated X-ray area for swift transfer of cargo to outbound locations.
Videh Kumar Jaipuriar, CEO, DIAL said, "The Delhi airport is on its way to become the global cargo hub of the world, serving as a transshipment center between the East and the West. Globally, most manufacturing takes place in south and Southeast Asian nations, which lack freight and handling capacity. This is where Delhi airport can help countries come together, help businesses and economies of neighboring nations to prosper."
Delhi airport is the largest cargo hub airport in South Asian region, with two integrated cargo terminals having an annual cargo handling capacity of 1.8 million MT, scalable to 2.3 million MT.  The IGIA's cargo terminals have world-class infra with GDP certified temperature-controlled facilities to handle 1.5 Lakh MT temperature-sensitive cargo per annum. These facilities have  several temperature-controlled zones. In terms of airside infra, IGIA is the first and only one in India to have 12 numbers of dedicated freighter parking bays, providing capacity for airlines to move cargo to and from the airport. The cargo apron can do three nose load operations at a single point of time.
The Celebi Delhi Cargo Terminal team successfully dispatched the first full freighter load of about 124 MT cargo shipment from Bangladesh Export Air Cargo on a Boeing B747-800, an Atlas Air freighter. On this occasion, Mr. Kamesh Peri, CEO, of Celebi Delhi Cargo Terminal, said, "As an international cargo terminal operator, it is our immense pleasure to facilitate international transhipments from Bangladesh to third countries via Delhi Airport. We welcome this initiative of the Indian government to allow exporters from Bangladesh to send their international cargo via Delhi International Airport. This route will be faster and more economical for Bangladesh exporters, and we, at Celebi Delhi Cargo Terminal, are looking forward to facilitating many more such shipments in the future."