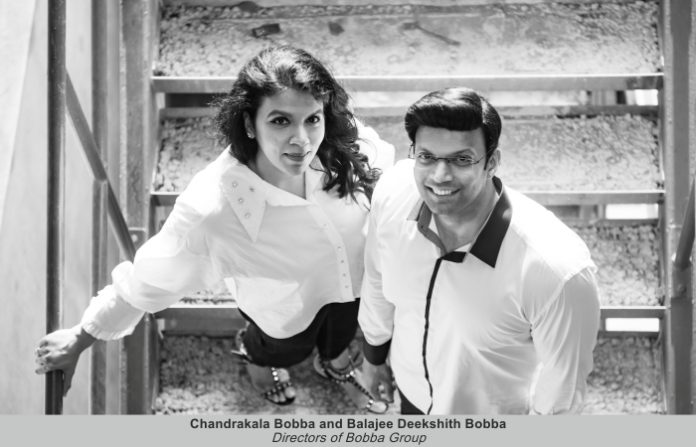 Group handler, Bobba Group is all set to launch its 75,000 sq. ft. warehousing facility, Bobba Logistics, on NH-44 to manage end-to-end supply chain needs, says Chandrakala Bobba and Balajee Bobba, Directors of Bobba Group. They are the second generation of Bobbas, all set to take the company forward, with a vision to spread pan India.
Ritika Arora Bhola
As an aviation and logistics specialist, what are the most important parameters you follow, while serving a particular airline/airport?
As a ground handler, we provide wide range of services to the carriers such  as documentation handling,  dedicated team for handling and processing the cargo, loading, and unloading. We offer efficiency and cost-effective solutions to our airline partners. We have been providing best-in-class ground handling services to Lufthansa Cargo since the last 25 years.
Elaborate on your upcoming warehousing facility at the airport. How is it going to benefit the industry at large?
With 30 years of expertise in this industry, the Bobba Group is proud to launch Bobba Logistics, a 360° warehousing solution for fast cargo transportation at multiple locations. This new 75,000 sq ft facility has completed provisions to manage end-to-end supply chain needs. We also have a dedicated Cold Zone for storing perishable products. We will offer value-added services such as sorting, reverse packaging, grading, pre-cooling, multi-commodity capability, among others. Our dry and cold warehousing solutions are an ideal combination to take care of every business need.
How much have you invested in the physical and digital infra in the warehouse and what strategies are you planning to infuse into the firm's operations?
This new warehouse will be one-of-its-kind facility with highly innovative steel structures, pre-engineered in factories and assembled at the location.  It will be 100 per cent digitalised, waterproof, well-ventilated, and temperature-controlled facility.
Cargo handling companies are expected to have 'creative' ideas to gain business. What are your ideal strategies for consolidation in the coming years?
Bobba Group has invested in a facility on the lines of model proven in several countries such as Hong Kong, Japan, Singapore, and South Korea. The Bobba Logistics facility at NH-44 is accessible from the city and major industrial hubs around Bangalore. There is an increased demand for micro fulfilment warehousing solutions. Finding a large warehouse has become an easy task.
Bobba Logistics has been set up to cater to this specific demand, and this will be our focus whichever city we expand to.  We offer a host of value-added services along with our micro fulfilment solutions namely—sorting, reverse packaging, grading, pre-cooling, multi-commodity capability. We also have a specialised Cold Zone and we offer our clients cold chain facilities and services for perishable transportation.
What trends do you believe will aid the transportation of cargo, especially perishables and pharmaceutical products?
The government is investing in infrastructure projects in a big way which will boost multimodal logistics across the country. The present facilities are clustered around major cities and ports. We, being in the Cargo Handling business for a considerable period of time are aware of the changes that are being driven by the Government and as a part of our efforts, are creating a facility which will help support various types of cargo, including pharmaceuticals and perishables. Airlines have shifted focus to these commodities providing training, resources, special loading equipment and hub transformation. Hitherto such facilities are available only at ports and airports and at select locations based on the local requirements. We aim to make such facilities available at a convenient location with ease of access to the manufacturing areas and airports, dry ports, and major highways.
Bobba Group has a strong commitment to innovation and marketing approach. How do you continue to embody this in your projects?
Having partnered with Lufthansa for 25 years, Bobba Group has embodied a strong commitment in the team for adopting innovation at various levels. Be it customer service, cargo handling or dealing any requests for special services, we have excelled in performance. We aim to provide the same facilities to support their supply chain requirements. Bobba Logistics is all about impeccable service to the customers and state of the art infrastructure that meets global delivery standards. It is being set up to meet the industry-wide demand for smaller warehousing solutions, closer to the city limits. With the same dependability and reliability, the Bobba Group is known for along with our trademark stamp of the best-in-class service.