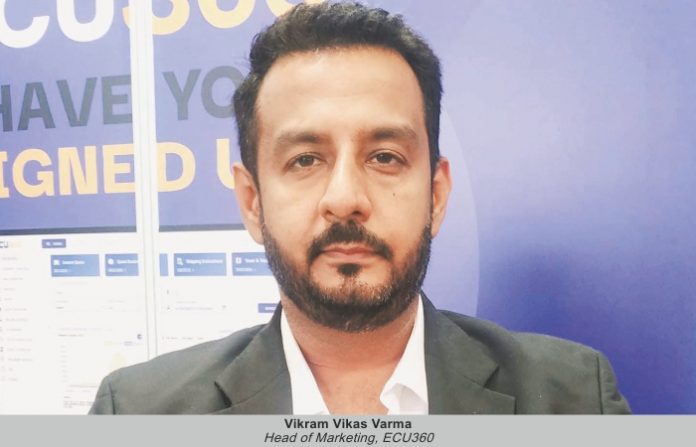 In the journey of digitizing the industry, getting a second-by-second live location in the journey of goods is what ECU360 is focusing on right now. Vikram Vikas Varma, Head of Marketing, says the biggest challenge is to get freight forwarders to adopt this product. We are aiming towards 80 per cent.
Hazel Jain
Established four years ago with the aim of digitizing the logistics industry, ECU360 delivers a customer-centric digital logistics experience that is capable of performing end-to-end shipping services at the click of a mouse. The name comes from ECU Worldwide, a company that Allcargo bought a few years ago. Users of the portal can do the entire end-to-end logistic solutions digitally. This means users can sign up, get a quote, book, check sailing schedules, do invoicing, and upload SB file, ensuring that the end-to-end process is taken online.
Vikram Vikas Varma, Head of Marketing, ECU360 said, "In the past, when we used to do logistics manually, there was a lot of documentation required. Now everything has become easier with ECU360. Of course, there are challenges because it is still a traditional industry. People think that with every new technology, it will lead to job losses. But that is not true. With digitisation, people also evolve. You obviously need people to run a portal like this—at our end as well as the freight forwarders' end. They need people to key in data. So while we say that in 30 seconds we can quote and book, we need people to punch in details that they need to send shipments. You need to add details of CBM, whether the goods are hazardous or non-hazardous. So you need people to run this digital portal." He added that it was a challenge within the group as well to get its people to adopt the technology. "Now the biggest challenge is to get freight forwarders to adopt this product. Six out of 10 forwarders have already booked on ECU360—60 per cent adoption has already happened. We are aiming towards 80 per cent," Varma said.
New features
The portal started with Less Than Container (LCL) load and now it has FCL and trucking in the United States. We are continuously adding other services as and when they hear of requirements. "Just now we have added insurance for the United States. We are hoping that people will book an insurance. Because cargo insurance is vital in the journey of goods going from one place to another, it is good to be insured. So, now the people on booking quotes can directly take up insurance quote and that gets added to their cost. That gets added to their total cost. Currently, we do door-to-door quotes in more than 52 countries. And we have offices in 180 countries with 2,400 trade lanes. Everything is mapped onto ECU360," he stressed.
Engagement and training
Varma shared that the company is currently working with the customer success team, creating training teams, which are reaching out to freight forwarders to train them at the ground level. "We recently conducted a survey among them to find out what kind of services will make them efficient. Almost 70 per cent asked for quoting booking digital product. So clearly, this is need of the hour. One important need, which emerges is visibility. People want a track and trace feature, which is at least 90 per cent accurate. I will not say it is that it is 100 per cent accurate because there are so many elements in an end to end journey of goods. Getting that updated info to the 'T' is difficult. But we are getting there. We should be able to do that what Uber does with live location. Just that it is the whole tech thing started late but we will reach there soon," Varma added.