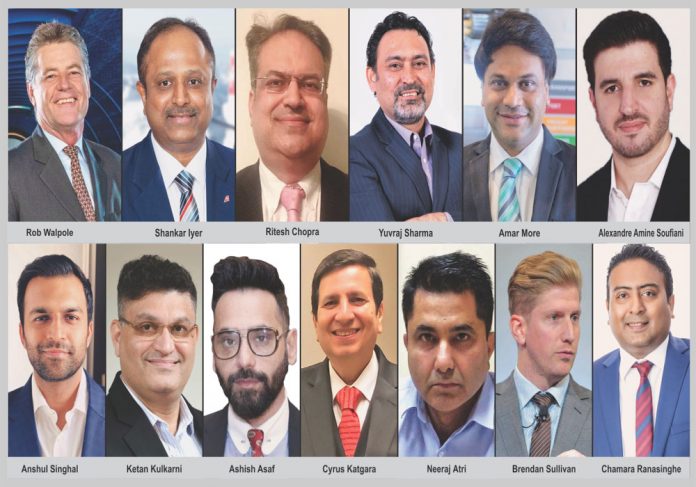 With the world being set into a new template by the pandemic, digital transformation, globally is heralding the new era for air cargo, supply chain management and logistics sectors in which suppliers and customers come together in entirely new ways, blurring the lines between the digital and physical worlds and erasing traditional organisational boundaries.
Priyanshi Bana
A revolution, digital transformation is driven by various technological disruptions, including Big Data and analytics, unprecedented connectivity via machine-to-machine and human-to-machine interaction, automation, artificial intelligence and augmented reality. The digitisation of the supply chain promises to reduce inefficiencies and lower costs while improving flexibility. Says Rob Walpole, Vice President, Delta Cargo, "With the devastating effect of COVID-19 on the airline industry, supply chains were swiftly interrupted in March 2020 by limited flight schedules and reduced air capacity across the world causing a supply demand imbalance across multiple modes. There is an increasing mix of air transport in the end-to-end model and we are now using API technology to connect seamlessly with forwarding community and last mile community enabling transparency and tracking customers' demand. Delta launched DASH Door-to-Door – an industry-first for a U.S. passenger airline in 2019. The 24/7 pick-up and delivery service, from your business or home, is now available from Atlanta to over 60 cities in the United States. This was created for time-critical shipments in industries including medical, manufacturing, automotive, industrial parts and more. Customers can easily get a dynamic price quote, with a single booking for flights with pick-up/delivery, as well as end-to-end tracking and real-time status updates to provide customers with full peace of mind throughout the parcel journey. We have a constant focus on innovation – Delta is looking at ways to enhance and expand our last-mile collection/ delivery offering – to provide a seamless customer experience."
Further, resonating on the same lines, Shankar Iyer, Director, Head of Cargo Africa, Middle East & India, Swiss WorldCargo, says, "Digitalisation will play an important role in the future. However, it is clear that it will not be a silo-ed effort, but rather a joint progression and collaboration between different stakeholders. Right now, Swiss WorldCargo in India is handling a majority of processes electronically – from e-booking to final release of shipment. This has highlighted the successful collaborative efforts of forwarders, airport & terminal operators, airlines, customs & cargo community network providers. Digitalisation and technology in general will also continue to help provide new, innovative solutions to help our business become more efficient and quicker – not just in India, but globally."
The pandemic's disruptive impact on global supply chains has pushed the organisations to focus on risk mitigation and increasing resiliency. By capitalising on digital technologies and increasing real-time visibility into every part of the value chain, companies can more proactively identify areas of potential risk prior to an issue, or more quickly notice and respond to disruption. Says Ritesh Chopra, Head of Business Development, India, CEVA Logistics, "The global pandemic continues to affect growth rates of underlying industries, thus impacting the logistics industry. The pandemic is proving to be a once-in-a-lifetime experience for global supply chain leaders, including shippers and customers, to learn and adapt to the new normal. The most impactful changes for logistics providers will be to redesign their strategies and structure themselves for the volatile market and provide solutions to customers so that it's not just about rates, space or availability of equipment, but rather a bespoke solution for their supply chain needs. Logistics service providers must come up with diverse and out-of-the-box solutions now more than ever before. The global pandemic has emphasised how crucial it is to build a balance between technology and human expertise. Shippers are revisiting their supply chain strategies to navigate the market volatility with options like near-shore supply chain elements, as well as technology- and innovation-enabled solutions – all coupled with the needed experience from logistics experts."
Automation and business intelligence technologies have been central to improving adaptability and optimising the supply chain to meet customer demand. Internet-connected sensors can detect supply chain disruptions and address the issue in real-time with minimal human intervention. If done right, it can increase visibility, responsiveness and resiliency across the entire supply chain ecosystem. Expounding on the need for digitalisation in the supply chain sector, Yuvraj Sharma, Cluster Head – Sales & Marketing India, Sri Lanka & Maldives, Kuehne+Nagel, adds, "The digitised world is constantly evolving and making new rules. New technologies such as machine learning, artificial intelligence, cloud technology, and automation have allowed companies to enjoy greater efficiencies. The logistics industry is at the forefront in embracing new technologies to improve efficiencies and transparency. The supply chain sector is looking at blockchain allied to Internet of Things (IoT), telematics to enable greater visibility and using artificial intelligence and machine learning to enhance the whole of the customer experience.
More and more carriers and forwarders have embarked on digitalisation to streamline operation processes and increase productivity by using modern technology. In fact, to accelerate digitalisation in logistics industry, it is necessary for all stakeholders, including carriers and forwarders, to embrace the transformation so that we can connect smoothly."
Explaining how the pandemic has created a need for a tectonic shift in the logistics industry from traditional ways to digitalisation, Amar More, CEO, Kale Logistics Solutions, says, "The COVID-19 has pushed the logistics industry over the technology tipping point. In just a few months, the COVID-19 crisis has brought about years of change in the way logistics companies across the globe do business. The companies have accelerated the digitisation of their customer and supply-chain interactions and of their internal operations by three to four years. And the share of digital or digitally enabled products in their portfolios has accelerated by a shocking seven years. We are helping build the digital capability required to emerge stronger from every phase of this crisis – whether it's the phase of respond, rebound or re-imagine. The key reasons for technology upgrade are:
Work from Home – needed digital infra on cloud to sustain this mode of working.
Documents went online and 'e' as information was important for cargo to move essential and lifesaving medicines and equipment. Chambers of Commerce shared issuing Certificate of Origin online with tech.
The virus stays on paper for 72 hours as per WHO. So operations had to go paperless.
There was tremendous cost reduction pressure on the entire logistics industry. Technology ensured business continuity with more efficiency and cost reduction."
According to Chopra, "At CEVA Logistics, we consider innovation to be the implementation of new ideas for business impact, and the hub economy is disintegrating business across verticals. CEVA Logistics has always focused on innovations to make the movement of goods for the customer more simplified and efficient. We extended our freight management solutions portfolio with a new digital platform: myCEVA. From quotation to delivery, easily managed shipments are available through an all-in-one platform, anytime, anywhere through this portal. It gives real-time quoting and end-to-end visibility. Digital technologies enable our customers to control and bring simplicity and flexibility to their supply chains.
It's in our CEVA Logistics DNA to deliver responsive logistics solutions for our customers, so innovation is a key strategy for CEVA. Over the past few years, we have significantly invested on innovation and automation for our warehouse and transportation systems along with structuring, training and enhancing the skills of our teams to handle these technological advancements. First, there's the deployment of robots within warehouses, often operating as 'co-bots' as opposed to co-workers for sorting. Then there are driverless forklifts, voice picking technology, pallet shuttle conveyors, end-to-end visibility with geo fencing technology, E–POD solutions, predictive analytics dashboards, dynamic route optimisers, Truck Court + Dock Scheduling Software along with other track and trace solutions – these are just a few of the technology solutions making a difference in our warehouses today, as we move to the warehouses of tomorrow."
Not only the logistics sector is transforming itself digitally with the demand for faster responses, managing a larger number of SKUs with fewer errors, warehouses too need to scale up and meet the standards of an intelligent, efficient, and automated warehouse. Looking ahead, a predicted surge in the preference for digital transformation will bring fundamental changes to the way warehouses operate. Accordingly, the adoption of disruptive warehouse digitalisation will reach its apex. Alexandre Amine Soufiani, Managing Director, FM Logistics, says, "Our state-of-the-art multi-client facilities, backed by our indigenous WMS and IT solutions, our well-experienced collaborators efficiently manage omni-channel operations and can support our customer's growth strategies. We have the required expertise and technological know-how in terms of IT modules that enable us to offer customised warehousing solutions to our clients. Driven by rapid technological advancements and greater affordability, robotics solutions are entering the logistics workforce, supporting zero-defect processes and boosting productivity. This is a primary area of focus for FM Logistics. In India we have implemented drones for inventory control at one of our operational MCFs and are in the process of getting this implemented across all warehouses. We have also implemented a fully automated packing line for various clients across India. Globally, FM deploys AGVs and robots for various activities like loading, unloading, picking, palletising, etc."
The warehouse and supply chain systems of the future will be anything but opaque. Blockchain has the potential to play a pivotal role in achieving transparency at every level. This technology offers the power to distribute information fast and securely, thus making real-time data exchange for warehouses efficient and transparent. Blockchain is incomplete without the Internet of Things (IoT). IoT is an ecosystem of sensory devices that are interconnected across digital networks. These can collect and transmit data in real-time without human intervention.
Playing a significant role in digitisation, e-commerce has grown manifold during the pandemic. Since customers have little tolerance for delayed or incorrect orders, meaning logistics and distribution—from warehousing to order fulfillment to shipping—must happen at lightning speed. As a result, some organisations are moving from direct store to centralised distribution and real-time inventory management, allowing order points to be less tied to warehouse inventory levels and more responsive to demand. As most customer transactions shifted online during the COVID-19 pandemic, companies are taking a cue from retailers and building their own e-commerce capabilities. Says Anshul Singhal, Managing Director, Welspun One Logistics Parks, "The e-commerce market in India as well as globally is one of the fastest growing markets today. Driven by the fast pace of digitisation in the country, Indian e-commerce market has been growing rapidly and is expected to surpass the US to become the second largest e-commerce market in the world by 2034, with China being the largest market. This increased growth momentum can be attributed to the rising rate of internet penetration in the country which has grown from 4% in 2007 to 45% in 2021.
COVID-19 has accelerated both the scope and pace of e-commerce adoption. Any e-commerce operation needs a strong and robust supply chain network, of which, modern warehousing forms a critical component. E-commerce companies as such are rapidly looking to expand in their battle for retail supremacy and thus investments in ancillary infrastructure like warehousing will remain a top priority."
Technology has indeed become the backbone of not just the supply chain or logistics industry, but of almost every industry across the world. With online shopping becoming the trend, delivery and courier service companies quickly realised the urgency of digitalisation. From real-time tracking of parcels, to route optimisation and latest being contactless delivery, the industry adapted and adopted the latest technologies at an unexpected pace. Says Ketan Kulkarni, CMO & Head – Business Development, Blue Dart, "Blue Dart has always remained one step ahead of the curve with our market leading technology-based solutions; during the pandemic, these very solutions benefited both our customers as well as our colleagues. Blue Dart leveraged the use of technology to introduce a number of initiatives to help our customers shop with us, during this challenging period. In order to safeguard the health and safety of our colleagues as well as our customers, we pioneered the contactless delivery service in the industry, allowing access to 16 digital wallets, net banking, credit & debit cards, UPI and BHIM. We launched the 'My Blue Dart' mobile application to allow our customers to book a shipment, track a shipment, find price estimates, etc. on the go. Our drone delivery, in its trial phase, leverages the use of future-ready technology to ensure that our reach extends into the remotest parts of the Indian heartland and provides every individual with the robust healthcare infrastructure that they deserve. This not only ensures an entirely contactless delivery, but also ensures that our colleagues are leveraged for more complex and rewarding tasks thereby increasing the efficiency and effectiveness of the entire man-tech combination."
Process automation, artificial intelligence (AI), Big Data have become some of the key words industries all over the world are juggling with as digital technology has been rapidly transforming air logistics operations. The main aim for digitalisation is to have a sustainable future for the air cargo industry, enhanced online customer experience and seamless connectivity. With unprecedented COVID-19 impact on the air cargo industry, airfreight market players are reassessing the importance of digitalisation and accelerating its pace. Says Ashish Asaf, Managing Director, S.A. Consultants & Forwarders, "Technology is no longer a good-to-have but a must-have in any logistics and freight forwarding company. The players who were technologically equipped, managed to route to work from home and the others couldn't adapt to the sudden change. From providing real-time information to the customers to making sure that the cargo reaches the destination on time, digitisation has helped the industry to sustain in these difficult times.
However, a lot of efforts has gone into digitising customs for improved border management but still manpower is being involved in clearing the shipment. Air cargo fraternity works on multiple and manual systems which shall take time and different stakeholder interactions to implement it. Since the pandemic induced disruption, there are initiatives from ground handlers, airlines, airports to shift many documentation and other protocols via digital mode. On the other side of a crisis is always a new opportunity, hence these disruptions are paving the way for a more digitalised way of transactions across the globe with air cargo operators."
Expounding further, Cyrus Katgara, Partner, Jeena & Company, President, Air Cargo Forum India, says, "I believe that technological development is a major driver for change in our industry and digital is now an ESSENTIAL means of doing business. Digital automation reduces mistakes and delays in the air cargo supply chain. A digital platform can automate common processes like logistics handoffs, real-time tracking, automated invoicing, billing etc. which is the key to run a profitable business in today's time. In the long-term, air cargo companies that provide outstanding digital experience with added efficiency to the customers, will be chosen as preferred service providers."
According to Neeraj Atri, Unit head, Air Canada Cargo Sales, "Due to pandemic, there is a massive change in the air cargo industry, never seen before in history….
The earlier trend in aviation industry was, passenger was the main revenue for an airlines and air cargo was always last with revenue or priority, but this pandemic has changed the mind (of the aviation industry) with the new trend of Passenger to Cargo (P to C) aircraft or convert passenger aircraft into cargo flight.
Due to this pandemic, since almost two years, pax figures are declining (worldwide) day by day, aviation industry survived with air cargo only and specially with the above new trends."
Airlines, freight forwarders, airports and ground handlers too are playing their part in innovating and finding solutions. It was digital technology that enabled the industry to move the air freight more efficiently. Digitisation has kept the air cargo industry stay afloat even during the COVID-19 disruption. Air cargo industry is largely a paper-based industry. 30 types of documents and 124 copies of paper have to move along with an air cargo shipment that starts from its shipper to the consignee. Explains Brendan Sullivan, IATA Global Head of Cargo, "IATA has been driving the digitalisation of the air cargo industry for over a decade through the global implementation of the e-Air Waybill (e-AWB). While adoption has been slower than expected, the penetration rate is currently 65% and the target is 100% by the end of 2022. This is achievable if airlines and forwarders make that last push to remove paper from the process.
Building on this, since the end of 2017, IATA has also been working on the next generation of digital cargo: ONE Record, a standard for direct data sharing between air cargo stakeholders. The programme builds on paperless operations of the e-AWB (Electronic Air Waybill). IATA ONE Record creates a 'Virtual Shipment Record' for all shipments; a single-record view of a shipment that will enable data to be shared by all stakeholders across the air cargo industry. ONE Record will digitalise all aspects of air cargo and accelerate more efficient business practices across the supply chain. It has the potential to generate new value for airlines and their partners in an increasingly data-centric industry.
Recently IATA also launched the IATA Enhanced Partner Identification and Connectivity (EPIC) platform to support the digitisation of the global air cargo supply chain. EPIC simplifies the complex process of making digital connections across the air cargo value chain including enabling the efficient exchange of critical information such as messaging capabilities and identities. The timing of this initiative is important. COVID-19 has led to exponential growth of e-commerce and shippers are demanding quality services that only a digitised supply chain can provide."
Explaining the need of hour, Chamara Ranasinghe, Head of Cargo SriLankan Airlines, says, "SriLankan Airlines is presently pursuing the IATA e-AWB initiative in line with the industry requirements for digitisation. The current e-AWB penetration is 75% in Sri Lanka and SriLankan Cargo is targeting for 100% by end of the year (2021) in line with the CAA – Civil Aviation Authority compliance. The airline is presently in the process of providing required training for converting manual AWB customers to the e-AWB model in meeting the objective.
SriLankan Cargo further integrates all imports and exports customs data in Sri Lanka with the Acycuda system maintained by the Sri Lanka Customs Authority thereby eradicating the requirement for physical documentation for submitting Manifests and AWBs as of June 2021.
In further enhancing the ease for customers, an online payment portal was developed for customer settlement of cargo related charges where they were previously required to physically process payments at the cargo terminal at the airport.
The SriLankan Cargo mobile app providing customers with real-time information on shipments was further developed during this period to include available facilities and prior calculation of applicable charges."
According to Walpole, "Digitisation is a key focus. Our website, deltacargo.com was re-launched in Nov 2017 having been totally re-designed to be a one-stop-shop for our customers. Customers can book, check-in, manage and track their shipments exclusively online, on a laptop or mobile device, 24 hours a day, seven days a week – as well as submit eAWBs for free. The website continues to be our highest performing preferred digital channel across cargo's distribution mix with over a third of global bookings made through the website. Last year we also introduced PayCargo, a new secure payment platform as well as launching API connectivity, providing our customers with the convenience of real-time connectivity to Delta systems from a customer's own platform. Customers can now easily shop, book and track their shipments from their own platforms."
A trendsetter in many ways, COVID-19 changed the dynamics of the logistics and the cargo sector unprecedently. From digitisation to operations, the industry has changed drastically from what it used to be in pre-pandemic days. Says Sullivan, "Air cargo has been a bright spot for the aviation industry in a very challenging time and it has continually demonstrated just how effective it can be when we come together around a common objective. Capitalising on this momentum and building back better is critical to overcome the challenges of the future.
IATA's top three priorities for the industry are safety and security, digitalisation and sustainability:
Safety and security, in particular but not limited to the lithium battery challenge where governments must address the threat from undeclared dangerous goods in cargo and mail.
Digitalisation, with speed as this underpins many other key initiatives such as safe and efficient borders, seamless operations and quality of the supply chain
Sustainability, we are committed to addressing sustainability challenges, meeting our sustainability targets and seeing if we can do more. This includes the energy transition to sustainable aviation fuels which is taking longer than we would like and the electrification of ramp vehicles. We are committed to putting sustainability at the core of everything we do from standards to partnerships focusing on people and the planet.
We will also continue to focus on improving quality across the supply chain using programmes such as the Center of Excellence for Independent Validators (CEIV) and Smart Facility Operational Capacity (SFOC) to ensure we don't lose focus on quality. For each of those areas we have dedicated work plans which we need to continue to deliver on with and for our members. We also intend to continue to strengthen partnerships and focus on delivery of the mandate set by our members. And we will continue to focus on the distribution of vaccines and related medical supplies as just one of the ways air cargo is contributing to help aviation restart and support the global community."
Explaining on digitisation as a key trendsetter, Ranasinghe adds, "The pandemic has severely accelerated supply chain digitisation in the air cargo sector, due to the requirement of increased integration and efficiency with the intensified demand for e-commerce as well as the capacity limitations and congestions experienced with the other modes of transport in relation to demand.
The emergence of digital communities was also prevalent in the supply chain sector allowing streamlined electronic communication of information and cargo amongst all key stakeholder organisations within the supply chain. An additional development owing to the pandemic was the requirement for the adoption of electronic air waybills (e-air waybills) due to the concern of the transmission of the virus through paper documentation over four to five days. This has led to several efficiencies in speedier deliveries and an improved ability to track and trace shipments.
The adoption of digitisation has been historically significantly slow in the supply chain sector, however the disruption experienced during the pandemic forced stakeholders to review the potential of the same as a means of maintaining business continuity. Integrations such as Big Data and analytics have provided immense success towards the reduction of wastage and enhancement of profitability. Digitalisation of the supply chain will drive efficiency through enhanced visibility for operations, faster processes through web-based applications and ease in monitoring the same. With over 70% supply chain management gearing to focus their investment towards digitising the supply chain aspects of their operations, mobility will become the norm where managers will be released from the standard desktops and laptops to mobile devices and tablets focusing on real-time management. With its ability to reduce operational costs and timelines, digitisation is the ideal solution to the present key management concerns in the supply chain sector."