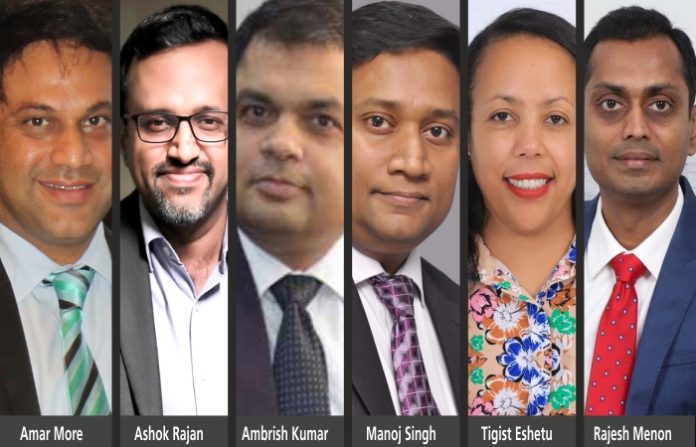 When almost everything came to a standstill, air cargo industry played a crucial role in the seamless movement of essentials. The most unintended help came from the digital technology that enabled the industry to not only maintain social distancing but also to move the airfreight more efficiently.
Kalpana Lohumi
No one can deny the fact that air cargo industry has been lagging behind in terms of digitisation as compared to any other industry. However, the pandemic has turned things around by making digitisation a crucial element in keeping the air cargo industry buoyant during the COVID-19 catastrophe. When the world is fighting against this deadly virus, air cargo industry has proved to be more resilient and agile to deal with the crisis within no time. No wonder, digitisation has helped the air cargo industry to stay afloat in the mid of this crisis. discusses perspectives of technology providers, airports and airlines on how digitisation has helped the air cargo industry to sustain in the business during the COVID-19 pandemic.
Are we a dinosaur in a digital world?
On this, Amar More, CEO, Kale Logistics Solutions, says, "Over the last half-a-decade, digitisation has been the buzzword in air cargo industry. It has been the key topic of every conference or seminar. The most common term used during these conferences was 'dinosaur': are we a dinosaur in a digital world?"
Calling COVID-19 an accelerator for giving a boost to digitisation, More explains, "It is true that compared to other sectors like automobile, banking and even travel; air cargo has been lagging behind in terms of digitalisation, despite the integrators and the increase of e-commerce. But now we have witnessed that there is a surge in the Cloud-based solutions and platforms. The focus is shifting from documents to data. The infrastructure is there, innovative technology is ready, it's just a matter of time before we move to data and automate."
"Contactless business environment has become the new normal. e-bookings, e-payments, e-invoices, e-trade documentation, track & trace, digital customs, e-approval, online quotations, e-delivery order, etc. are some of the solutions which are gaining acceptance and driving business continuity in the industry," he continues.
"Supply has never been a problem in the cargo industry before this pandemic," says Ashok Rajan, Senior Vice President and Head – Cargo & Logistics Solutions, IBS Software. Calling digitisation a saving grace for most of the air cargo professionals, Rajan shares, "In last three months, nature of operations has started to change considerably. With the work from home concept, interactions have gone digital. People who had strong digital backbone have responded much better to this crisis."
What are the operational obstacles to moving freight?
According to Ambrish Kumar, Founder & CEO, LogYcode Tech Solutions, "The closure of operations of international flights and airports was a big concern initially as almost the complete movement of air cargo had virtually come to a standstill during the first lockdown. Even now, because the air carriers are only operating the evacuation flights and some are operating freighters, the belly capacity reduces by almost 60-70 per cent. It has impacted the movement of cross border trade by air. The consequential impact can be seen on the global freight rates which have shot up almost six to eight times from the usual. This has also caused many exporters and manufacturers diverting their goods via ocean options. Also, there is a serious impact on the buyers around the world, there is dip in demand of most commodities."
Explaining the missing link, Kumar notes, "These are times when a logistics professional realises that tasks like filing freight documents with the Customs, running around getting approvals from authorities or loading goods in a transport vehicle cannot be carried out without manual intervention. Lack of technological advancement, lack of integration between stakeholders and the missing central digital platform are some of the causes. While there are goods awaiting imports/exports, air carriers are operating cargo aircrafts, shipping lines are operational, the terminals are working, Customs is open, but there is a standstill in movement of goods."
Adding to this, Rajan says, "In the time of crisis people are struggling to get connected to their customers in order to make sales. Hence, people who had access to digital sale channel are actually able to get a bigger chunk of the market than others."
Talking about forecasting abilities, he adds, "People had a set pattern about how demand and supply work out. But everything has changed now; who had better tools to do forecasting are able to reach faster. Even in this crisis, air cargo has been doing really well; revenues have dropped but not as much as volumes. Hence, there is a need to variabalise the cost."
Innovation in the time of crisis
According to Kumar, "The various startups and tech companies that have stepped into working on the pain areas of the industry has definitely had a positive impact on the industry. The web portals and mobile app versions of the query management and online booking portals have extended the convenience of business continuity for the logistics companies; even when working from home yet having real-time access to their work processes which were earlier traditionally manual. However, the Automatic Intelligence (AI) and Machine Learning (ML) based technological advancements are still under development and awaited which would further enhance service levels and risk mitigation."
On the other hand, More believes, "Our industry lacks in innovation on a wide scale. The air cargo industry is all about delivering speed. The pre and post flight segment is now made more efficient with cargo community platforms (CCS), logistics e-marketplace, digital trade corridors, regulatory single windows, drone deliveries, autonomous vehicles, etc. We have seen with our community platforms, the dwell times reduce by 75 per cent, paper reduces by 90 per cent and data accuracy is 99 per cent. They give complete visibility of business and automate administrative tasks with high level of efficiency."
Integrated digital network
"IBS has launched an integrated revenue management system in collaboration with Korean Air to improve operational efficiency. Working in close collaboration with Korean Air to define its needs for this highly complex and business-critical function, we have incorporated its full data analytics and machine learning capabilities to develop the solution," informs Rajan.
"We have also rolled out the new Sales App mobility module, designed to support sales and marketing teams with maximum conversion of opportunities by providing real-time access to customer profiles, customer analytics and capacity predictions. With the introduction of the integrated revenue management module into the iCargo solution, we have brought a fully integrated package of all business functional capabilities that are essential for the successful management of air cargo businesses for airlines and ground handlers of all sizes and business model," he adds.
Rajan believes, "There is no point of operating in islands of our own."
"Digitisation has become a survival now rather than a growth factor. We might see now small carriers who were not interested to enter in cargo, in the past, can enter this domain in such crisis. We are trying to build a collaborative platform, where even the smaller players could participate," he says.
Re-explore digital transformation
Manoj Singh, Sr. Vice President & Head – Cargo, Mumbai International Airport explains how the pandemic provided an opportunity to re-explore digital transformation in order to improve business velocity and streamline the process for its customers at Mumbai Airport. He says, "The coronavirus pandemic has pushed the industry to adopt new measures in the interest of safety of all. Mumbai Air Cargo has converted a majority of the paper processes into online transactions through electronic communication and messaging which have resulted in the reduction of cost and time for stakeholders as well as boosted the efficiency and agility in cargo operations at Mumbai Airport.
The digitisation has stood as a critical element in maintaining business continuity, safeguarding productivity, optimising processes & resources as well as ensuring the safety of the people at operations during the current COVID-19 crisis. Furthermore, the online transactions like e-reception, e-carting order, electronic FWB/FHL transmission, e-segregation report and e-delivery order in imports has averted overcrowding at the air cargo terminal and has enabled us to maintain social distancing very effectively at the cargo terminal premises. The e-freight and digital solutions offered by Mumbai Air Cargo has additionally helped us respond rapidly to the current challenges, recover from the delays and backlogs, and bring back normalcy in cargo operations while facing severe resource crunch due to the lockdown measures.
Mumbai Air Cargo has developed several solutions in previous years that have been of great help during this situation. This includes digitisation processes like India's first Air Cargo Community portal 'GMAX' introduced in 2013 and the air cargo mobile application launched in the year 2015. These developments have helped efficient transportation and smooth operations at Mumbai Airport and further ensured an end-to-end digital penetration.
During this pandemic crisis, the need of the hour is the seamless and quick movement of essential personal protective equipment (PPE), medical equipment and pharmaceuticals amongst others. As the primary pharma hub of the country, Mumbai Airport has already developed the physical infrastructure to cater towards the burgeoning demand for the pharma industry. Mumbai Air Cargo is home to Asia's pharmaceuticals dedicated import cold zone and first-of-its-kind 'Cooltainer' facility.
The Export Cold Zone can hold over 700 tonnes at a time with an annual capacity of 5,25,000 tonnes. The 'Cooltainer' on the other hand, has proved beneficial in providing speed, efficacy, and reliability to optimise temperature-controlled connectivity of essential cargo. Furthermore, the airport is also working on an end-to-end digital 'pharma corridor' using Blockchain technology to facilitate seamless and high-quality temperature-controlled supply chain with global CEIV certified partners. With the digital and physical innovations at CSMIA, Mumbai Air Cargo has been able to connect India and the global supply chain for the seamless transportation of cargo.
Airlines keep freight flying
While lockdowns and travel restrictions have starved the skies of passengers, air cargo demand; particularly for PPE has been racing ahead of capacity. Sharing how Ethiopian Cargo has managed to sustain in business, Tigist Eshetu, Regional Director – Indian Subcontinent, Ethiopian Airlines, informs, "Ethiopian Cargo & Logistics Services, with no exception, was challenged with stay at home and physical distancing which makes it hard, from the customer side, to go out and process a cargo movement. In response to it, we have come up with a digitalised platform which is to be accessed at home and through mobile apps and chatbot display providing all cargo services information, be it, cargo tracking information, flight status review and charter booking possibilities. The platform has helped a lot in handling the time sensitive cargo demand more efficiently and effectively, especially in China-Africa routes and of course to Europe and Americas too."
Adding to this, Rajesh Menon, Regional Head of Cargo – South Asia, Middle East & Africa, Cathay Pacific, says, "We have introduced a number of measures including the 100 per cent E-Airway bill (E-AWB) across India and also enabled a digital payment platform for all import delivery order payments. Both introductions have not only helped us go paperless but have also reduced the risk of physical interaction, thereby safeguarding the health of all our partners. The recently introduced payment platform has also been widely accepted by the agents and freight forwarders as it gives them flexibility to choose from a wide array of payment options. We have also developed two digital platforms; one for our cargo agents to make their booking and allotment process a lot faster and convenient, while the other is for our internal handling."
Repurposed
Sharing how the stakeholders are more than ever excited to embrace digital solutions, Eshetu explains, "The digital solution has helped the airline in handling the increased demand and traffic. Sales are getting completed in record time too. It has also helped us to renovate some of the facilities of our PAX aircrafts to fit for cargo operations and to handle the wide global demand of freight transportation especially of the COVID-19 combating equipment."
Cathay Pacific is in the process of building and developing multiple automated tools which address key concern areas of the business and are designed to streamline and conduct business smoothly. Menon informs "These tools will have a two-fold approach, which is, assisting our teams to proactively strategise when there is an increase in demand and a faster turnaround time for all agent queries."
"We have also been exploring the feasibility of incorporating Blockchain management which will enable us to locate, allocate and transfer unit load devices between forwarders, the airline and other concerned parties making the process more transparent and environment-friendly," he adds.
Tackling challenges
"The over flooded demand coupled with the reduced route operation due to lockdown and inability of securing flight permits made planning difficult from our side. It was difficult to precede the normal ground handling operations without securing a legal procedure as per the country regulations for the pandemic. However, Ethiopian Cargo has managed these challenges by using all the opportunities available with the strategic approach of capacitating all our resources fit for the demand with our dedicated staff, good planning and on time decision making," shares Eshetu.
At the beginning of lockdown, Cathay Pacific did encounter some logistical setbacks, resulting in the temporary pause of their freighters from the Indian ports. On this, Menon points, "However, we were agile to resume our operations and returned to a full schedule as the market improved."