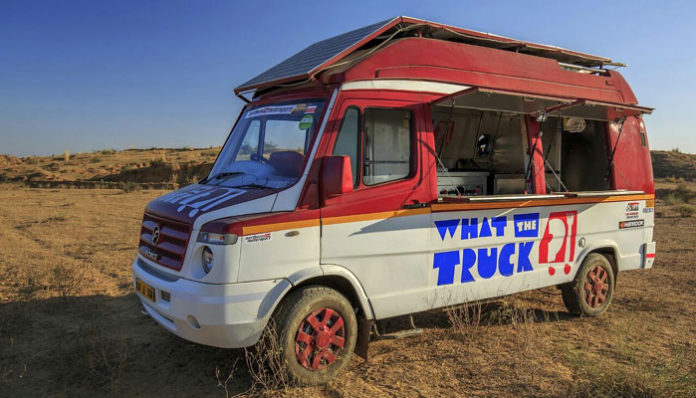 Out-of-the-world food with an out-in-the-world ambience is what food trucks offer. Innovations and western influences have mostly been instrumental in the progression of the food truck culture. Spokespersons of some of the most popular food trucks tell us more about these four-wheeled eateries and make us want to start binging.
Food truck outlets are a culinary trend that began in the West. In India, food trucks, a modern-day gourmet take on the humble thela, have taken metro cities by storm with their reasonable prices and innovative dishes. Introduced by welltravelled innovators who observed the popularity of this culture in international markets, the food truck trend has already gained ground since it began in India.
Evolution
It is now well-known that people in metro cities have hectic lifestyles and are continuously looking for quick, smart solutions to everything under the sun. These millennials don't want to miss out on what the west has to offer and seek such experiences right in their neighbourhood. This growing demand for innovative choices has led to the establishment of the food truck culture in India. Sharad Sachdeva, CEO, Street Foods by Punjab Grill from the house of Lite Bite Foods, says, "People look for quick, on-thego meals and a food truck caters to their needs by providing a variety of food options at reasonable prices. This is one of the biggest triggers for the food truck culture in India." Some food truck front runners who were already aware of what consumers may be looking for, sought to draw similarities between Indian and western cuisines and innovate on them. Considering the lack of Mexican food trucks in Delhi, The Lalit Food Truck Company was launched after conducting a dipstick study of the market and concluding that the spice level of Indian and Mexican cuisines was quite similar. Keshav Suri, Executive Director, The Lalit Suri Hospitality Group, says, "The Lalit Food Truck Company became the pioneers in the luxury, fivestar hotel chain category with the launch of the first Mexican food truck in 2014.One of the major factors contributing to this was the lack of time that people of metropolitan cities had and how there was an increasing need to fit-in quick food options in their hectic lifestyles."
According to Gaurav Gianchandani, Owner, What the Truck, the food truck culture has been evolving since 2014, but a large number of people are still not aware of its presence. "There is a long way to go when it comes to spreading awareness of this newborn culture. Another factor hampering growth is the opening of a number of food trucks without the knowledge or expertise to operate one," says Gianchandani. A multitude of aspects need to be taken into account before launching a food truck, such as location, clientele, ease of access, etc., and players need to consider them carefully to be successful in the market.
Offerings
Street Foods by Punjab Grill features street food specialities from around the country. With its lip-smacking offerings from various regions and other well-known North and South Indian regional delicacies, the goal of this food truck is to make available all delicacies under one truck roof. "We ventured into the food trucking business in 2016 and operate two trucks across Delhi NCR. We have now ventured to foreign shores, too," explains Sachdeva. Having established The Lalit brand pan India, with several specialty restaurants such as Baluchi (Pan Indian), OKO (Pan Asian), 24/7 (Multi-cuisine), and the super luxe night club- Kitty Su, the Executive Director wanted to do something different and cater to a wider audience.
"The Lalit Suri Hospitality Group always wanted its food truck to be unique. Hence, we launched the first-of-its-kind Mexican food truck in India and recently the first Pizza Truck in the country. The four trucks in Delhi, Mumbai, Jaipur, and Bengaluru also act as mobile hoarding for The Lalit's outdoor catering vertical," says Suri. Gianchandani lets us know that What The Truck was a product of his passion for food and his will to bring a new concept to India. "I have this memory of food trucks from USA when I used to stay there, and I just thought of bringing that concept to India with a hope that it would work and, guess what, it did!" he exclaims.
Reaching out
Being a recently introduced concept, effective marketing is imperative to its success. Each food truck owner or operator exploits different strategies to promote what their brand has to offer.
Sachdeva says, "Street Foods by Punjab Grill is a well-known name in the food sector and has already won over customers. Word-of-mouth marketing has helped us grow our brand, all thanks to our devoted consumers. We are also active on all social media channels to ensure our followers stay updated with the latest news about us."
For The Lalit Food Truck Company, tie-ups with corporates and schools, big events, and Kitty Su nights are what they look at for churning the required visibility for this vertical. "We are constantly looking for relevant brand tie-ups and associations. Digital media and social media also play a vital role in promoting our brand. Customers can track the location of the food or pizza truck on our website or follow our interesting social media posts about the truck that we continuously update," adds Suri.
Gianchandani exploits platforms like Zomato, Facebook, and Instagram, among others, to market his brand.
Government regulations
Government regulations are such that can both hamper or promote a business. According to Sachdeva, "For running a food truck in India, one requires various NOCs and licences from governmental bodies, depending on the cuisine, theme, and concept of the food truck. Regulations and guidelines are stated for each segment, such as food, fire safety, music, liquor, municipal corporation limits, etc., which need to be adhered to."
According to Suri, "The government has become more flexible now when it comes to food trucks. As a five-star hotel chain, we are very particular about safety standards and ensure adherence to them for all our verticals. All safety measures are taken into consideration while installing operational equipment." For Gianchandani, there is no support or regulation for food trucks, as of now.
Challenges
Operating a business is not easy and a food truck business is no exception to this fact. Some players strike winning strategies while some others lose out quickly.
According to Sachdeva, "Running a food truck is very different from other businesses, including that of a conventional, brick-and-mortar restaurant. The biggest challenge with a food truck is that you have to find a winning site."
Suri believes that being constantly on the move and away from an elaborate kitchen setup, maintaining the quality of food and carrying all ingredients can be challenging at times. "One also needs to clearly define areas of operation and do meticulous planning for the entire year, month by month, to ensure you get what you want from the food truck," he adds. Gianchandani says, "One of the biggest challenges we face is that there is no support from the government to make this legal and run it in a proper way."