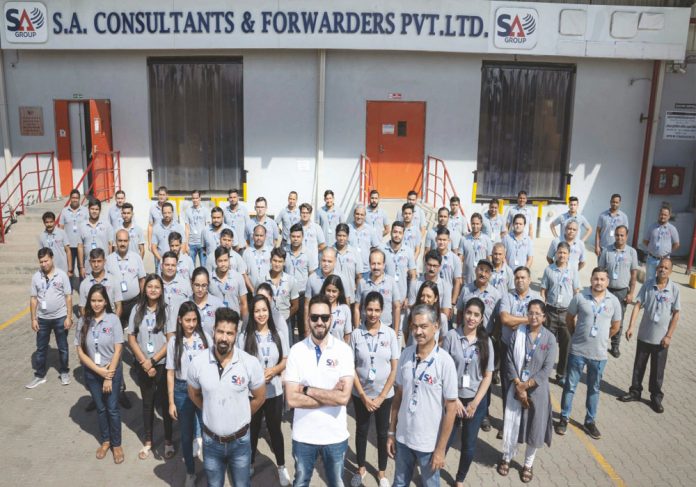 With neutral standards in place, S.A. Consultants & Forwarders (SACFPL) aims to empower emerging airfreight forwarders by offering them competitive pricing and absolute transparency. In conversation with CARGOTALK, Ashish Asaf, Managing Director, SACFPL stresses on building neutrality in air cargo industry.
Priyanshi Bana
With what services you are benefiting Indian logistics and air cargo industry?
We are the country's leading neutral wholesale freight forwarding company facilitating shipments via air, ocean and road, and offering tailor-made packages for one's forwarding needs. We are providing services exclusively to freight forwarders, custom brokers, courier agents and food product manufacturers. There is no such commodity, be it pharmaceuticals, live animals, perishables, dangerous goods, apparel, handicrafts, or personal baggage, which we do not move from one place to another.
With our extensive network across India and globally, we do advise on legislation which might affect international trade, political situation and unrest, and other factors that may affect the movement of goods. Once your cargo is in our hands, all the documentation is being done by us. Our specialised customs team has the requisite skills to manage documents, calculate taxes, excise duties, and coordinate with exporters and importers and are aided by the hassle-free approval from varied government agencies for importing as well as exporting goods from one nation to the other.
Last but not the least, we facilitate the shipment of heavy items that cannot be loaded onto scheduled services and requires critical precision to propose the most suitable solution. From small jets to large freighters, we have an infrastructure to send any outsize cargo anywhere in the world and within the deadline. We are offering tailor-made solutions to all requirements of customers .
What is SA Group's USP which makes it different from other freight forwarders?
Ranked amongst top 10 IATA Indian freight forwarders, we are India's leading neutral wholesale freight forwarding company. The next question in everyone's head might come is 'what does neutrality stands for in freight forwarding business?' Bringing neutrality in business signifies growing together. With neutral standards in place, we empower emerging airfreight forwarders by proposing them competitive prices and pan-India presence. This would possibly help developing innovative business models that will improve customer experience and operational inefficiencies.
When there is a neutral standard in place, a platform prioritizes rate and client data security. Following neutrality means providing neutral tools that benefit all its participants and functions such as shipment tracking and digital document transmission should no longer be a barrier to customer acquisition.
Our objective is to maintain zero interest in value unit (cargo) to protect customers and not compete against them. By maintaining zero interest in the value unit, we are giving access to great rates and services and no risk of 'back selling' which means we are not a threat to any company.
We are one of those few freight forwarding companies who believes in taking responsibility of your cargo before, during, and after the shipment arrives at the point of destination.
The Group has completed 20 years of operations. What changes have you seen in the air cargo industry from last two decades?
Our industry has changed significantly in the last 20 years; the air freight industry which represents less than one per cent of global trade by volume, but over 35 per cent by value, has become a vital part of the broader logistics sector. The sector has had a few challenging years in recent times. Just before the pandemic hit the world, the air cargo sector noted the biggest decline in a decade with volume decreasing by over three per cent. The trade war between the US and China had an adverse effect on the market too.
However, the pandemic has placed the air cargo industry in a prominent place and brought some interesting changes in the market, who would have thought cargo would be going on seats in place of passengers! However, not to forget that the crisis has reduced the airfreight capacity because of reduced flight frequency globally.
How would you evaluate the current state of the air cargo sector in India?
Indian air cargo industry is poised to take off. I believe that the stage is set for air cargo to grow into the ascendant industry of India's globalized future, since cargo has already proven itself to be a key revenue generator for Indian airlines in the chaos and pressure of a global pandemic.
Meanwhile e-Commerce, accelerated by the pandemic, has transformed consumer shopping habits and spending patterns, and driven the demand for distribution facilities and warehousing that are digitally-enabled and offer value-added services. This could generate new business opportunities for carriers.
In today's India, we have seen the rapid enhancement of airport cargo infrastructure, digital infrastructure for cargo handling, and the development of collaborative partnership models wherein all stakeholders manage cargo multilaterally. But it remains to be seen how precisely Indian aviation will respond to, and ultimately overcome, current market challenges posed by air cargo growth.
What are the changes that you would like to see about in making the industry more efficient?
In my opinion, the most vital change the industry needed at this point of time is integrating airlines ERP systems with the freight forwarders' system. It is high time for airlines to digitize their pricing and integrate with the IATA freight forwarders' systems to bring uniformity and transparency in the freight forwarding community. Freight forwarding companies have their own ERP systems with which the airlines can integrate their pricing and give the freight forwarding community an equal and fair chance of succeeding. Why we are still limited to tracking the location of shipments only, what about the live updates of capacity availability and getting prices directly from the airlines? Why are we still waiting for hours to get a price quote for cargo and not getting it in seconds? If tourism industry can have that sort of transparency while booking tickets, what is stopping the cargo industry from following the same?
Moreover, despite putting a lot of efforts into digitizing customs procedures for improved border management, still manpower is being involved in clearing the shipment. The air cargo fraternity works on multiple and manual systems, hence, interaction with different stakeholders take time.
How would you like to contribute towards making these changes?
Digitization would help not only the financial part, but also the freight forwarding tasks. If the companies have cloud-based ERP systems, works can be tracked on daily basis, and it can be ensured that the employees are engaged in their duties. However, it has to be a joint effort by the stakeholders of the industry as well as the government in order to ensure more digital gateways and smooth processes need to be formulated.
As a company, we have implemented robust digitized systems in order to stay connected with the industry stakeholders, be it custodians, airlines, airports, and customs among others. Our systems are robust enough in a bid to give an opportunity to the emerging freight forwarders to come on board, grow together, and build innovative solutions.