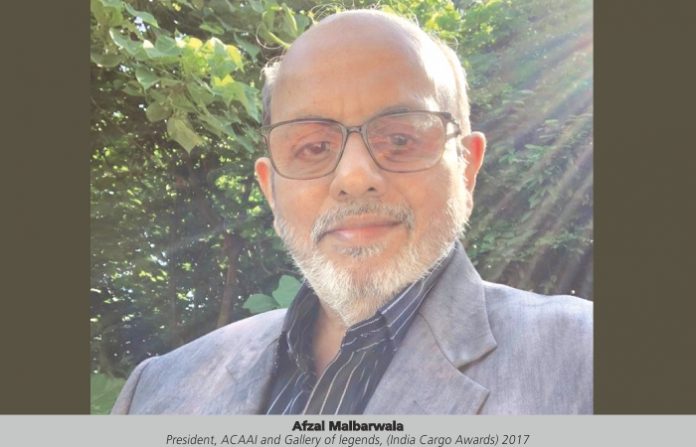 New Logistics Policy is good news for us. The government is working on the final draft and aims to slash cost of operations.  Moreover, we are inviting our stakeholders to take part in the growth sessions by sharing ideas and success stories with them, says Afzal Malbarwala, President, ACAAI.
Priyanshi Bana
Kindly throw some light on the associations' operations in 2021? How are they different from 2020?
There has been a difference in the business of the associations in 2020 and 2021 to an extent. They are as following:-
a) Ease of doing business – Work together, share ideas and make the industry
more efficient.
b) Infrastructure growth – Share our experiences and ideas and convert them into initiatives with participation
from all stakeholders. Growth is good news for all of us.
c) Address and resolve long pending issues – Enhancing cooperation and building consensus among all stakeholders to tackle the ongoing issues.
Any new policies expected from the government to help improve the efficiency and revenue growth?
The central government is working on the final draft of the New Logistics Policy (NLP) which is primarily aimed at increasing efficiency (cutting down unnecessary or unproductive tasks during export formalities), and thereby reducing cost of operations which will enable the Indian exporters to compete aggressively in the global markets. These initiatives coupled with increasing push on automation are likely to make exports out of India seamless and attract investments.
What have been the major challenges in accomplishing tasks set for 2021?
The after-effects of the pandemic are still being felt in the industry. We still have pending initiatives awaiting final clearances, before we can jointly look to implementing the same. The fact that European countries are continuing to have phased lockdowns as they endure the fourth and fifth waves of the pandemic has also challenged in our abilities to implement and measure results of our initiatives.
What are the future plans of the association in the New Normal?
The ACAAI, as a growth-oriented association, is keen to drive adaptation to newer methodologies and processes. There is definitely growth in the coming months, as the businesses start rebuilding and newer requirements are
identified. We are still in a state of fear amidst the pandemic and the New Normal, which we thought is going to prevail in 2020 is evolving in 2021. Keeping pace and continuing to value add is our focus for now.