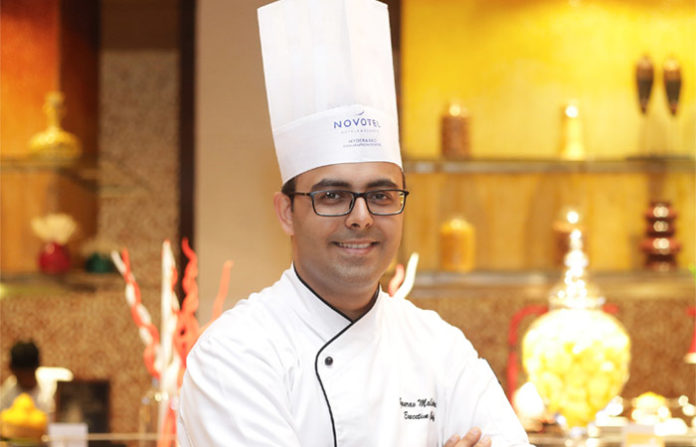 Gaurav Malhotra, Executive Chef, Novotel Hyderabad Convention Centre and HICC, tells us about the hotel's marketing strategy to promote F&B along with the challenges of catering to the MICE segment.
Tell us about the USP of the restaurants housed in the hotel.
Each restaurant at Novotel Hyderabad Convention Centre is different from the rest.
The Square: An all-day dining restaurant, The Square has outdoor spaces adjacent to the pool and lawn. With an alfresco setting, it features live stations dedicated to a variety of cuisines. While one generally spots corporate lunch meetings on weekdays, The Square has weekend specials of Pan Asia-themed Fridays, Seafood BBQ Saturdays, and Sunday brunches. The restaurant also hosts numerous indoor and outdoor activities for kids and teens.
The Bar: With a live band performing classics as well as contemporary hits late into the night, the bar at the hotel sets an ambience for those who wish to immerse themselves in its vibe.
La Cantina: A Mexican-themed poolside restaurant, La Cantina brings forth authentic gourmet offerings in a very relaxed, serene setting. Its F&B offerings make it a unique destination in the region.
Le Café: This is a European sidewalk-themed deli that stocks the choicest of baked delights and desserts. It has a large selection of coffees and sandwiches along with customised cakes for all occasions, with multi-tiered cakes being a favoured specialty.
What is your marketing strategy to promote F&B at the hotel?
We frequently host food festivals and update our menus in order to promote our F&B. We extensively use digital platforms where we can be in touch with clients in real time and keep them updated about promotions. Reviews from food bloggers and a sizeable following help us translate the essence of the experience of dining.
How diverse is your client base?
Our diners are a mix of room-stay guests, regular clientele from IT hubs, expats, and HNI citizens from the city of Hyderabad. About 20 per cent of our clientele also flows over from the adjoining convention centre.
Being one of the biggest MICE hotels of the country, what challenges do you face and how do you overcome them?
Planning for an event is key, being facilitated by transparent communication between organisers and venue managers. Movement of large gatherings is a major challenge. We pull up a plan in advance for the infrastructure required, signage that would provide proper directions, immaculate coordination with organisers of the event, understanding guest expectations, and communication tools to be used.
Business travellers look for a more casual and comfortable option, while a section of the guests loves our weekend brunches or afternoon teas. Families look for dining options with food that is suitable for children. While it is challenging to have one restaurant cater to all needs, the key in luxury hotels is to have a wide variety of offerings and be extremely flexible.
How has the palate of Indian diners evolved over the years?
Around 65 per cent of the Indian population aged between 18-35 years typically drives the growth index of the food service market. They are tech savvy, have constant access to news and trends from across the globe, are well-read, well-travelled, and are empowered with a high spending power. This has subsequently allowed the consumer palate to open up to new experiences and a wider range of cuisines. Nowadays, the clientele is more experimental in terms of cuisine and is seeking a modern, globalised gastronomic experience more eagerly.
Have you seen a shift in the food habits of the people of Hyderabad?
Hyderabad has really evolved in the last five years in terms of cuisine; a lot of restaurants that have opened recently provide unique dining experiences. The residents of the city, in general, have become more open to international cuisines.
How do you solve the divide between authenticity of food you offer and the modifications guests often request?
We try to draw a fine line between authenticity and customisation. Regularly educating guests on the importance of authenticity of cuisines goes a long way in this regard.
For a restaurant to run in the long haul, what are the few things that are essential?
Every guest must have a memorable dining experience consisting of scrumptious bites and impeccable service. A well-executed dining experience helps meet the expectations of clients, making them a regular at the restaurant.
Tell us something about your signature dishes.
We have a repertoire of dishes that are modern interpretations of some of our most loved classics. Deconstructed tiramisu with duo of berry textures, Tawa Masala Halibut, mustard greens stuffed with cottage cheese, and textures of chaat, white chocolate golgappas, airy dhoklas, and rasam foam are some of our signature offerings.