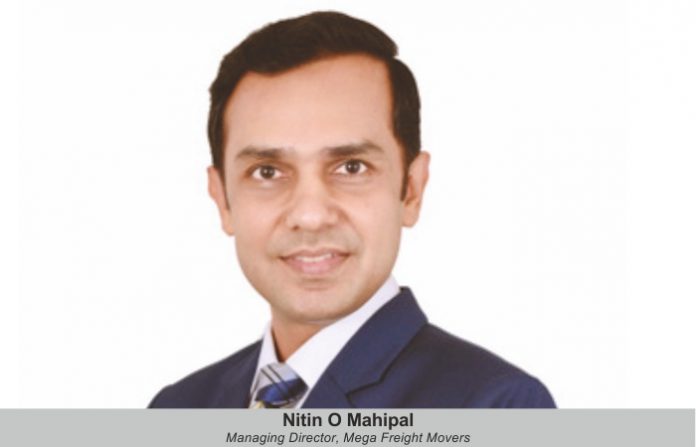 Tax reforms are significant factor for driving growth in third-party logistics market in the country. Various reforms allow transformation of 3PL sector in India, of which major change was brought by GST, says Nitin O. Mahipal, Managing Director, Mega Freight Movers.
Priyanshi Bana
Warehouses in tier 2 and 3 cities are showing consistent growth. What is your take on it?
The expansion of warehousing in tier 2 and 3 cities was expected sooner rather than later.The next growth in top line revenue for corporates is expected from tier 2 and 3 cities. The e-Commerce boom and online retailing have increased the demand there too.
The government is pushing infrastructure development to increase connectivity to potential towns with high demand, which, in turn, allows easier access for the manufacturing and logistics industries to sell and deliver cargo in these cities.
Infrastructure projects such as Gati Shakti, introduced by Prime Minister Narendra Modi, are a national initiative aimed at bringing change to India's logistics performance by cracking the full potential of India's roads, rails, air, coastline and waterways. Seamless connectivity across India to make it a US$ 5 trillion economy by 2025 is a great push for the warehousing sector. The project is opening logistic corridors in cities such as Dholera, Amritsar, Ambala, Bhatinda, Jamnagar, Raipur, Vizag, and Salem as they will be linked by express highways to the metros. As they get linked, the warehousing sector will grow equally fast to cater to the demand of these cities.
How much impact does e-Commerce and 3PL companies have on the rising demand of warehouses in such cities?
Companies are expecting new capabilities and complex solutions from the 3PL service providers to help them with the successful management of supply chain processes, bring down conventional logistics costs, and handle more complicated tasks.
Most people in the manufacturing sector do not want to get involved in the management of warehouses, including manpower and stock management, as they want to focus on their core activity. All these jobs are left to the professional management of a 3PL company.
The Government of India has set a target to bring down the current 14 per cent logistics cost of India's GDP to 9 per cent by 2022. This has a huge impact on the 3PL companies, and therefore, the Indian 3PL market is expected to register a growth rate of over 11.5 per cent during 2020-2025.
As per reports the demand for warehouses will increase in future. What factors are responsible for the same?
Many new manufacturing industries have been set up in India due to policy reforms by the government that have improved the ease of doing business in the region. The third-party logistics market in India is set to grow by US$ 10.74 billion from 2020 to 2025, progressing at a compound annual growth rate (CAGR) of 8 per cent. The tax reforms can be considered a key factor in driving growth in the third-party logistics market in India. Various reforms have allowed the transformation of the 3PL sector in India, of which the major change was brought by GST. It has helped reduce the price differences between states and made tax liabilities uniform across India. This also reduces border checks and, in turn, brings down logistics costs and increases operating efficiencies. Such initiatives are fuelling the market growth of 3PLs in India.
The demand for faster delivery has never been higher before. Although the same product may be available on Amazon and Flipkart, the platform that delivers faster will be preferred by customers. Therefore, a warehouse that caters to fast on-demand delivery will be a great asset to e-Commerce. A hub that stores fast-moving items along with slow-moving items is the best bet to push sales. Distributors and traders of D2C customers are delighted if their order to delivery time is reduced by providing warehousing close by.
The changing face of age-old godowns into smart warehouses. Smart warehouses are no longer catering only to storage. They are equipped for faster picking, packing, and sorting activities with precision. With the faster employment of technology, it will gradually become easier to manage warehouses with standardisation.
The pressure for cost reduction in logistics for faster delivery is also a reason why a healthy supply chain planned to optimise the last mile delivery can aid in cost reduction too.
Has pandemic and digitalisation further enhanced the demand for warehouses?
The pandemic made demand forecasting tough for manufacturers. With each wave, one or more product markets were disrupted, while demand for necessities such as food and medicine increased dramatically. Yes, the warehouses picked up demand during the pandemic as the industrial production due to sudden falls or rises in demand was all stored in warehouses to balance the demand-supply gap for the goods.
Digitisation
In India, higher warehousing costs are driven by a shortage of warehousing capacity and non-standardisation of warehouses without IT applications.
The growth in digitalisation of 3PL is supporting the 3PL market in India. The 3PL players in India are more receptive to the trend of digitalisation. Many have started investing in smarter IT and software systems that offer a better return on investment.
Specialised software helps drive the costs down, save time, and increase efficiency. The technologies used by 3PL are radio-frequency identification (RFID) and real-time location systems (RTLS).