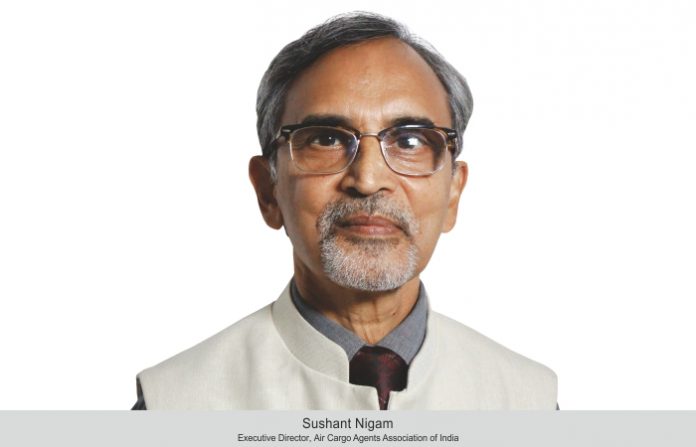 Sushant Nigam, recently joined Air Cargo Agents Association of India (ACAAI) as Executive Director. He is looking forward to having a better understanding of the significant trade facilitation issues prevailing in the air cargo sector, resolve them in the interest of ACAAI members.
Ritika Arora Bhola
What are the transformations you have observed in the Indian air cargo sector since the time you have joined the sector?
I have been part of that era when foreign airlines used to have self-handling of cargo in their own warehouses at Palam Airport in Delhi. Transformation took place when IAAI commissioned an Integrated Air Cargo Terminal on 1 May 1986 on common user basis at the newly constructed IGI Airport.  Equipment-driven handling took over from the manual handling. Another transformation was from difficult procedures to comparatively simpler ones. I have also seen changes such as physical document-oriented operations to electronic-mode of paperless / faceless activities. Usage of modern technology has really transformed the entire cargo handling.
You have served the global air cargo industry for the past 40 years. How has your journey been?
While I worked for the airlines, Custodians-cum-Cargo Terminal Operators of Government and Private Sectors, I had the opportunity to go through lots of churnings facing work-related tough challenges on day-to-day basis, getting immense learning in return.
Now I am associated with an important stakeholder of air cargo industry with whom I used to interact while sitting on the other side of the table. This has been the journey from Service Provider to the User Trade.
How would you justify this year convention's theme—Resilient Air Cargo Industry-Post Pandemic?
It is the most suitable theme as far as trade is concerned. The businesses have witnessed unforeseen losses during the pandemic and there was a need to get the trade back on track. Once in a life time catastrophic pandemic made the survival extremely difficult. To keep the economic wheel and the basics of survival going on, it required logistics to sustain and the air cargo industry proved its resilience by working days and nights while the strictest possible of COVID protocols were in vogue. The logistics players and their workers also played the role of COVID frontline warriors like others.
How vital is the role of Associations to have a connect between stakeholders and address key issues concerning the industry?
The associations are the voice of their members as they provide two-way communication channel between members and the important players including Government and play a crucial role in the best interest of their members.
Is ACAAI receiving full support from the government? What are your expectations and demands?
Govt recognises ACAAI as the mouthpiece of India's air freight forwarders. ACAAI appreciates it and assures its support too. ACAAI would continue to play its important role in Indian economy through its members with the support of Govt of India.
What is your contribution as the Executive Director of ACAAI?
Based in Delhi, I would be in a better position to take-up the issues raised by pan-India ACAAI members with the Authorities in a focussed way and keep following up till resolved.
Despite COVID-related challenges, the industry has performed well. How is it gearing up for growth and building resiliency in the neo-normal?
Unforeseen curbs such as lockdowns due to pandemic-reinforced our belief in the strength of the logistics sector. Can you believe during the worldwide pandemic, passenger movement was banned globally but cargo movement continued globally. Indian Logistics Operators supported the Government professionally in moving COVID vaccines and other lifesaving equipments. In the new normal scenario, technology-driven, paperless/contactless movements and customs clearance initiatives have replaced age-old practice of heavy documentations and involvement in-person, ensuring accuracy and legality.
What are the major bottlenecks the sector is presently facing?
The gap between intention of introducing simplified procedures and its implementation on ground level is wide, which needs plugging. Other bottlenecks are the lack modern cargo handling equipments, better infrastructure, skilled manpower among others. Mutual trust level as well as synergy among the service providers, user trade and the government bodies must also improve.
As an expert of the air cargo industry, can you suggest some of the solutions to resolve the same?
All the players need to introduce innovation, technology and synergy to achieve efficiency in the entire supply chain. They should step forward to help other players fulfil their crucial time-bound requirements. Improved service levels to be introduced and achieved.
How would you rate the country's rail, road, air, sea infrastructure? Is it ready to meet the requirements of the freight forwarding and transportation sectors?
India's rail, road, air, and sea infrastructure is also undergoing tremendous transformation. Expressways, enroute logistics hubs, high speed rails, multimodal connectivity, toll payment e-module, etc. keep the wheels going on.
These are some of the factors that will take Indian logistics sector to newer heights. Waterways is yet to catchup. More is in the offing with the launch of PM Gati Shakti National Master Plan. The entire ecosystem is evolving to a level that will benefit the logistics sector, and the economy.
Do you think air cargo industry stakeholders are ready to embrace and invest in cent per cent digitalisation, and sustainable operations?
The government is on the path of introducing digitalisation in every sector, including air cargo industry in collaboration with the stakeholders. Electronic Data Interchange amongst key stakeholders and regulatory bodies such as customs and other partner government agencies are improving month by month. Major players have already introduced digitalisation, and others joining soon.
What measures have been taken for issues and problems raised by stakeholders such as reduction in logistics cost, more AFSs, shortage of skilled manpower?
Air Freight Station (AFS) Policy although introduced by government in 2014 is yet to be implemented. Its implementation may reduce logistics cost, multiple handling, and clearance time among others. The government has set up sector-wise skill development councils and produce the skilled manpower for their own sectors and increase the job opportunities for trained youth. Ultimately both stand to gain.
Anything that you would like to highlight through this platform?
All the key stakeholders should collaborate in effective manner, empathising with each other's requirements and challenges. Give support and get support.