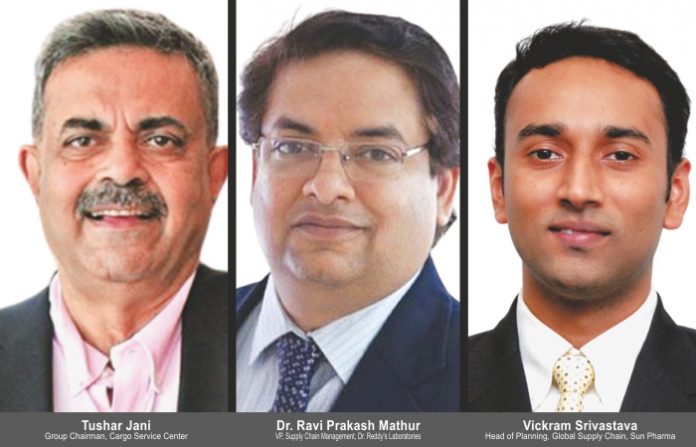 CargoTalk in collaboration with Cargo Service Center has started Pharma Talkathon—a series of knowledge-sharing sessions on everything about pharmaceutical sector. The topic chosen for the first session was titled 'Is India ready to become the pharmacy of the world? The webinar focused on manufacturing and distribution of pharmaceuticals, investments in research and development (R&D) and sustainable operations. The participants who took part in the webinar included Vickram Srivastava, Head of Planning, Global Supply Chain, Sun Pharma, Dr. Ravi Prakash Mathur, VP, Supply Chain Management, Dr. Reddy's Laboratories, Tushar Jani, Group Chairman, Cargo Service Center, while the session was moderated by San Jeet, CEO, DDP Group. TRAVTALK  has compiled the insights and inputs shared by the speakers during the session.  
India has potential to become biggest e-commerce pharmacy
Tushar Jani, Group Chairman, Cargo Service Center
Is India ready to become pharmacy of the world?
We must become self-sufficient on raw materials, mainly on the APIs for which we are still dependent on China. I think there would be a revolution of sorts if we are able to reduce this dependency or cut it down completely. We are without doubt the largest pharma supplier globally, and the biggest opportunity for us will be from the e-commerce side. India has the potential to become the biggest e-commerce pharmacy. Our Indian pharma companies, be it Sun Pharma, Glenmark, Cipla, Dr. Reddy's, among others, delivber medicines across the globe in just 20 minutes—that is the power we need to create in India in partnership with all the pharma firms. From a generic drug manufacturer and supplier's perspective, at present, we have 20 per cent market share, and nothing can stop us from reaching 40 per cent. Our cost of production as against other nations is quite low, our regulations are much low as compared to the other countries, and in terms of value chain and tremendous investments happening in the research for pharma and drugs—nothing can stop us.
India vs China projections
I think the reliability that India offers, China can never offer it, especially after COVID. We have started with a strong foundation that India can be reliable, the country has always been number one in value-addition when it comes to pharma, more than China. China has volumes, but in terms of when it comes to final or finished high-calibre products, we beat the Chinese. The only thing that we do not have is the scale that the huge neighbouring coumntry has. We must match that scale. With the kind of developments happening in Indian market for pharma, I think we will remain biggest pharmacy of the world.
Manufacturing and distribution
There is good amount of efficiency that is being brought into the domestic Indian pharmaceutical supply chain. We offer the lowest prices of medicines as compared to any other part of the world. We are the world's largest laboratory. By using Artificial Intelligence and Machine Learning (ML), we get the exact data of more than 1.2 billion people, but matching research to equal that would be fantastic. We have huge clinical data in the country, which we can use it to our advantage.
Technology intervention
At CSC terminals in Mumbai, we have invested heavily in technology to ease the workflow. We have pharmacists working in the terminal to educate the handlers about the consequences of handling shipments incorrectly.
Our pharmacists at the terminal can differentiate between the different types of drugs/medicines. So, we have created that empathy. We have put sensors in all corners of the terminal, which can provide you the information on temperature required for shipments, directly to your mobile phones through Turant App. You can track, trace, and
monitor your shipment, anytime, anywhere. With AI, customers get information about the shipments in advance. It is time that all of us in the supply chain need to collaborate and work towards solving the inefficiencies.
AI can help remove bottlenecks in pharma supply chains 
Dr. Ravi Prakash Mathur, VP, Supply Chain Management, Dr. Reddy's Laboratories
Is India ready to become pharmacy of the world?
India is already a global pharmacy. In the past few years, especially during the pandemic, the industry did well in meeting the healthcare needs of the global community. Not only did we manage to vaccinate the population of India, but also supplied vaccines to other countries. Other than the pandemic vaccines, we also supplied other vaccines and medicnes globally, which are manufactured in India. Almost 60 per cent of the vaccines are being supplied globally from India itself.
We have 36 per cent lower per person disease burden in India.  We provide 95 per cent lower cost for treating life threatening diseases (Hepatitis-C and leukaemia).
About 37 per cent of people have access to affordable treatment of AIDS in Africa by Indian manufactured medicines. To give one a broader perspective, one out of every three pills taken in North America—they are manufactured and supplied by India. We are in a position of strength now. We as of now hold the position of a leading generic pharma manufacturing country. But when we start developing the drugs and when they start getting patented, we will reap the dividends. Moving forward we need to focus on improving our value chain.
Technology intervention & innovation
Artificial Intelligence (AI)is already present in pharma supply chain right now. It is being used through many use-cases in supply chain and operations and in areas such as drug discovery. In case its many usages, AI is being used in the area of drug discovery to give pace to development of new drugs by facilitating the identification of novel compounds with therapeutic potential. One of the most common AI applications in drug discovery is virtual screening, which involves using Machine Learning algorithms to analyze data and predict
the efficacy of different compounds in binding to specific biological targets.
Using AI to remove constraints
Throughout the supply chain there could be constraints at various points in time. For example, gate entry at the terminal, or loading of a container at a rail yard, waiting for the customs officer to come in and examine your shipment, and the like. Throughout the supply chains, especially in the shared infrastructure such as airports, ICDs and ports, there are many constraints. AI can forecast the bottlenecks likely to come up and based on these insights which AI can forecast, you can eliminate those constraints. If you can identify the constraint points with the help of data, that is what will make an impact. That is where value will flow in for everyone in the supply chain ecosystem. Technology must be democratized and the cost of using or deploying technology should also come down.
Knowledge sharing and training in maintaining quality in transportation
As far as the quality is concerned, we can provide the highest quality medicines without which we cannot enter the regulated markets. Not only quality of products, but also quality of systems in manufacturing and supply chain is superior here. There is no doubt about the quality of the drugs manufactured in India. Coming to the question of quality of work in logistics or supply chain, where it is dependent on the external partners, while the pharma world does have in place its processes for good manufacturing practices (GMPs) and good distribution practices (GDPs), many a time the 3PL partners lack in experience or do not understand the quality systems.
At terminals or airports, even for a process of providing Corrective and Preventive Action requires training and follow-up. Shipping lines and port authority do not share data easily because they do not understand the importance of the data for the manufacturer, and that is a challenge for us. I will not say that there is a total absence of good external processes or systems, in the external logistics world, but logistics systems need to catch up in terms of GDPs not only in India but also abroad. Technology intervention is happening, but still there are loopholes. Training and knowledge sharing should be a continuous process.
Traceability of entire pharma supply chain important
Vickram Srivastava, Head of Planning, Global Supply Chain, Sun Pharma
Is India ready to become the pharmacy of the world?
We can safely say that India is the pharmacy of the world and going forward, we are only going to get bigger and better. The industry is expected to continue to achieve double digit growth in the next 5-7 years, considering the surge in demand for pharma driven by accessibility to both doctors and medicines. However, if we want to become global leaders in value as well, we need to improve our value chains, focus on innovation, packaging and designing products. There are four 'Ds' of pharma value chain—Discover, Design, Develop and Deliver. I feel the pharma companies are quite strong and produce majority of vaccines in India for global consumption.  Thirty-five per cent of our goods are being consumed in North America alone and in Europe. We are the market leaders from generics supply perspective. In fact, the first two Ds—Discover and Design—are important to upgrade our value chain in terms of how we move forward from chemical-based drugs to biological drugs or biosimilar drugs. How the mechanism of drug delivery is going to change, how we are going to have the patient-centric medicines, so that they have more target therapies going forward. This would change the paradigm of how supply chain management works, but how it focuses on the drug design and discovery.
Manufacturing and distribution
We need to capture 40 per cent of generic drugs manufacturing space in India. We might be a market leader in volumes, but we are just 5 per cent when it comes to global pharmaceuticals industry value. We need to work on it and create value for the industry, stakeholders, and produce affordable drugs, which can be consumed globally.  There are many positives in the Indian pharma market when it comes to openness, government regulations, trust, among other factors. China has a constraint when it comes to firms moving into China for producing vaccines, they have complex policies and regulations. India is at a comfortable position with the human resource, technology, infra being built in the country right now, it will be difficult to replace India as a global pharma manufacturing hub. The government's focus on the healthcare sector and from the industry side is also strong.
Reducing paperwork
Going paperless is quite important in today's situation. Putting our audits on digital medium is a prerequisite. Every pill that comes out of a certain batch should have the same efficacy and effectiveness, even if a million pills come out of the same batch. It becomes important to have full traceability of the supply chain right from the manufacturing, the raw materials used, how much testing of raw material has been done, and  the technology helping us create end-to-end transparency visibility into the value chain right from dispensing the material to the delivery of medicines to the patients. Going forward, technology will help us manufacture in a sustainable way, while ensuring customer satisfaction and quality. We have 10,000 manufacturing facilities in India and technology monitoring activities at all the facilities will be helpful for  the supply chain.
Investing in R&D
Though drug discovery and designing are expensive today, we need to have faith in the industry and the government when it comes to investments. Considering the benefits it will provide us in the long run, the industry should invest in it. In case of India, the pharmaceutical industry is to duble in terms value to US$80 billion by the year 2027. The government realizing the sector's potential, following an increase in purchasing power, the expenditure on healthcare is only going to increase. With e-pharmacy, technology, the way we can access doctors, medicines, insurance, everything is going to improve.
Collaboration is Vital
Logistics service providers have a huge role to play in the distribution network going forward. Currently, logistics distribution is unorganised in the country; there are many loopholes that need to be plugged, thereby, making it a win-win situation.