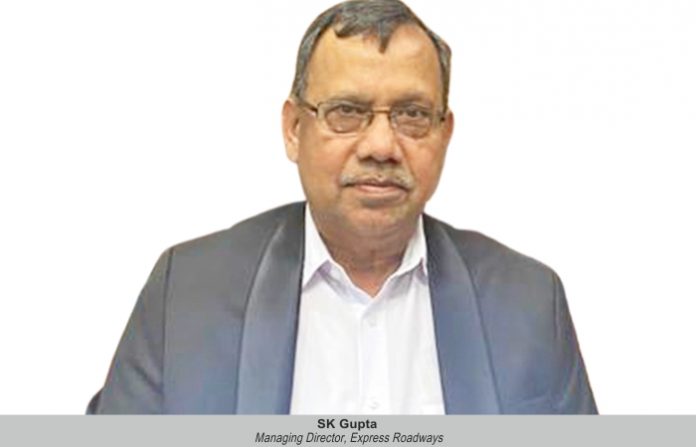 Established in 1993, Express Roadways aims towards designing and developing, customizing solutions for customers. In the coming years, the company aims to create multi-user warehousing and distribution facilities in all cities of the country, says SK Gupta, Managing Director.
CT Bureau
Tell us about the genesis of your operations in India. What kind of services do you offer?
From a humble beginning on 7 July 1993, from Delhi Express Roadways, we started expanding wings. As the years passed by, we graduated from a transportation organization to a supply chain solution provider. Our satisfied clients are our strength and we have increased our customer base in the past 29 years. We offer a range of supply chain solutions such as:
Warehousing (in plant/remote).
Primary/secondary transportation.
Inventory planning and management.
C&F operations.
Regional distribution (B to B & B to C).
What are the crucial areas in logistics and supply chain industry?
The past few years have been challenging for the industry worldwide due to COVID. The global supply chain, which was affected quite badly, has now stabilized. Those with a strong base of infrastructure and network were the first one to sustain and grow. The challenge today is everyone is focusing on their SBUs, the industries outsource the logistics services to a 3PL service provider. Only a few 3PL players do the activities themselves, while others outsource it due to lack of infra, technology, financial strength, resources. In India, 60-80 per cent warehouses are flat. Since the holding cost of inventory is getting dearer with passage of time, consumer expectations rise on how efficiently one satisfies the customers' needs.
Since inception, our focus has been to fulfill customer demands within the deadline.
How do you think ongoing infra developments will boost logistics growth?
With the development of infra, highways, and smart cities, it provides speed and convenience for the industry, which in turn will result in
Reduction in inventory holding cost.
Improvement in longevity of vehicles.
Reduction in turnaround time.
Optimum utilization of resources by creating multiusers facilities.
The results will be encouraging, as it will not only save time and cost but also improve efficiencies.
Tell us about your projects in pipeline?
We aim to be the best logistics service provider with a focus on providing tailor-made solutions. The present structure is diverse and requires different solutions for different product ranges.
To take the growth story forward we aim to create:
Multi-user warehousing and distribution facilities in all cities
Expanding our regional distribution centers from two million sq. ft. to 10 million sq. ft. fully automated facilities
Increasing the owned vehicle strength from 2,000 to 5,000 to increase our strength in primary and secondary distributions
Focus on R&D to support our clients with innovative solutions
Use of the latest tech is our regular practice. We will upgrade it to the next level as and when the new technology comes.
We wish to go global
What makes you better vis a vis your competitors? What is your USP?
Express Roadways are ready for any challenges in future and as a continuous process we work on our Unique Selling Proposition:
Focused approach for each activity
Express SCS focuses on warehousing and secondary distribution
The firm focuses on time bound FTL primary movements
Technically-driven multiutility warehouses
Customer-centric MIS with zero lack time (real-time information)
Highly qualified manpower.
Use of advance tech in WMS, which can interface with any platform i.e. SAP and Oracle among others
Globally align safety policies for resources and consignments
Optimum support to customer on reduction in inventory holding cost and improving efficiencies
Adopting environmentally friendly steps to reduce carbon footprint