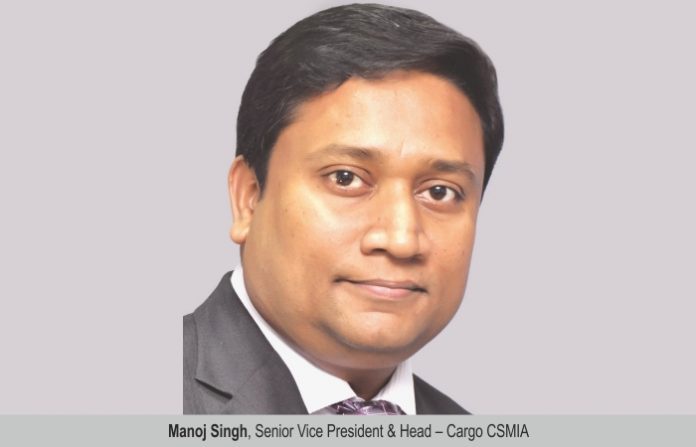 With a well-defined process in place for a faster turnaround of essential medical goods and transshipment movements, CSMIA has been relentlessly working to mobilise and supply essential life-saving commodities across India and the world. Manoj Singh, Senior Vice President & Head – Cargo, CSMIA shares the details.
The year 2020, the most unprecedented situation faced by the global aviation industry. In the 16 months since the outbreak of the COVID-19 pandemic, the airport and cargo community have shown resilience by standing together to meet the needs of the citizens of India as well as the global community. During the first wave, the airport cargo community worked tirelessly to deliver essential pharmaceutical goods and equipment across borders to help the fight against the pandemic. A veteran in the transportation of vital pharmaceutical cargo, Chhatrapati Shivaji Maharaj International Airport (CSMIA) has been playing a key role in supporting the supply chain of critical life-saving cargo.
The airport has been committed to supporting the global response against the COVID-19 pandemic. Since the launch of the nation's vaccination drive, CSMIA became a major player in the distribution of the vaccines to domestic as well as international destinations. CSMIA has facilitated the export of over 180 tonnes (equivalent to 55.82 million doses) of the COVID-19 vaccines to over 75 international destinations and distributed over 100 tonnes (equivalent to 45.45 million doses) to domestic sectors.
With the outbreak of new variants of the COVID-19 virus and the second wave sweeping across the country, the need of the hour has shifted to oxygen concentrators as well as other essential medical goods to help treat the patients. The severity of the situation has seen numerous other nations providing immediate aid to India; CSMIA witnessed the arrival of the first consignment of COVID medical supplies in Mumbai on April 26. Since then, CSMIA has facilitated the transportation of over 830 tonnes of medical supplies from around 30 destinations across the globe into Mumbai. This consists of approximately 34,500 oxygen concentrators, 28 oxygen generators, 4,21,700 vials of Remdesivir injections, 1,13,900 vials of Tocilizumab injections, 50,000 vials of Casirivimab, face masks and face shields amongst others via scheduled and ad hoc customer airlines.
The airport has registered the arrival of essential medical supplies from around 30 countries. Upon arrival, CSMIA's dedicated COVID Task Force ensures the timely processing of these supplies for further distribution to districts in Maharashtra as well as Gujarat, Delhi, Telangana, Chhattisgarh, Punjab, Haryana, Tamil Nadu, Uttar Pradesh, Andhra Pradesh and Madhya Pradesh amongst others. Prioritising the offloading and processing of COVID relief supplies, the cargo team at CSMIA has achieved a record dwell time of 15 minutes. This marks a new milestone for the entire air cargo community in Mumbai.