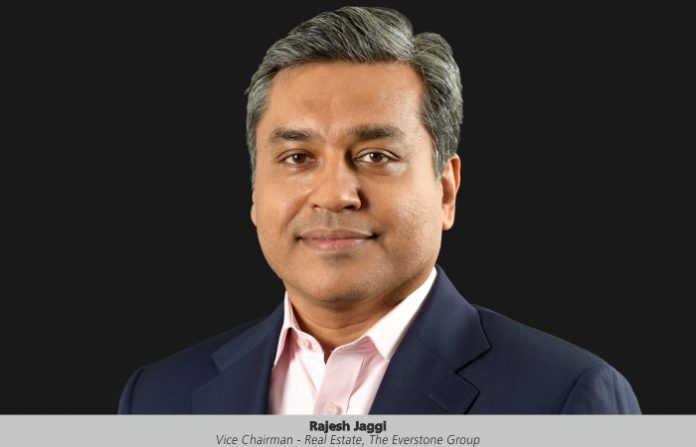 Many businesses are regionalising their operations to prepare for the unexpected and provide efficient last-mile delivery. This tendency will assist tier-II and III cities, which may emerge as Grade-A warehousing clusters, says Rajesh Jaggi, Vice Chairman – Real Estate, The Everstone Group.
Priyanshi Bana
How will the government's recent policies, 6 trillion funds for infrastructure, and PLI scheme, help boost the manufacturing sector?
India has been active on the policy front and is paving the way to become the world's most preferred manufacturing hub. The Production Linked Incentive (PLI) scheme is the cornerstone of the Indian government's master plan to boost domestic manufacturing and make it globally competitive.
Introduced in April 2020, the scheme has set in motion a series of game-changing reforms that will attract global manufacturing majors focussing on mobile phones, electronics, pharmaceuticals, food processing, IT, battery storage, automobile components and specialty steel.
The core objective is to signal a turning point for Indian industry and gain a global presence while boosting economic growth through job creation. A measure of the government's seriousness and the scale at which it is pushing the scheme is its outlay of `1.97 lakh crore or US$ 26 billion, across 13 key sectors.
India's vision of building a US$ 5 trillion economy by catapulting the manufacturing sector into a rapid-growth spiral has been pushed further to 2030. This gives us just enough time to acknowledge the challenges in the way and undertake a more strategic approach to attract sufficient investor interest and capital.
Today, global investors are betting on India, particularly hubs in North and South India with a strong manufacturing muscle. The world is looking at India to deliver on new values driven by technology and innovation that will shape the global approach to manufacturing.
The way I see it, policy interventions and industry frameworks will work best when we acknowledge the role of private park developers in transforming key industrial markets that have all the requisites to fuel India's rapid growth in the manufacturing sector.
How do you see the demand for Grade-A warehouses in tier-II and III cities in the future?
Many organisations are regionalising operations to cover for contingencies and provide efficient last-mile deliveries. With increasing demand and the rise of the manufacturing sector, this trend will benefit tier-II and III cities, such as Ludhiana, Ambala, Lucknow, Patna, Siliguri, Guwahati, Bhubaneswar, Vishakhapatnam, Vijayawada, Coimbatore, Kochi, Nagpur, Indore, Jaipur and Dholera, which may emerge as Grade-A warehousing clusters.
As per recent estimates, more than 60 per cent of e-Commerce sales and 90 per cent of new customers were from non-tier-I markets. Hence, these areas are fast becoming attractive for warehousing-related investments.
Manufacturers are moving closer to their customer base in non-tier-I cities due to easy internet access, growing disposable incomes, a young and brand-conscious population, a higher standard of living, nuclear families, and the government's digital push.
What are IndoSpace expansion plans for 2021 in the warehouse manufacturing sector?
IndoSpace has recently launched an industrial and logistics park at Narasapura near Bengaluru. Spread across 64 acre, the park will cater to the warehousing requirements of companies across sectors, such as automotive, engineering, electric vehicles, e-Commerce and FMCG, amongst others. Early this year, we invested in a joint venture with Reliance Industries' fully-owned subsidiary, Model Economic Township, to develop a logistics park in Farrukhnagar, Haryana – an emerging warehousing hub in NCR.
In the last few years, IndoSpace has launched six parks in tier-II and III locations. In June 2021, we launched two parks in Tamil Nadu, Vallam II and Oragadam III, adding 118 acre to our portfolio and moving a step towards our goal of creating 120 million sq. ft., of modern logistics infrastructure across the country. Being the leading national warehousing developer, we plan to add four million sq. ft., of warehousing space by the end of 2021 and strengthen our leadership position.