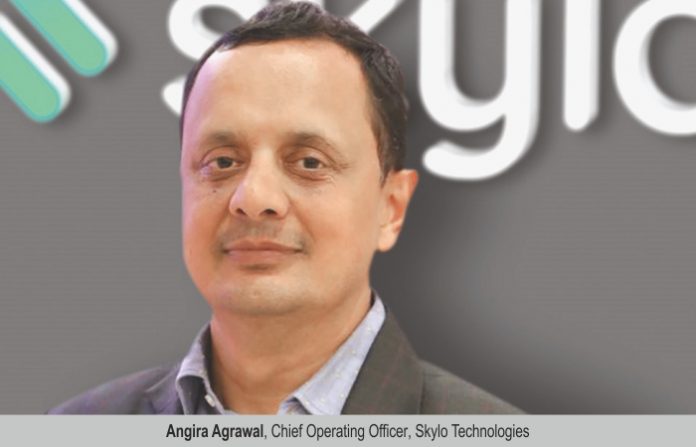 Using geostationary satellites to bring in reliable connectivity via its networked 'hotspot' and a connected immersive deployment platform that together make IoT simple and affordable for millions, Angira Agrawal, Chief Operating Officer, Skylo Technologies speaks to CARGOTALK about his plans and vision.
Priyanshi Bana
Q Kindly elaborate about Skylo Technologies.
Skylo is the world's most affordable end-to-end narrowband IoT solution connecting machines and sensors to deliver up-to-the-minute insights on a variety of data. Skylo's satellite-based network is designed to bring real-time data connectivity anywhere, even in the most remote geographies. Existing networks were designed and built to connect people, but machines require a new kind of network to operate reliably for ~80% of geographies that are either sparsely unpopulated or, like the ocean, entirely unconnected. Skylo offers 100% connectivity, versus the ~70% (sometimes much less) that businesses typically receive today.
Skylo is enabling traditionally 'analog' industries and governments to digitalise operations, improve customer experience, increase employee and operational safety, drive economic development and job creation, and understand more about business operations through machine and sensor visibility. Imagine trucks that provide early warnings before breakdown,  causing a critical delay in delivery; elock sensors that offer drivers and truck owners real-time alerts when doors or cargo are broken or tampered with; fuel sensors that monitor levels in real-time to prevent theft; predictive maintenance
alerts to manage fleet schedules; route control monitoring to re-route or send replacement trucks when there are problems.
Other people who highly depend on their equipment assets include fishermen who can send SOS signals and farmers who can understand their soil's nutrition, government workers who can get pre-emptive information about natural disasters such as fires and floods.
This immediate and continuous data insight is possible using Skylo's solution, which uses geostationary satellites to bring reliable connectivity via its networked 'hotspot' and a connected immersive deployment platform that together make IoT simple and affordable for millions. Today, Skylo serves customers across public and private sectors in industries including logistics, agriculture, maritime, healthcare, defense and others.
India is moving towards achieving its Digital India vision, and we expect to work in industries that have been working on analog mode for centuries. While the supply chain industry has been tracking fleets and cargo through Vehicle Tracking Solutions (VTS), the market has matured up the technology adoption curve, and organisations are looking to gather reliable data, 100% of the time, making insights more useful. For example, ensuring the most optimal fleet routing and utilisation, providing real-time cargo and delivery visibility to end customers, and enabling best driving behaviour for the fleet owner. Skylo works across many industries that require machines to have ubiquitous connectivity.
Q What industries does your company cater to at present?
Skylo's technology is enabling organisations and entrepreneurs to use their asset data in endlessly transformative ways: to realise better ROI on investments in operations, create new opportunities, open new industries, and even save lives. Currently, Skylo is providing significant benefits in the following industries:
Logistics / Supply Chain: Logistics companies and truckers have immensely benefited from Skylo's technology. Passing through hinterland with no cell coverage poses a challenge in keeping a track of the fleet, and it makes emergencies difficult, if not impossible to address. With Skylo, fleet owners can always have a view on the movement of the vehicles. Truckers get notifications on route optimisation, avoid theft (truck, cargo, fuel), and send or receive vehicle preventive care notifications when needed. Because continuous temperature control is critical when transferring pharmaceuticals or produce, constant connectivity through Skylo is critical to monitor the temperature for cold chains.
Mining and Oil Exploration: Because of the remote nature of these operations, in areas without any cell coverage for miles, the need for connectivity is critical for operational control, tracking equipment assets, and saving lives.
Fishing: Skylo enables fishermen to stay connected, stay safe, and sell their catch before reaching shore. Sensors on boats provide fishermen with always-on connectivity for SOS and messaging while at sea.
Agriculture: Farmers can maximise macronutrients in the soil at just the right time to enhance yields; and they can check irrigation levels and understand in real-time if something goes wrong with their equipment.
Healthcare: Skylo enables rural healthcare centre connectivity and ambulance routing and tracking to prepare for emergencies and improve positive health outcomes.
Forestry/ Disaster Management: Little connectivity in deep forests poses challenges for the forestry department, Skylo helps make sure rangers can accurately record wildlife data, and call for help in an emergency, and departments can monitor truck movement at all times.
Q In the present unprecedented times, how has your technology proved helpful?
At Skylo, we recognised early on that technologies such as the IoT which would be a key component in any successful global response to the COVID-19 pandemic, and more so in an Indian context. One of the early signs of the key role it would play became evident when public health officials and governments began to recognise how it could hold the key to India's plans for secure and efficient COVID-19 vaccine delivery.
An efficient supply chain for vaccines must include full traceability and monitoring of temperature and inventory levels of the vaccine throughout the supply chain. This has proven to be true for critical oxygen supplies as well.
Q What services have been offered by Skylo Technologies in the present medical exigency times, if any?
With Skylo's end-to-end satellite connectivity, we can offer an affordable, effective way to drive and monitor the entire COVID logistics process, end-to-end. Given the importance of the temperature these vaccines keep, it is important that the refrigerated trucks are kept running and consistent, and measurement of these temperatures along the entire journey is critical to keep the efficacy of the vaccines intact. Skylo is able to deliver constant reporting on these temperatures, and threshold alerts can be set if temperatures are too high or too low. All of this data is kept for historical playback, giving the truck drivers an audit trail giving everyone along the supply chain the peace of mind that the vaccines were kept safe.
Skylo can also help manage and monitor scarce oxygen wherever it is. Keeping sensors on tanks and trucks gives the government and hospitals the ability to manage these important resources at all times, making it possible to manage scarcity in the best way possible to serve the Indian population in cities or even the most rural areas where there is no cell coverage.
Q Any expectations from the government to help expand your network?
Skylo launched the world's first satellite-based IoT services in partnership with BSNL in December 2020. This partnership with BSNL is to scale IoT capability in India. We're already seeing results and see a massive potential for communities in India.