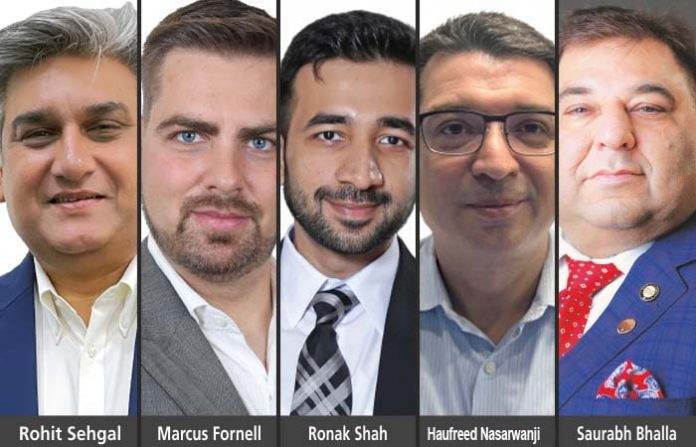 Logistics and warehousing are constantly evolving. Safety rules and facilitation of hazardous material are also changing to keep pace with the industry. Storage, handling and ferrying dangerous goods require superior warehousing, logistics infra, technology integration, skill, and time management. We find out more about cargo movement of hazardous cargo.
Ritika Arora Bhola
Providing best-in-class infra
As dangerous goods pose significant risks, it is important for the warehousing companies to store and manage the goods in a safe and compliant manner. The companies need to be equipped with efficient world-class infrastructure and facilities to store and transport hazardous material without risk or damage to chemical hazardous products.
Observing the above, Rohit Sehgal, Director, Skyways Group says, "Skyways Group offers a comprehensive product portfolio to its customers at all of its 32 locations in India and five overseas locations, and we realized the importance of creating infra commensurate with our business strategy. In late 2018, we realized the potential of movement of dangerous and other temperature-sensitive goods by air freight from the current levels. So, we created top class storage and transportation facilities to cater to this business, which needs special skills along with mandatory certifications. Our AEO and GDP certifications in 2019 were a blessing in disguise during COVID and gave us a platform to perform effortlessly and remain ahead of challenging times. D-Tox is our unique product offering providing end-to-end services to handle toxic and hazardous goods by trained personnel. This team ensures correct handling, storage and transportation of dangerous goods certified in this category by IATA. These include flammable solids, liquids, oxidizing substances, toxic and infectious substances, corrosives, radioactive elements, and explosives."
Marcus Fornell, Director, Warehousing Solutions, Rhenus Logistics India says, "Rhenus India has 31 fully complaint and certified warehouses located across India with 2.4 million sq. ft. of warehousing space. All our warehouses follow an international standard of EHS. Our warehouses have a latest infrastructure. These include:
PEB stable building structure to withstand earthquakes
They are situated far away from residential areas
Adequate illumination and ventilation as per national guidlines and NBC
Firefighting and Fire Detection Systems (fire hydrant/sprinkler, beam detection systems connected to fire alarm), according to guidelines.
Emergency exits connected to fire alarm with at least two hours fire resistance
Arrangements for containment of large quantity of chemical spill (containment pit), as per storage requirement
Standard electrical fixtures installed with adequate safety devices such as MCB/RCCB/ELCB and sufficient earthing provided for all electrical equipment, including lightening arrestors
Dock levellers provided for each dock for loading/unloading activity
Modern material handling equipment for material movement, operated by trained competent operators
High-density racking systems for material storage, designed as per storage requirement
Multilayer site security comprising physical security, electronic access control for certain areas and CCTVs covering the entire site
Similarly, Ronak Shah, Executive Director, V-Trans India Ltd, CEO, V-Logis says, "Most of our customers excel in manufacturing chemical products, but lack certain elements in their supply chain such as proper storage with the best possible safety measures, particularly for Haz-chem. To solve these loopholes, V-Logis has designed a chemical warehouse that provides probably the safest supply chain services, an apt storage of Haz-Chem. As a committed partner,  the goal is to create value for clients at every mile of the supply chain journey that they take with us. The facility at Bhiwandi has enough storage spaces designed to store hazardous chemicals. The facility is furnished with a 24-hour surveillance service and has the latest measures of fire and environmental safety."
ChemStore has an area of 2,18,350 sq. ft. and is equipped to store goods of classes 2, 3,4,5,6, 8, and 9, covering 90 per cent of the industry needs. It is built with NBC and NFPA compliance, uncommon in the industry. Equipped with safety features and fire and environmental safety, the goods are taken care of by a team of skilled personnel. The value-added service the facility can provide is unmatchable.
Huafreed Nasarwanji, Chief Commercial Officer, Gati Ltd avers, "At AllCargo Supply Chain (formerly Avashya CCI), we have specialized storage and handling of chemicals. Our infrastructure, operations processes, safety standards and technology have enabled us to provide industry-leading solutions to our customers, most of whom are multinational. With the largest chemical warehousing footprint in India, we operate multi-user and built-to-suite warehouses across India serving the needs of customers who store and move hazardous and other chemicals. Our investments in infrastructure and technology not only ensure safety, but also protect the environment and the communities we work in. We have maintained the highest standards of quality, efficiency, and safety, making us the largest warehousing partner to customers in this vertical."
Saurabh Bhalla, Managing Director Air and Sea Logistics also shares some of the main factors to consider when handling dangerous goods.
Regulatory Compliance: One of the major challenges is adhering to the regulatory norms and requirements related to the handling, transportation, and storage of these items. This can be complex and time-consuming, requiring specialized knowledge and training.
Safety: Dangerous goods and chemicals require special handling and transportation to ensure safety for people as well as environment. The risk of accidents is high, and safety protocols must be strictly followed to minimize risks.
Temperature Control: Dangerous goods require temperature control during transportation and storage to prevent goods from getting spoiled or damaged. This can be challenging, especially during long-haul transportation, which can involve multiple modes of transportation and varying temperature conditions.
Supply chain visibility: Maintaining supply chain visibility and tracking movement of goods is critical to ensure timely delivery, prevent theft or loss, and comply with regulations. However, this can be difficult, especially when dealing with multiple parties involved in the transportation and storage of these goods.
Infrastructure: In some cases, infrastructure required to handle and transport these goods may be inadequate or outdated. This can include issues such as inadequate storage facilities, transportation options, and limited access to specialized equipment.
Cost: Transporting and storing dangerous goods and chemicals can be expensive, requiring specialized equipment and handling procedures. This can make it difficult to maintain profitability, especially for small businesses.
Packaging: Packaging constitutes an integral part of dangerous goods. Warehousing and air freight firms not only follow strategic guidelines given by the government but also use most innovative technology and equipment to pack hazardous goods ensuring there's no leakage or exposure.
Agreeing, Fornell comments, "Packaging is crucial when it comes to storage of hazardous chemicals or for that matter any chemical. Chemical compatibility is important, while storing different type of hazardous chemicals. At Rhenus, our Inventory Management System takes care of compatibility by assigning dedicated locations so that chemical compatibility is taken care by the system. Additionally, material storage is segregated by considering hazardous nature, form /state of material (solid or liquid among others)."
With a similar opinion, Shah says, "Packaging is crucial in ensuring the safety of dangerous goods during storage and transportation. Smart storage solutions involve the use of specialized packaging materials such as UN-certified containers and drums, advanced tracking and monitoring technologies, automated handling systems, and emergency response plans. These solutions aim to minimize the risk of accidents and ensure the safety and quality of the goods being transported."
Sehgal affirms, "Skyways Group excels in International Air Freight Forwarding, so we are aware of the global safety and operational protocols that emphasize safe, secure, and strong packaging requirements, while the goods are moved from the shipper's factory to the cargo terminal. Packaging is primarily the product's shipper or the manufacturer's responsibility (dangerous/general cargo). If there is any deviation or damage noticed in the consignment while the goods are in our transit warehouses, we immediately notify the customer to make proper arrangements for making consignment 'Ready for Carriage'.
Ensuring health & safety
Efficient handling and storage of dangerous goods such as chemicals, explosives, corrosives among others not only require latest infrastructure equipped with advanced technology but needs readiness to deal with any future crisis.  Post COVID, warehousing firms have adopted safety measures and efficient contingency plans for storing dangerous goods. Acknowledging the same, Shah says, "Yes, there are contingency plans considered in 'Chemstore' for hazardous chemical storage. These plans include an emergency response officer and a team for evacuation way and process, spill response, fire safety, and training plans. There is also a tie-up with a nearby hospital with an ambulance to provide emergency help on priority in case of any accidents/incidents. These plans should be regularly reviewed and updated, and personnel should be trained on their implementation. Regular drills should be conducted to ensure the personnel are prepared to respond effectively in case of an emergency."
He says, ChemStore is approved and operates as per new regulations in a way that differs from other chemical warehouses, as it has:
Infra designed with a proper ventilation system to guarantee air renewal against possible emanations
VESDA, hydrant, and ESFR sprinkler with drenchers to have a facility of forming a water curtain to prevent fire both ways
Four lakh liters of a water tank to provide supply to all hydrants, sprinklers, and drenchers
Fire-proof electrical and lighting installations and power back-up for uninterrupted operations, with an outside charging area for MHE charging
Various types of fire distinguishers for different types of chemicals, such as powder, foam, water, and hemical-based
Trained and specialized staff in the handling of hazardous chemical products
Scientific arrangement of storing the chemicals according to the compatibility chart
The slope of the pavement towards the docks area allows any spillage or spillage to be evacuated
Trench on all sides and a dedicated four lakh liters containment pit for procedural disposal of spillage
Personal protective equipment adapted to the needs of each product—gloves, aprons, masks, goggles, and divers, among others
Regular training and mock drills are conducted to ensure preparedness to meet any unforeseen circumstances
Some chemicals cannot be stored at regular temperatures and require a lower temperature. For such chemicals, we have a separate temperature-controlled section
Skyways Group is a market leader in the air freight segment not only for the huge tonnages but also a distinct service experience that we offer all our customers. Being AEO and GDP compliant, all our functions are mapped and internally audited on established SOPs, shares Sehgal and adds, "Our warehouses have segregated storage spaces for different products in sync with regulatory guidelines such as special enclosures, ventilation, signages, posters, fire and leakage containment measures, premises security and surveillance equipment, and the like. Since these activities occur on a regular basis, we have assigned a team of experts who are present for timely action in the best interest of our customers."
Fornell, on the other hand, says, "Material Safety Data Sheet (MSDS) of each product/material is thoroughly studied and reviewed before it comes in the Rhenus warehouse for storage to understand all storage and handling requirements. The team in need of these chemicals is trained for handling and storage of chemicals. Hazard identification and risk assessment is done regularly for taking appropriate control measures during storage and handling of chemicals. Emergency Response Plan and Incident Reporting Systems are in place to manage any possible mishaps associated with chemicals storage including fire detection and firefighting arrangements."
Role of tech in warehousing
Technology plays a crucial role. Tech integration and innovation is required to enhance operational efficiency and minimize risks. Sehgal says, "Technology and automation in the warehousing segment is important at the cargo terminal stage, as most the goods, whether exports or imports, are mainly handled at these locations. Secondly, these automated tools and equipments require high capex that cannot become a viable solution for small and medium-sized freight forwarders in India. A small percentage of goods remain with the freight forwarders that too for marking/labelling functions. With growing business units and diversified products coming at cargo terminals, it becomes imperative that the dwell time at the cargo terminals is reduced to the best possible extent by use of technology enabled tools and equipment. It is time to create common user facilities at the cargo terminals, so that cost to service matrix benefit all the stakeholders."
Fornell says, "Artificial Intelligence (AI) or Robotics helps to ensure more efficient and safe operations along with improved overall controls on day-to-day basis without manual intervention. We at Rhenus understand the importance of both, Data & Digital excellence in the supply chain Industry. We also understand how important it is for our customers to have end-to-end visibility along with accurate data points to take timely and data driven decisions. Our supply chain solution (SCS) team works with several proprietary as well as third party tools in a cloud environment and makes use of big data available across the entire systems landscape and transforms it to actionable insights with help of AI. AI, IOT and Big Data have proved to be very helpful across all the value streams of supply chain, be it automating time consuming tasks, predictive analysis, optimization, remote monitoring, Warehouse automation and safety."
Shah says, "Advanced technologies such as AI,  ML, Blockchain, Robotics, and a utomation play a crucial role in ensuring safety in warehouses. They can improve visibility, enable real-time monitoring, and reduce the risk of accidents by performing routine maintenance tasks, automating processes, and tracking products."
Concerns
Selection of proper containers, storage location, segregation and separation, storage temperature, spill containment and emergency response, personnel training and safety, and regular inspections and maintenance forms are important when it comes to warehousing of dangerous goods.
Sehgal says, "Handling, storage, and ferrying dangerous goods in airfreight vertical will be monitored under best-in-class safety protocols set by ICAO, IATA, DGCA, WHO, FSSAI and other international regulatory bodies in exporting and importing countries. It becomes obligatory on the part of the freight forwarder to remain aware on the changing requirements, so that all loopholes are plugged in the end-to-end delivery of the product in a safe, secure and transparent manner, each time. Providing reliable and updated documentary services, efficient and visible ground handling functions coupled with smooth airport to airport connectivity will remain the key focus areas, which have to be amplified and repeated for each consignment. Once any company creates any facility then risk analysis and mitigation become part of the eco-system to establish a fair Quality Management Policy. The Skyways Group management has been proactive to the compliance needs of service offerings without which the end result can be meaningless and intensive, in case of any mishaps. In addition to external and internal learning sessions, our facilities have the requisite regulatory permissions, safety gear and equipment, spill kits, insurance coverage, skilling/upskilling training programs, safety drills, and the like, which provide a safe and secure eco-system to our customers and employees."
Fornell says, "There must be zero tolerance when it comes to EHS norms and there is a need of collaborative approach, while building a world class supply chain. For many eco system partners, safety is followed only on 'paper' and not on the ground, which needs a change. We have an Emergency Response Plan in place for tackling emergencies and a Business Continuity Plan to ensure all unwanted risks are mitigated without affecting business activities."
Shah says, "The significant areas of concern for storing hazardous chemicals include proper container selection, storage location, segregation and separation, storage temperature, spill containment and emergency response, personnel training and safety, and regular inspections and maintenance. These measures are critical for preventing accidents, fires, and environmental damage associated with the storage of hazardous chemicals."