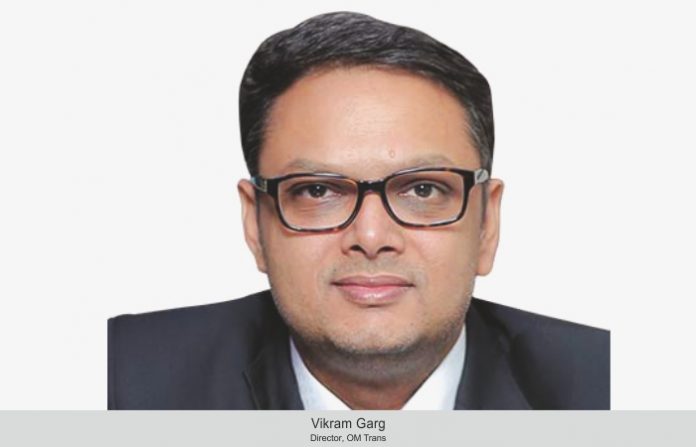 From structuring to managing projects, Om Trans has come a long way when it comes to experiencing excellence. The company's strongest part is task management, which has impressed many, says Vikram Garg, Director. It has offices in more than 600 locations across the country.
CT Bureau
The world of logistics is limitless, and its possibilities are immense. The core of today's business is based on trust, transparency and technology that helps in rapid transition of goods. Today, every business wants to go digital and understand the status of shipments in real-time. The good thing is the industry always welcomes credible service providers who are reliable and experienced in express services.
Now businesses are no longer entertaining as more and more people are in the service industry. Today's era is digital, and every business is looking for partners who know how to serve, which indicates fast services and real-time tracking.
Several freight forwarding and customs clearance companies are in the market, but the reputation Om Trans has earned is incomparable. Creating innovative solutions for the industry along with immense technology helped the firm grow immensely. We approach customers for feedback and provide 24×7 customer support, resulting in satisfied and joyful customer base. Its strongest part is task management, which has impressed many of the firm's clients. From structuring the project to managing it securely and delivering it fast to the client side, this is what sets Om Trans apart from others.
The way the company is 'simplifying logistics' is just remarkable. The firm is committed to providing integrated logistics solutions, and services designed to redefine customer satisfaction, rationalize cost, and time relationship. The company works with flexibility, clarity of innovation and, operates in an environment with the right mix of 'planning and execution' to meet the challenges of change and competition.
The firm values manpower and trains them to work with team spirit. Om Trans is present at all major airports, seaports and ICDs across India and also having own office in Shanghai (China). We are providing services for container transport for short haul and long haul and also hauling special equipment's / Custom Brokerage (air and sea)/ Handling of ODC & Project cargo through special equipment / Break Bulk / B2B door to door delivery / Third country / Warehousing and distribution in India and Globally with value added services including pick and pack labeling / JIT, Packaging and placement of industrial machinery.
OmTrans has international footprint in 80 countries across the globe through a strategic mix of own office set-up, exclusive tie-ups, and non-exclusive tie-ups. The firm provides online container tracking automated DSR, multiple corridor and connectivity options, defined transit time for better planning and inventory management that results in improved cash flows. It is working with experienced logistics professionals to handle cargo so that the products reach its destination safely.