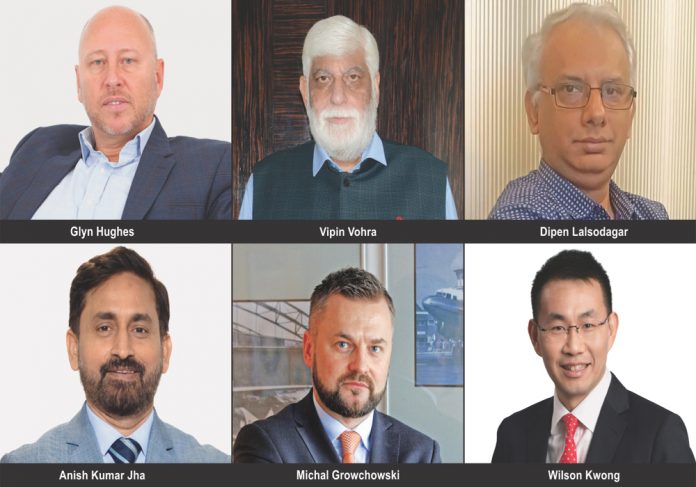 With passenger operations gaining pace in new normal, global air cargo industry is witnessing a demand fluctuation with regards to cargo volumes. While global air cargo demand was up in February 2022, it declined in June, as per IATA. Nevertheless, the industry is geared up to gain back the lost momentum.
Ritika Arora Bhola
Managing cargo volumes in new normal
According to Willie Walsh, Director General, IATA, air cargo demand over the first half of 2022 was 2.2 per cent above pre-COVID levels (first half 2019). That is a strong performance and considering supply chain constraints and the loss of capacity, due to the Russia-Ukraine war. Current economic uncertainties have little impact on demand for air cargo, but developments will need to be monitored in the second half.
Observing the above, Glyn Hughes, Director General, The International Air Cargo Association (TIACA) said, "Right now, the industry is turbulent. Volumes and capacity are fluctuating as consumerism and manufacturing are fluctuating. The rising cost of energy, food prices and raw materials are having an impact on household finances and production costs, adding to supply chain complexities. This reinforces the view that the short-term outlook is challenging."
Echoing similar sentiments, Vipin Vohra, Chairman, Continental Carriers affirms, "It is true that Russia-Ukraine war and inflation are causing fluctuations in cargo volumes being transported. It is also true that with passenger aircraft are operating at full capacity, utilizing their maximum belly cargo capacity, therefore, air cargo capacity is being split between freighters and passenger planes. The future of global air cargo is bright as it is regarded as one of the fastest and safest methods of moving freight. I believe that factors, including rising e-commerce and increased industrialization, will boost the air freight business."
Dipen Lalsodagar, Deputy Director, Cargo Sales, GSA, Global Aviation Services said that as countries were opening its borders after the intensity of the pandemic subsided and the airlines were hoping to expand their network, the conflict between Russia and Ukraine impacted the aviation badly. He also said, "Multiple factors such as high fuel prices, increased logistics cost affected household budgets, resulting in a slowdown in exports and high inventory. Many airlines and airports are also suffering due to staff shortage. Shipping lanes are easing out and exporters are opting as a first choice to reduce the overall costs. This has resulted in air cargo tonnage reducing in the past six months. But based on demand, certain segments or lanes still have demand for capacity. India has added more freighter capacity mainly due to imports. Till this year-end, demand will continue to be less, and yield will be under pressure."
Meanwhile, Michal Growchowski, Director, Cargo and Mail, LOT Polish Airlines explained, "In early 2022, we recorded huge demand for air cargo. The fluctuations in global air cargo demand were caused by two major factors such as general flight schedules, presented by passenger airlines, which carry most of the air cargo. After the summer season started, we could see rise in capacities between the USA and Europe and between Asia and the USA. The market reaction was to drop the rates and adopt to the new situation. The second factor is the ongoing Russia-Ukraine war and its consequences. The shock after the outbreak of the war was huge and it started to make trade partners concerned about the future. We cannot forget about the situation related to ocean transport, which correspond to air cargo. Although Q2 2022 shows positive signals the situation is dynamic and changeable."
Anish Kumar Jha, Head Air Logistics, Kuehne+Nagel India, Sri Lanka, and the Maldives explained, "While there are fluctuations in the past month, 2022 is shaping up as one of the industry's strongest years. Several reasons contribute to the status of international goods movement by air—the delay of factory production due to lockdowns in China, the geopolitical unrest, lower new export orders, a shift in consumer spending toward services in the pandemic environment, inflation, and congestion at airport cargo terminals."
Wilson Kwong, Chief Executive, Hactl said, "Air cargo has been a barometer of world trade and economic health. Disruptive influences such as the Russia-Ukraine conflict and mounting inflation in all important economies will dampen demand. Unexpected developments such as the COVID can boost traffic. Those of us who have been around for a while know that the most predictable thing about air cargo is its unpredictability! This means too frequent scrutiny of results is futile and misleading. We all know what causes the current trends, we know that these will eventually disappear to be replaced by new ones. Air cargo will always track global growth, so the long-term picture remains positive. But 2022 will remain challenging and may not match 2021."
Air cargo gears up for growth
The ongoing pandemic has caused an unprecedented amount of stress to the global supply chain and made companies review the resilience of their supply chain management. COVID made the industry realize the importance of cargo, while the geopolitical tensions taught it to be ready with effective contingency plans. With pax operations coming back to pre-COVID times, the global air cargo industry is preparing to enhance cargo handling at the terminals, increase load factor and capacity to meet up the rise in demand by adopting efficient strategies.
Acknowledging the same, Vohra said, "The pandemic accelerated digitalisation as contactless processes were introduced to reduce the risk of COVID transmission. This momentum is still being carried forward to provide operational efficiency, accurate and near real-time visibility of forecasts, orders, shipments, inventory, and locations to improve business performance. Air freight stations are going to play a key role in managing freight load at airports." Lalsodagar said, "The industry is embracing the technology rapidly. AI, Integrated logistics portal, real-time tracking, paperless system is helping industry improve cargo handling at terminals and make global cargo movement faster." Kwong agrees, "High degree of automation, and digital processes can help achieve growth. Many operators now understand the need to modernize processes and build resilience into their businesses."
Growchowski said, "We are still dealing with unskilled manpower at key airports. This may result from the fact that most people in the air industry are related to the passenger businesses, and they do not understand cargo requirements. Technology mostly follows the e-commerce business, controlled mostly by integrators or tailor-made solutions that vendors such as Amazon represent."
Jha suggested, "For the air cargo industry to be successful, the businesses must be sustainable and not driven by temporary surge. The digital innovations will permit the air transport sector to transition away from long-standing paper-based documents used to facilitate the movement of global air freight, promoting a contactless air cargo environment and greater cross-border trade resilience in the face of future pandemic threats."important growth Drivers
The global air cargo experts agree e-commerce to be the key driving force for growth. Vohra said, "Global buying capacity, ecommerce, surge in time sensitive, perishable and high value cargo and fuel price and competitive air freight rates are going to be the key growth drivers for the air cargo."
Lalsodagar said, "E-commerce and sensitive cargo will have a significant share in the air cargo as world has moved onto online shopping during and after the pandemic."
Hughes assured, "Preparations for the next wave of growth are underway with the companies continuing to invest in technology and main deck cargo capacity across the spectrum with production and conversion orders remaining strong."
Growchowski pointed out current recession and inflation observed on key markets are not positive factors for growth as we are still experiencing post-pandemic effects on the economy. He highlighted three main drivers responsible for growth:
Consumers have taken to e-commerce type of shopping globally and we all see that this is steadily becoming a global trend. However, this is still mostly B2C market.
The automotive business is growing steadily in the electric car segment. New vehicles do not require as many parts as traditional cars. This means that the supply chain of the automotive industry will have an impact on global demand.
The situation related to the ocean transport and the limitations in Chinese ports still remains unclear. Until they are partially closed or close, air cargo will have good prospects.
Jha said, "The growth driver is strong consumer demand. The surge in demand was evident in the current times where there are early signs of shift in the pattern of spending of consumers across the world. Besides, growing cross-border e-commerce and time critical shipments—speed to market, critical pharmaceuticals and aerospace supplies—to meet growing demand, SAF geopolitical issues continue to impact the air cargo industry soon."
Kwong said, "E-commerce will continue to drive growth in air cargo. Its exploitation will depend on the creation of digital supply chains, essential to provide end customers with the information they demand, and e-tailers with the supply chain stock data they need."
Surge in Domestic Freight
If we talk about the Indian market, freight carried across the Indian airports rose by 27 per cent at 3.1 million tonnes in 2021-2022 compared to 2.5 million tonnes in 2021. With the creation of new cargo complexes, cargo terminals, growth of e-commerce, infrastructural and technological developments, increasing capacity, new freighters/cargo airlines in the past two-three years, it seems the growth in domestic cargo is certain.
Vohra agreed, "Since the need for parcel delivery services is increasing as a result of online retail, e-commerce is the industry's main driver of growth."
Lalsodagar reiterated, "Domestic market is driven by courier and e-commerce, which is witnessing an exponential growth. With new domestic airlines starting operations, the increased supply will be able to cater more demand. In global freight, perishables, pharmaceutical products, machinery, and garments are driving the growth."
According to Hughes, India has benefited from a structured multi-year programme of focusing on strategic sector growth in export-based manufacturing, aerospace, automotive, pharmaceuticals, apparel, electronics are some of the key areas. Couple this with a government, which wants to support economic growth, airport developments and technological advancements, and you see the all ingredients are in place for a successful and prosperous air cargo industry. "Capacity has been an issue, but we are seeing a rise in main deck operations," said Hughes.
Putting India in a positive light, Growchowski observed, "Demand for pharma from India has increased tremendously. Additionally, some parts of the production, mostly electronics, have been moved from China to India—this is good for the Indian exports. The connection between Poland and India is one of the most crucial ones for LOT Cargo. LOT's summer route network includes seven connections to India, five to New Delhi and two to Mumbai."
Just as Jha rightly figured out: Air freight carried across domestic and global airports has bounced back sharply after cases reduced during the ongoing pandemic
Economic growth, increasing consumption and growth of various businesses and micro, small and medium enterprises (MSMEs) are likely to be the major influencers for increased movement of air cargo across Indian airports.
E-commerce and shifting consumer habits are equally important factors because more people have access to the internet and a well-developed digital payment infrastructure that has spread across the country.
UDAAN scheme to increase air connectivity is focused on making India the world's largest aviation market by the year 2030.
Initiative such as Make in India has encouraged businesses to produce in India and to stimulate targeted investments in manufacturing.
The Indian government has suggested PLIS for industries to attract businesses to India. This will enhance demand for the air cargo industry and increase the transportation of freight between domestic and international airports.
Is preighters era coming to an end?
'Preighters' are one of the key innovations during the pandemic, which kept the cargo movement alive. However, now, as the pax activities are gaining momentum, experts doubt if preighters will survive. As per a recent report by Boeing, the cargo market will grow at an annual rate of 4 per cent over the next 20 years, resulting in the requirement for a freighter fleet, 60 per cent larger than what we have today. Boeing stated that a significant majority of the deliveries will be conversions, with buoyant activity in the B737/A321-size market.
Vohra elaborated, "Preighters are always going to be an alternative in case of high demand because they did such a great job during the pandemic, but the freighters will undoubtedly continue to carry majority of air freight since they provide a cost-effective and competitive edge."
Hughes agreed, "The future of preighters looks healthy with conversion companies receiving bulk orders for converted freighters, new routes opening up, and extending their geographical site locations." However, he noted, "The preighters may not survive, as the European Union Aviation Safety Agency exemptions in Europe expired in July , thereby, ending cargo-in-cabin operations. Returning passenger numbers has accelerated the return of B787/A350/B777 preighters services to passenger network operations."
Growchowski said, "There will be a continued interest in the freighters though. The preighters' days have ended due to renewed demand for passenger flights, and no need of moving cargo again on passenger seats." Lalsodagar agreed, "Asian countries depending on high import volumes, will see more freighter operations. With more passenger flights coming into play, preighters will soon be a thing of the past."
Meanwhile, Kwong added, "The preighter concept was a short-term fixture, and an inefficient one that is unlikely to be needed again in the future. The industry needs more freighters, particularly, while passenger bellyhold capacity is well below what it was in 2019. We must ensure that the industry does not place too much main deck capacity on stream so that rates return to their distressed 2019 levels."
Jha surmised, "Freighter demand will continue to see a surge as more new participants are attracted to invest in building their own network to respond to the need for a reliable supply chain. Another solution could be to charter an aircraft that guarantees cargo space for oversized and urgent consignments and support the planning for tailored air freight. These can handle capacity shortfalls, fluctuating volume and peak season with ease."
Areas obstructing growth
There are various challenges, which hinders growth. Concrete steps have been taken by the industry and government, from time to time, to resolve the issues. Vohra said, "The key areas of concern include inflation, unforeseen global issues and Russia-Ukraine war, COVID, high fuel prices, security, and industry consolidation." While Lalsodagar said, "High air freight rates, cheaper and faster sea freight, prolonged conflicts and route diversion, stressed economies are some of the factors, which will keep air cargo industry under pressure."
In the meantime, Hughes stressed, "The global economic outlook remains an area of concern. It is followed by work force challenges and capacity in preparation for the next wave of growth." Growchowski said, "The transportation of pharmaceutical products is crucial for the entire aviation industry. E-commerce has also been an absolute growth leader over the past two years. The demand for perishables (such as mangoes from India) and aerospace products are also increasing. Boeing and Airbus have informed the market that their production is growing rapidly this year."
"Potential to create seamless end-to-end logistics services, supported by seamless data systems, is an area of concern. This is yet another reason why the 'un-integrated' remaining industry must press ahead with its digital journey," said Kwong. He also explained, "In Hong Kong, we see truck driver shortages in the USA and Europe impacting ocean container haulage also cause problems across logistics activity, including final mile deliveries. That is why we are interested in the potential for greater automation and the use of robotics, which will help us to do more with the same or potentially reduced future manpower. Also as mentioned, the air cargo industry must beware the risks of replicating the boom/bust cycles seen in ocean shipping, where capacity ordered in the peak times arrives after it is needed, and then adds to rates woes in a declining market. Ordering freighters must be done with a long-term view, rather than a short-term and opportunistic view."
Focusing on sustainable goals, Jha concluded, "Climate change is one of the biggest challenges. Freight transportation generates 8 per cent of global CO2 emission and as a sector, we need to accelerate the journey in line with the Paris Agreement to limit global warming to 1.5°C. The air cargo industry must embrace techniques for sustainable environmental solutions. The IATA's commitment to becoming carbon neutral by 2050 can be achieved when businesses cut their CO2 emissions throughout the supply chain. It is vital that logistics firms find alternatives that will help them to minimise their carbon footprints. SAF is a cleaner substitute jet fuel and an vital part in the aviation industry's plan to reduce carbon emissions in the coming decade."