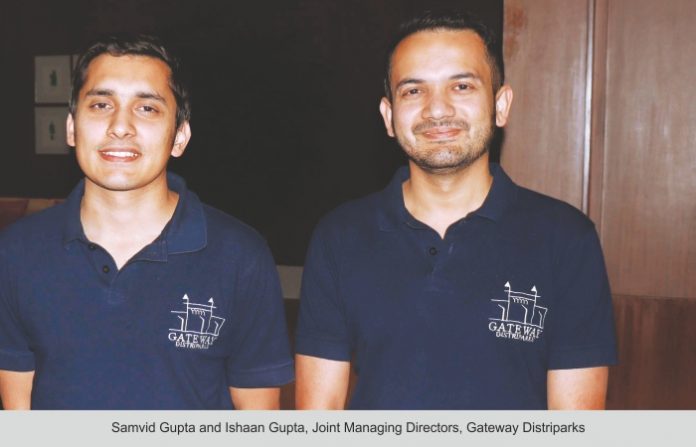 Gateway Distriparks, one of the leading logistics solutions providers for the EXIM trade with large network of CFSs and ICDs, has plans to open ICDs in UP, Rajasthan, Madhya Pradesh and Jaipur in the coming years. Aim is to link our hubs along the WDFC, says Samvid Gupta and Ishaan Gupta, Joint MDs.
Ritika Arora Bhola
Please tell us about the genesis of your cargo operations in Indian market?
Established in 1994, Gateway Distriparks provides comprehensive logistics solutions for the import and export of goods through a network of CFS and ICD facilities, strategically located near major ports and inland industrial hubs across India. Our core strength is in providing a pan India network of logistics services, focusing on rail transportation to provide inland multimodal logistics services to shipping lines, manufacturers, importers, exporters, and freight forwarders. We were the first to create the first private multi-user Container Freight Station (CFS) in Nhava Sheva, Mumbai. As demand grew exponentially, we expanded our presence into multiple locations entering new lines of business as well. We created our first Inland Container Depot (ICD) in Gurgaon, after which the Indian Railways privatized container train operations and we purchased a license to ply trains on a pan-India basis. Now, Gateway has a total of 11 container terminals at Nhava Sheva, Gurgaon, Ludhiana, Faridabad, Ahmedabad, Chennai, Visakhapatnam, Kochi, Krishnapatnam, Kashipur and upcoming Jaipur terminal operating 31 trains and a fleet of 750 trailers and refrigerated vehicles. Gateway has followed a strategy to align its ICD network and locations with the Western Dedicated Freight Corridor (WDFC) to offer faster TAT to customers, while reducing the cost of logistics and improving their carbon footprint.
How was 2020 for Gateway Distriparks? Share with us the growth strategies adopted to achieve pre-COVID growth levels?
Our services were classified under essential services during COVID, and we provided uninterrupted services throughout the lockdown to our customers. We fully used technology for improving efficiencies in our operations. We moved containers from ports to the CFSs or ICDs and vice versa. We worked closely with our customers and offered supply chain management solutions. During lockdowns, we were able to support our customers by offering them rail transportation, a lower cost option for the customers. As a result, our volumes were not affected much, and we saw high levels of growth. We now continue to build customized solutions, while integrating new technologies to increase operational efficiencies, while expanding our network of container terminals.
Did the ongoing NHs development, and emergence of Dedicated Freight Corridors (DFCs) boost the road and rail transportation?
The NH development and DFCs have the potential to boost the road and rail transport sector in India. It will lead to improved connectivity, reduced transit time, increased capacity, cost savings, and a boost to manufacturing, trade, and job creation. With DFCs, we can leverage our expertise in container logistics and management by transporting more volumes with same set of trains and reduce transit times for our customers. Similarly, the development of NHs will lead to better connectivity between different regions and faster movement of goods, reducing transportation costs, improve delivery time, and enhance our first and last mile connectivity. Together this will help us provide multimodal logistics services, where the longest distance can be travelled by rail and first/last mile connectivity can be provided by road.
How would you rate infra in India for road/ rail transportation, especially in tier II and III cities. Do you think its sufficient to fill the demand-supply gap?
India's transportation infra has been undergoing expansion and improvement over the past few years. The NH development program and the emergence of DFCs are among the major initiatives aimed at improving transportation infrastructure in the country. However, there is still scope for infra improvement in tier II and III cities. The development of infra around ports needs to be addressed as it will enable easier transportation of containers in the country and increase the marketshare of railways in cargo movement. We may see further investments from across the globe in the coming years to help fill the demand-supply gap.
Brief us about your investments in ongoing projects and expansion plans?
After the acquisition of ICD Kashipur and the purchase of land for ICD Jaipur for which construction is underway, we are looking at two more terminals that can augment our existing network and connect our hubs along the WDFC. We are currently evaluating land options in Uttar Pradesh, Rajasthan, and Madhya Pradesh for the same. In Snowman Logistics, we are contemplating setting up multiple dry warehouses in various cities on an asset light model basis, for our customers' requirement and cold storages at locations where we are running at full capacity. As and when they get finalized, we will announce the same.
In Gateway, we had earmarked 500 crore towards capital expenditure by the end of FY25. Out of that amount, 200 crore has already been used till now and the remainder will go towards the new projects, and fleet replacement/additions. In Snowman, we are looking to spend Rs.150-200 crore towards capacity expansion alongside the growth in our asset light model of dry warehousing.
Is land acquisition a challenge in India? Throw light on the crucial areas of concern.
Identifying the correct location is important and involves few metrics—proximity to railway station, connectivity to DFCs or main routes of Indian Railways, and NH connectivity. Importantly, we need to be present near major industrial manufacturing clusters. Multimodal transportation faces challenges such as lack of integration between various modes of transportation, resulting in inefficiencies and delays. Transportation is largely unorganized, and a heavily fragmented regulatory framework leading to inefficiencies, delays, and high costs. Addressing these challenges will require investment in infrastructure, regulatory reforms, and policy changes.
Do you think NLP and PMGS would boost the logistics sector, and the percentage of rail transportation will rise from the current 33%?
Yes, initiatives such as the National Logistics Policy (NLP) and Gati Shakti are likely to provide a boost to the logistics sector. The NLP aims to create a single-window e-logistics market, reduce logistics costs, and improve India's competitiveness in global trade. Similarly, Gati Shakti is focused on creating an integrated, multi-modal logistics network, which is expected to improve the efficiency of transportation and reduce logistics costs. The initiative aims to connect key production centers, industrial clusters, and ports through a network of highways, railways, waterways, and airways, which will help in faster and efficient movement of goods. Using rail transportation for long distances and connecting the first and last mile transportation by road is the most cost-efficient way. As more and more terminals are being developed, it will give Gateway more options to use and provide rail freight services to more locations.
Elaborate on the cargo moved to and from India via your network of ICDs and CFSs. How do you ensure 100 per cent quality, on-time delivery, and customer satisfaction?
We are not limited to any specific kind of cargo. If it's containerized, we can move it. Some of the top clients are from the automotive, steel, plastic, paper, garment & textile, furniture, white goods & industrial component industries. Under Snowman, we cater to the food and pharma industries. There are also some unique products stored by Snowman such as Apple iPhone batteries and the need for specialised storage of such industrial products is growing. To ensure the highest level of quality and service, we focus on creating global standard infrastructure and investing into our assets.
We make sure the locations of our facilities are relevant for our customers. By creating a pan India network, they can rely on us for all locations, and we are able to reduce their cost of logistics through our double stacking and hub operations.
How much emphasis has been laid on sustainable operations?
We have shifted maximum volumes from road to rail in order to help reduce the carbon footprint. We have adopted a clean and renewable energy sources. We have installed solar panels at Container Freight Stations and Inland Container Depot facilities wherever it is feasible.