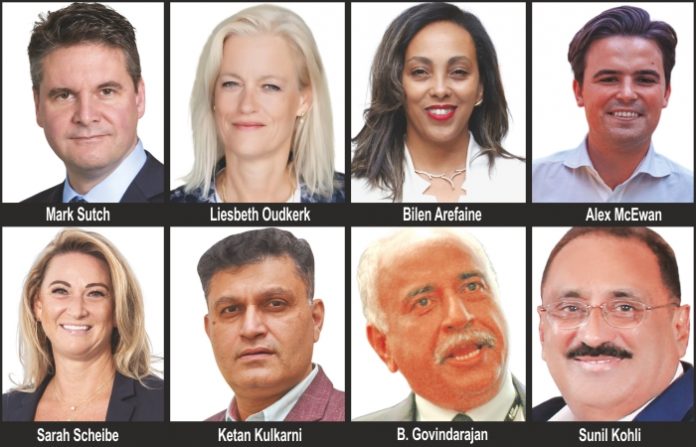 Of late, there have been incidents of cargo damage and thefts. Explosives items catching fire during transportation, liquid cargo or gas leakages, luxury cargo thefts, lead to monetary loss but also adversely affect the environment. Moving cargo with security is the need of the hour and what the industry demands.   
Ritika Arora Bhola
Ensuring cent per cent cargo security holds utmost importance throughout the supply chain process. Be it dangerous goods, perishables such as fruits, flowers and vegetables, temperature-sensitive pharmaceutical products, luxury items, live animals, airlines, airport operators and freight forwarders must comply and adhere to strict regulations and protocols formed by the authorities and global associations such as IATA for ensuring 100 per cent safety and compliance.
To mitigate risks, global airlines, airports, and freight forwarders have adopted security guidelines, invested in world-class safe, smart and green infrastructure, and advanced technology, introduced innovative ways of cargo handling and transportation, which include robots and AI, to ensure zero risks.  Frequent audits and inspection processes have become an essential part of their business. Airlines following IATA's regulations such as ISAGO, IATA CEIV Lithium-Battery, IATA CEIV Pharma, IATA CEIV Fresh, IATA CEIV Live Animals, Smart Facility Operational Capacity, RA3 are must. Tech platforms such as cargo.one, CargoWise, myVSwhich,  among others are being used extensively to monitor cargo throughout the supply chain. Revolutionary cold chain smart tech being used, such as Releye® RLP and RAP containers from Envirotainer, to carry perishables and time-sensitive products. Etihad Cargo's SafeGuard product is dedicated to ferrying luxury and high-value items, such as gold, currency, and jewellery, among others. CARGOTALK delves into airlines, and forwarders business to focus more on cargo security.
Mark Sutch
Ensuring cent per cent cargo safety
We have training programmes in place, which cover safety and security requirements pertaining to the acceptance, handling and transportation of cargo, including special loads (valuables, vulnerables, perishables, dangerous goods, and human remains)
We have defined the process for transporting cargo in a safe and secure manner in our cargo manual, which is available in the portal and is accessible by all team members across the network and the same is shared as a soft copy with handling agents
We have frequent audit and inspection processes to ensure compliance of our laid down process, aligned with regulatory requirements being followed by all concerned stakeholders (internal & external)
Reiteration of the process with all team members to ensure compliance through mail communication and circulars.
With no deviation, all DGCA/BCAS minimum requirements are strictly adhered to.
We inducted our first dedicated cargo aircraft in October 2022 and initiated a freighter programme with the induction of two more A321 freighters last year. We commenced domestic operations of our first A321 Freighter aircraft between Delhi and Mumbai, carrying 20 tonnes of general and e-commerce cargo and our first international A321 P2F freighter flight between Kolkata and Yangon on November 22, 2022, with a payload of more than 19,000 kg.
It is imperative that freighters are planned and operated on routes that are viable and have a good balance of inbound and outbound tonnage. The challenge as always with freighters is to find the right balance for import/export and we are seeing some good momentum in this aspect.
Liesbeth Oudkerk
Investing in safe, smart, green cargo facilities
We have a number of warehouse automation initiatives already in place. At our hub, every shipment is scanned using handheld smart devices throughout its journey and CargoIQ milestones are updated, giving our customers visibility on where their shipments are.
Our agreements with GHAs include a clear direction and SLAs on how to handle various types of cargo throughout our network and provide the right solutions in critical markets.
Our cargo terminal incorporates warehouse spaces, Automated Systems/Retrieval Systems, a mezzanine, offices, and shops, as well as 11 wide-body aircraft standing bays and 42 loading docks.
With an additional 31 landside truck-loading facilities it enables the swift and efficient transfer of cargo in and out of Qatar.
We have separate areas to handle various types of cargo. Animals transported onboard our flights and transiting through Doha are accommodated at our 4,200 square meter Live Animal Centre.
Our 6,700 sq. mt. dedicated transit facility is available for courier and mail shipments.
In addition to 64 temperature-controlled cells for units requiring precise temperature at our cargo terminal, the Climate Control Centre, a dedicated 2,470 m2 facility for separate pharmaceuticals and perishable cargo storage and handling contains segregated areas for +2°C to +8°C and +15­°C  to +25°C . There are also 16 frozen pods located in the main cargo terminal to support ferrying the frozen goods.  The hub is equipped with capabilities to plug in active containers.
In addition, the new state-of-the-art import/export terminal with 12,000 m2 space includes separate temperature-controlled areas for +2 degrees C to +8 degrees C, accommodating 176 ULD positions, and +15 degrees C to +25 degrees C accommodating 128 ULD positions, more than doubling our cool storage capacity at the hub. The existing fully automated warehouse was built to handle 1.4 million tonnes of cargo annually, however we are handling almost 2 million tonnes annually.
To cater to our growth and future demand, we are investing in a brand new cargo terminal II with an additional capacity of 3.4 million tonnes. This cargo facility of the future will be a safe, smart, and green facility relying heavily on technology and automation for its material handling. It will offer faster storage and retrieval and cargo processing, enabling us to offer shorter connection for the growing demand of transit cargo. This building will be built on Leadership in Energy and Environmental Design (LEED) rating framework, which is the most widely used green building rating system in the world. Available for virtually all building types, LEED provides a framework for healthy, highly efficient, and cost-saving green buildings.
We are also certified on the following IATA/regulatory programmes, which ensure our compliance with relevant safety and security regulations and requirements along with best handling practices.
Bilen Arefaine
Complying with global standards to safeguard cargo
Ethiopian Airlines Cargo and Logistics services is the largest cargo network operator in Africa and one of the major global cargo carriers with a modern warehouse of one million tonnes storage capacity.  While delivering our services, we comply with all the standards and requirements of international and regional aeronautical authorities on each process to meet requirements and remain reliable for our customers.
We have trained manpower working on the safety and security of each cargo with the help of the latest technology.
We are IATA CEIV Pharma certified as airline and ground handling at our main hub Addis Ababa to handle all pharmaceutical shipments. Among others, we have recently signed an MoU with IATA for IATA CEIV Live Animal certification programme. Ethiopian Cargo & Logistics Services operates modern cargo terminal, which is the largest in Africa with one million tonne of annual capacity, and half of this is temperature-controlled area is furnished to handle all perishable cargo, including pharma, vegetables, fruits, and other temperature-sensitive shipments.
Our cargo service is fully automated with one of the latest cargo IT systems by adopting the latest aviation systems and technologies to provide efficient freight service across the globe. We are using the latest technologies for data, information, and market intelligence with 100 per cent e-AWB from its main hub in Addis Ababa. Recently, Ethiopian partnered with cargo.one to empower its digital transformation and digital cargo sales. From late Summer 2023, freight forwarders using cargo.one can book Ethiopian Cargo capacity to a wide range of regions, including throughout Africa, Middle East, Asia, Europe, and
the Americas.
We provide dedicated cargo services in the belly hold capacity and with our 15 dedicated freighter aircraft to over 67 cargo and 130 passenger destinations. Ethiopian Airlines continues to strive to excel in its company services towards its customers.
Alex McEwan
Embracing Tech platforms to enhance service levels
We provide a range of specialized products to connect our cargo to hundreds of destinations throughout our online, offline trucks, and interline partner networks, including high-value or sensitive cargo as well as temperature-sensitive perishable items.
We also use the revolutionary Releye® RLP and RAP containers from Envirotainer, to add to our portfolio of unit load devices (ULD) as we continue to service supply chains throughout the world. This ensures security for sensitive pharma and highly valuable life science shipments. Furthermore, we recently launched a new framework for products that was been designed to offer more choice for customers when booking.
The new framework comprises both products and service levels enabling our customers to tailor every movement by selecting the right handling, speed, priority, and price. We now offer a choice of one of three service levels, Classic, Priority, and Express, for each product.
Classic is the entry service level that delivers all the essentials to the highest standards hilst at a competitive price.
The Priority service level includes all the essentials of classic, but provides a higher priority, preferred access to space, and guarantees delivery on time for those important movements.
Express offers the fastest solution, with the shortest close-out times and highest priority to provide the quickest possible journey time for urgent or last-minute shipments.
Each product group also comes with a selection of core attributes that were  perfectly suited toward the industry's needs, including general, courier, fresh, pharma, valuable, vulnerable, cars, mail, and custom. We recently expanded our digital platform, myVSwhich enables our customers to book and manage shipments online. We are fortunate to work with dnata as our handling partner at the UK's largest commercial aviation hub. With a latest cargo centre at London Heathrow Airport, the bespoke facility allows us to have a cargo presence with an enhanced handling capacity.
Further to our partnership with dnata, we renewed our five-year contract with Airbase GSE last year, to continue the productive operation of ULDs. Our relationship covers ULD management systems, procurement planning, digitalisation, and aiding in the development of environmental management systems for a sustainable future. By recycling all Virgin Atlantic cargo nets, Airbase GSE helps us advance towards our 2050 sustainability objective and prevents 200 tonnes of garbage from going to landfills as we continue to work toward a greener environment."
Pain points
We anticipate that by 2025, a large proportion of bookings will be completed online. With this in mind, we partnered with cargo.one, online platform. Customers can customize the right handling, speed, priority, and price for their needs by choosing from Classic, Priority, and Express rates. We are looking forward to being offering further rollouts to our worldwide customers in the USA and other regions, including India soon.
Sarah Scheibe
'We maintain safety protocols throughout the supply chain'
TCE is one of the new services proposed by ECS Group as part of its new GSSA business model. Customers can opt for it as an à la carte option or as part of their TCM contract. At TCE, ensuring the safety and security of cargo is our top priority. We have implemented several procedures with our subcontracted cargo handling agent to maintain the highest standard in handling, loading/off loading and transporting various types of cargo. For dangerous goods, we strictly adhere to all regulatory requirements and industry best practices. Our staff and subcontractors staff undergo special training programmes to handle hazardous materials safely, and we maintain safety protocols throughout the entire process. We have specialized equipment and facilities to handle and transport dangerous goods securely.
When it comes to temperature-sensitive goods, including perishable cargo like fruits, vegetables, and flowers, we follow GDP guidelines and fully rely on the advanced refrigeration and climate-controlled systems from our cargo handling agents. These systems enable us to maintain the desired temperature range throughout the transportation journey, ensuring the integrity and freshness of perishable items, pharmaceuticals, and the other temperature-sensitive cargo.
Same is fully documented and controlled through our manuals, SOPs, and onsite quality audits. We have strategically contracted warehouses and sales offices that are equipped with advanced inventory management systems. These systems allow us to track and trace shipments in real-time, providing our customers with complete visibility and control over their cargo. Our subcontracted facilities are equipped with modern loading docks, specialized handling equipment, and overall efficient setups.
Taking into consideration that we are supervising the cargo operations at over 250 airports worldwide with our team 24×7.  In addition, our key focus is the quality of services, safety of the flights and security of the cargo. This makes our quality management and compliance monitoring so important for us and our mandate carriers.
Ketan Kulkarni
Our solutions integrate secure & validate supply chain network
Blue Dart provides specialized handling and packaging solutions for various types of shipments. We offer tamper- proof packaging checks and ensure secure delivery with OTP confirmation from the customer's end.
We adhere to national safety regulations and guidelines, ensuring proper labelling, documentation, and packaging to prevent any mishaps during handling and transportation. We follow guidelines set by regulatory bodies such as IATA, International Civil Aviation Organization (ICAO), and local regulatory authorities.
Security measures: Blue Dart employs various security measures to protect valuable cargo. This includes secured loading and unloading areas, 24×7 surveillance systems, tamper-proof seals, and adherence to strict protocols to prevent theft, damage, or unauthorized access to the freight.
Blue Dart invests in continuous training programs for its employees. Our staff is trained in the proper handling, storage, and transportation techniques specific to different types of goods. This ensures that the personnel handling the cargo are well-equipped to maintain safety and security.
Blue Dart provides tracking and visibility services allowing customers to monitor the movement of their cargo in real-time. This feature ensures transparency and helps identify any deviations from the intended route or delays, enabling proactive measures to address issues promptly.
Blue Dart offers temperature-controlled logistics services for preserving the integrity of temperature-sensitive goods such as pharmaceuticals, vaccines, and perishable items. Our solutions integrate a secure and validated supply chain with South Asia's leading logistics network. We ensure safe transport in frozen, chilled, and ambient conditions using appropriate cooling mediums.
Our packaging maintains temperatures from -20°C to 2-8°C and 15-25°C for varying distribution times. We provide temperature-validated solutions, from sample distribution to clinical trial services. Cryogenic Technology is employed for seamless packaging and transportation, reducing the need for replenishing cooling mediums during transit. Blue Dart Temperature Controlled Logistics guarantees safe distribution of products nationwide. With operational experience and specialized infra, including eight Pharma Grade Conditioning Rooms strategically located in Mumbai, Chennai, Hyderabad, Ahmedabad, Pune, Kolkata, Delhi, and Bengaluru, we ensure quick turnaround times and expedited delivery.
Blue Dart fosters a 'First Choice' culture and implements the First-Choice program. One of the tools we use is based on Six Sigma, the five-step DMAIC approach which defines, measures, analyses, improves and control processes. 'First Choice' is our practice towards continuous improvement utilizing world-class techniques.
Govindarajan
Cost of safety and security compliance is high in India
We are involved in providing global standards of training to shippers, packers, freight forwarders and other stakeholders in the supply chain. We are approved by Director General of Civil Aviation to offer Dangerous Goods Training.  We had been accredited to IATA as well. Though Tirwin as a company is just fifteen years old, our entire Tirwin team of instructors and consultants are former-Air Indians who are backed with decades of hands-on global experience in ensuring safety and security specially to special cargo such as dangerous goods, time-sensitive goods such as lifesaving medicines and other perishables.
Today, we have created safety and security awareness and trained thousands of professionals in India and abroad. As part of our consulting activities, we do support and help our customers in building up latest infrastructure, safety management systems and user-friendly operational processes for safe handling of cargo.  We are working for some big customers on Lithium Battery Logistics Safety Management and certification. The cost of safety and security compliance is high thus pushing voluntary compliance to the back seat.
Similarly, today the industry wants to get things done rather than getting things done in the right manner.  The challenge is in developing and nurturing a safety and security culture.  We believe culture building is not an overnight affair. It demands patience and passion, and we know that we possess both.
Sunil Kohli
Initiatives being taken to ensure cargo safety
On arrival of the reefer carrying the perishables (fruits and vegetables) at the cargo terminal, our team, at the outset, ensures to gauge the vehicle's temperature under which the goods have been transported to ascertain whether the stipulated temp was maintained during the road carriage.
Subsequently, temperature of a randomly picked box is also measured to have a comparative analysis between the vehicle's and the content's temperature actually found before the shipment is unloaded for X-ray and its further handing over to the carrier. Such action is felt essential to inform the shipper regarding the variation, if any, observed towards corrective action in the future.
The boxes are unloaded steadily with extreme care and caution and pushed for screening to ensure a minimal exposure to the atmospheric temp lest it causes its escalation in a delayed process and may further results in deterioration of the contents' quality and its shelf-life. The custodian is pre-briefed to carry the screened boxes immediately to the cooling centre under the required temperature for its subsequent loading in a pallet or container.  A well maintained and roadworthy reefer duly equipped with FASTag is arranged for the shipper with data logger installed within to keep recording the temperature during the transportation process from the Packhouse to the airport.
The drivers have been suitably directed in order to keep pace with the time and reach the airport without incurring delays in transit for refreshments, among others for taking a smooth and seamless route.
Earlier the X-ray could be undertaken with a few boxes together, but the process got modified lately with only a single box is put on machine which causes a considerable delay in screening whole lot of a shipment comprising hundreds of boxes. And unless the entire lot is screened, the boxes cannot be carried further to the cooled room for loading. Such delays in the process are bound to result in exposure of the contents to a non-conforming temperature,  which may probably cause deterioration of the goods.
Further, it is frequently observed that the shipments comprising ready to cook rice,  which arrive loaded in skids require forklifts for its subsequent stowage yet our team faces a tough time in having this action in place as usually forklifts are not readily available to swing into action. Many a times, bunching of perishable shipments occur at the unloading spot which delays the process with possibilities of mishandling.