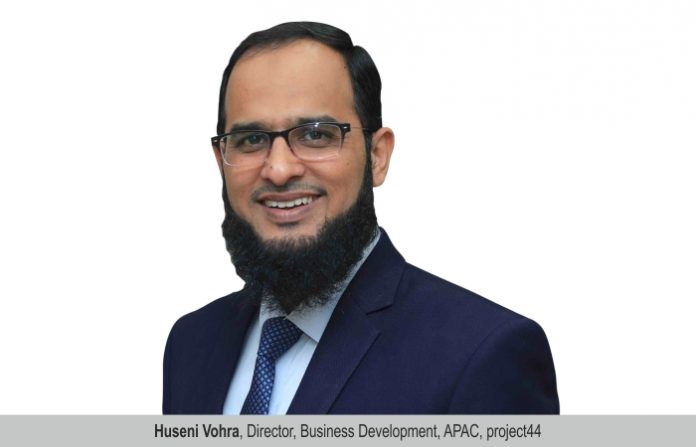 Disrupting terminal operations, port congestion are adding to the complexities for shippers. Sailing through unprecedented times with the extraordinary trade environment are reasons enough to seek more visibility into logistics operations. Huseni Vohra, Director, Business Development, APAC, project44 shares the details.
Global logistics networks have been in a state of flux, thanks to an unexpected surge in global consumption demand even in the wake of a crippling pandemic. Over this year, while ports and intermodal hubs were operating at less than capacity due to mandated social distancing measures, demand for freight capacity continued to increase. The resulting supply-demand nightmare led freight prices across all major trade lanes to shoot up considerably. The FBX global container freight index highlights the price surge. While freight prices in the China-N. America trade lanes have nearly doubled in the last year, the China-Europe trade lane has more than quadrupled in this period. High freight prices, unavailability of freight containers, and stifled operational capacity at port terminals caused friction within the maritime network, leading vessels to queue across major ports as they struggled to find space at the dock.
Aside from disrupting terminal operations, port congestion is a frustrating predicament for both carriers and shippers. The delay in vessels berthing would mean thousands of containers are stuck on-board with no possibility of being released to the shipper. Longer dwell times pressurise the already-strained freight capacity availability, increasing freight prices further. Port congestion causes shipping lines to omit crowded ports, straining other ports and lengthening delays. Delays cause the cargo lead times to run much later than scheduled, creating complexities for shippers to provide an estimated time of arrival (ETA) to their downstream clients. The extraordinary trade environment we witness today is reason enough to seek more visibility into logistics operations.
Volatility in the supply-demand equation and inconsistencies with freight schedule reliability has brought the need for visibility into greater relevance. For a shipper or a manufacturer, having end-to-end visibility into their supply chains would ultimately help optimise operations. For starters, real-time shipment tracking is a capability that is a must-have today, helping shippers monitor freight movement. project44 enables its clients to have a consolidated view of all their shipments, allowing them to keep track of maritime hiccups, including schedule changes, shipping routes, and carrier selections. Aside from providing visibility, the data streams arising from logistics operations can also be leveraged for analytics-based insights that throw up actionable information that improves efficiency.
Businesses with improved visibility can forecast consumption patterns better, allowing them to plan and contract freight capacity in advance. In essence visibility is the lynchpin that can future-proof companies exposed to the freight economy, helping them stay afloat in a highly volatile market.