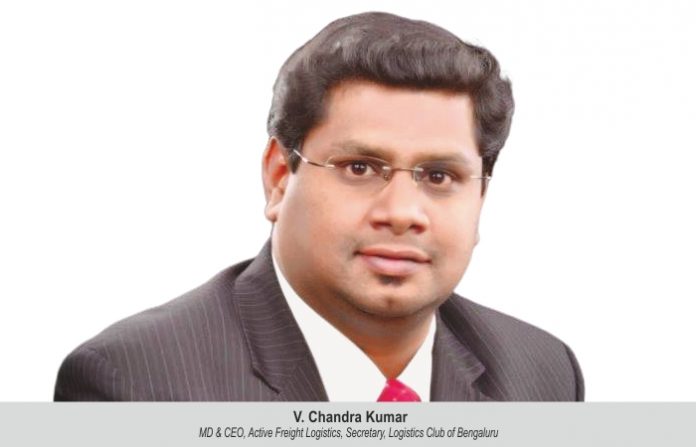 Since its inception in 2014, Active Freight Logistics has spread across the country. V. Chandra Kumar, MD & CEO and Secretary, Logistics Club of Bengaluru says, the company will unveil ultramodern warehousing and distribution nexus, and augment capacities for simplified storage and distribution, to cater to different industries.
CT Bureau
Inform about strategic pathways your company has embraced to advance its growth?
Our growth strategies were woven with a personalized approach. Our focus lies in the seamless integration of cutting-edge technology to amplify operational efficiency. We invest in nurturing talent to ensure a highly skilled workforce. Ingrained in our ethos is a commitment to a customer-centric paradigm. We have propelled our journey of advancement by harmonizing our
blueprint with prevailing market dynamics and customer needs.  of our clientele,
Timely deliveries have forced logistics enterprises to cultivate synergies with ecosystem collaborators. How formidable is the task for logistics service providers to cater to customer expectations?
The task of meeting customer expectations for timely deliveries is indeed a multifaceted endeavour. The terrain is riddled with constraints and regulatory intricacies, which pose impediments to seamless operations. The paradigm we have embraced, entailing harmonious partnership with ecosystem peers, provides us with the vantage point of shared resources, route optimization, and the augmentation of last-mile connectivity. While challenges are an indelible part of the landscape, our partnerships empower us to navigate them with finesse.
How does AFL organize supply chain orchestration, while striking an equilibrium between competitive pricing, safety, and product quality?
From possessing our own customs broker license, multimodal transport operator status, and IATA accreditation to our fleet of transportation resources, differentiating factor lies in our capabilities. The factor, however, extends beyond these facets. We also harbour a steadfast dedication to a three-fold trinity: quality, safety, and an affordable pricing framework. Our investments in technology underpin the simplification of operations, transparency, and the potency of real-time tracking mechanisms. By nurturing an unwavering focus on safety protocols, we safeguard both cargo and personnel. Our approach to personalize customer service equips us with the dexterity to tailor bespoke solutions, a practice that cultivates trust and fortifies enduring partnerships with our clientele.
Apprise us of the expansion strategies or impending projects on the anvil?
We will soon unveil ultramodern warehousing and distribution nexus, nestled in a pivotal logistics nucleus. This enterprise will augment our capacities for streamlined storage and distribution, thereby catering to several industries. We are exploring all strategic alliances for extending our operational ambit in order to encompass uncharted geographies.
This initiative would empower us to deliver solutions to our clients. We are dedicated to the realm of pet relocation, a domain untouched by major industry players. I spearhead our International Pet Relocation division, driven by an unyielding ardour for handling the intricacies of pet transportation. Today, we stand triumphant in guiding numerous pet parents through a meticulous checklist, bolstered by adherence to the exacting guidelines outlined by the IATA Live Animals Regulations.