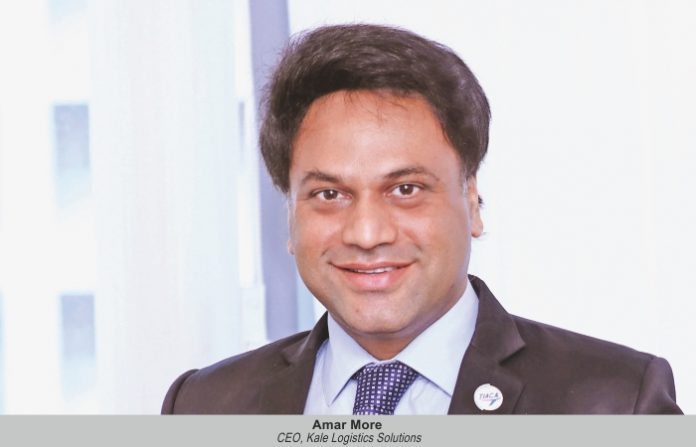 National Logistics Policy is a collaborative process. It covers all aspects of logistics, including the technology factor. I believe we are on the path to create some of the best logistics infrastructure, including DAFC, says Amar More, CEO, Kale Logistics Solutions.
Do you think tech industry has the right skill set to provide best in class solutions, and is the global logistics industry ready to embrace new technology?
When it comes to adapting new technology, it is not a one size fits all approach. With a high level of customization and integration with infrastructure in place, the execution of digital transformation projects has proved to be challenging for the tech industry. Essentially, it is a human skill set and element that trains AI or software for predictive insights, logical action, and makes sense of multiple data points within the business context. As an industry, we are no longer looking at simple IT skills for development of
the solution.
Nonetheless, the focus has shifted to skills such as business acumen, data analytics, decision science, and communication. The pandemic has supported the bloom in the IT industry, and it is evident the demand-supply gap must have the right skills. Modern tech enablement firms are more focused on standalone solutions, working on a single problem, for example, IoT sensor base cargo visibility solution.
However, their client is keen to inspect an integrated approach toward single umbrella solution deployment. But with legacy enterprise systems in place, the new implementation may disrupt the existing process flow and business activities, hence, organizations are reluctant to invest in the upgradation of existing infrastructure amid a lurking recession.
However, there is no denying the fact that tech adaption results in cost savings and enables a business to reach an optimum efficiency level. We see there are steady steps towards digital transformation across the industry.
Anything new you have instituted to embody commitment to innovation and marketing approach in your contracts in the past few years?
A Cargo Community System occurs with some limitations as it has geographical boundaries. To overcome the same and achieve better synergies globally, one has to think beyond Cargo Community Systems.
This brings us to the future of Cargo Community Systems i.e., Digital Trade Corridor. Digital Air Freight Corridor strives building a transparent supply chain through exchange of real-time status of shipments between two airports and exchange of shipment data to eliminate duplicate processes.
For example, shipment arrival information can be shared in advance to the rightful stakeholders at the destination airport so that the customs, handlers, and other stakeholders are prepared to handle the incoming freight on time. We have set up the first Digital Air Freight Corridor between India and the Netherlands, powered by Blockchain. Another significant offering is the e-Marketplace, offering competitive pricing and transparency of the best shipment options across all modes of transport.
The platform connects supply chain stakeholders such as freight forwarders, customs brokers, shipping lines, airlines among others and enable them to adopt modern logistics practices that will allow better response to customer demand, increased efficiency, and a competitive industry landscape in air cargo space. The platform can connect with third-party systems, Cargo Community Systems and systems of the airport authority and terminal operators to provide status updates.