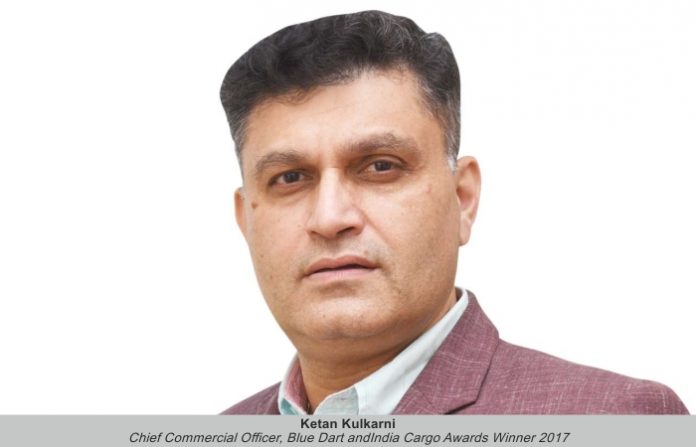 Though transport curbs threatened us, we steered through them, thanks to our leadership team. This is not all, we also work with major e-Commerce players who account for 70 per cent of business. Innovation is the benchmark of survival for organisations now, says Ketan Kulkarni, Chief Commercial Officer, Blue Dart.
Priyanshi Bana
What were the challenges faced by Blue Dart during 2020 & 2021 and how did you manage to overcome them?
The pandemic has been an integral part of our lives over the past two years; the challenges experienced initially called for acclimatizing to the New Normal.  Blue Dart, as the nation's Trade Facilitator, had to provide solutions on how to ensure efficiency without compromising on health and safety of our colleagues and customers. Transport curbs, providing for essential service passes, workforce migration to their villages were some of the difficulties that we navigated through. Leveraging the advantage that India's geographic disposition provides us, we actioned our Business Contingency and Continuity Plan (BCCP).  Accordingly, the leadership team provided guidance to all frontliners and pilots ensuring 'Safety First' was practised, no matter what. Thousands of hours of Safety SOP training and introducing the Contact Less Delivery Service (CLD) ensured that our frontliners and, in turn, our customers were safe and healthy. Transport curbs posed a potential threat and we navigated our way around them using our aircraft. For us, 2020 was the 'Year of the Pandemic', where success was measured on the basis of survival and resilience and not on the parameters it is weighed against.
The year 2021, however, witnessed the beginning of a new COVID-19-acclimatized world. The search for a corona vaccine meant that people would now be readying themselves to live life with the virus.;  Once we overcame the initial challenges COVID-19 posed, clinical trials of the potential vaccine candidate began. We have also ramped up our Temperature Controlled Logistics Services to ensure a seamless temperature sensitive supply chain for the vaccine against COVID-19. The second wave, and the resultant lockdown, stressed on the need for last-mile efficiency as demand for oxygen concentrators, oxymeters and other critical equipment catapulted across the nation. Blue Dart's supply chain network ensured that we were able to fulfil our role as Trade Facilitators.
Further, we leveraged drone-technology in the form of Blue Dart Med-Express Consortium, to extend our reach and build a healthcare infrastructure for areas that are otherwise difficult to access. The Blue Dart Med-Express Consortium will deliver vaccines and emergency medical supplies to the Indian heartland.
How has the pandemic and rise of e-Commerce impacted the growth trajectory of Blue Dart?
e-Commerce and logistics came into the spotlight during Covid-19. Actually,.  it already obtained prominence prior to the pandemic outbreak. It gained momentum during COVID-19 as everything from groceries to consumer electronics were sourced online. Logistics and e-Commerce, meet at crossroads, not unlike other industries, as logistics plays a key role in the success of any business or industry vertical.
e-Commerce forms one of the major sectors that Blue Dart operates in. We work with all the e-Commerce majors in the country from the largest players who account for 70 per cent of the e-Commerce business in the country, to a robust long tail. As South Asia's Trade Facilitator, Blue Dart is the preferred Provider of Choice for many e-Commerce majors in the country given our reliability, resilience and efficiency. e-Commerce was a segment that became popular with our customer base. The pandemic only fuelled this trend by closing shopping malls, retail stores, and imposed travel curbs.
This growth, over the last two years could be seen to increase, especially around the festive season not only from tier-I cities, but also with new shoppers being added to the fray from tier-II, tier-III and tier-IV cities. This is a result of technology making e-Commerce available across the Indian heartland.
As part of the DPDHL Group, Blue Dart has access to 220 countries across the world, apart from 35,000 locations we service, domestically in India. During the pandemic, we flew our fleet of Boeing 757-200 freighters across the nation and across borders. Blue Dart is known for its strong domestic network which extends connectivity across our nation. Leveraging the use of the drone flights, we intend on extending this service across industry verticals, including the e-Commerce segment.
Since a lot of medical cargo was being transported last year, what other goods were in demand in 2021?
The year witnessed industries across verticals coming back onto the recovery path. Green shoots emerged as various positive indicators such as GDP growth, an increase in GST collections among others were observed. This was a result of organizations and the economy at large, acclimatizing to COVID-19 and rising above it.
Blue Dart, as the market leader in the express logistics segment, is the backbone to a majority of organizations across verticals. Open customer communication channels as well as assessing the large volumes of shipments suggest that apart from medical cargo, e-Commerce shipments, consumer durables and consumer electronics are the bulk of shipments that were carried.
How did digitalisation help in moving seamless deliveries?
The express logistics industry is customer-centric and customer experience is what sets us apart.  Ensuring a smooth and hassle-free experience for our customers is always a priority. Therefore, we went over every touch point and reconfigured anything that could pose as a potential challenge for us in the future. Application Programming Interface-based solutions for our customers have been enhanced to ensure seamless supply chain, from pre-pickup to post-delivery (inclusive of collections). A Control Tower was built for proactive 'Track & Trace' of shipment movement where the consigments are scanned from pickup to every transit point till delivery using barcoding and laser scanner technology, transmitting updates to the Oracle database.
Innovation was in full swing as we leveraged technology to induct new initiatives to improve our benchmarked customer-centricity. We have recently concluded the drone delivery trials and we look forward to extending these services across the nation.
Can drone deliveries become a reality in near future?
I firmly believe that drones are not a future innovation, rather it is becoming a reality even as we speak. However, we must remember that the modern supply chain will include lean operators that are able to ramp up and achieve high service levels at a very short notice. Technological leaps such as drone delivery, real-time ordering, end-to-end inventory visibility, autonomous warehouses and a use of robotics is what we can expect the future outlook to reflect.