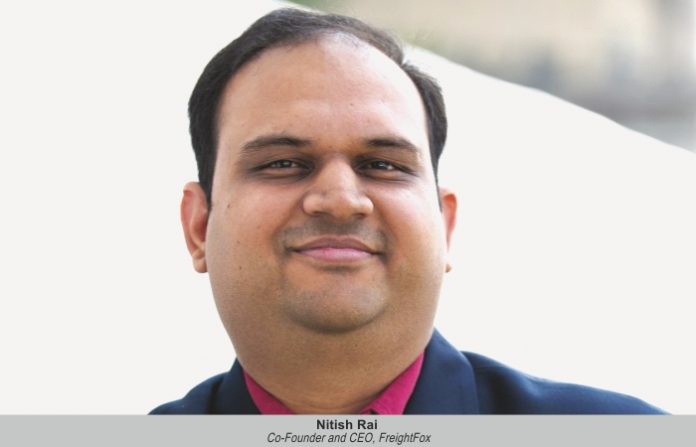 Today, consumers' demand cheapest products and have multiple options to choose from, resulting in the need to enhance supply chains competency. To profitably scale amid this changing consumer behavior, customers need better control and responsive decision-making, says Nitish Rai, Co-Founder and Chief Executive Officer, FreightFox.
Ritika Arora Bhola
How streamlined are your efforts towards customizing and designing tech-enabled logistics solutions?
FreightFox uses proprietary data-driven algorithms and advanced machine learning to deliver best-in-class insights for our customers. The five main points include
Freight spends analytics to identify gaps that can be closed in planned vs actual spends.
Freight procurement strategy to deliver a tailored freight plan for each client based on the needs of the business.
Freight market intelligence, tapping into millions of data points and real-time freight benchmarking, correlating the external market intelligence with the manufacturers' operations.
Freight capacity, connecting clients with the ecosystem of diverse transport partners most suited to their needs.
Freight procure-to-pay, an end-to-end platform for the complete freight lifecycle, including tracking and tracing of goods and services.
Our pricing strategies vary based upon the opportunity of value creation. For our SaaS offerings, we charge a subscription fee (priced differentiated based on the size of the customer's network) and a certain per cent of the gross transaction value as a fixed fee for major events done through the platform.
Could you tell us about your loyal clientele in India? What do they 'seek' and how successful have you been in fulfilling their demands? Can you name some of your clients?
Our clients, or the manufacturing industry in general, is going through a transition of evolving consumer needs. Today's consumers demand the cheapest products at the fastest possible speeds, and have multiple options to choose from, and that is why it is the supply chains that are competing today, and logistics is the most uncertain piece of the puzzle. To profitably scale amid this changing consumer behavior, our customers need better control and responsive decision-making, which is possible only through a unified digital platform such as FreightFox.  Our customers are from segments such as Automotive and auto ancillary. The manufacturing industry is undergoing considerable changes as customer needs are evolving. Everyone wants the best products within the shortest timeline, for which logistics is the most critical and the most uncertain piece of the puzzle. Profitably scaling amidst this requires responsive decision-making and better control over the supply chain, which is what a unified digital platform like ours provides. We are fortunate to have as our clients leading brands from various industries such as automotive and auto ancillary, FMCG, energy among others.
Tell us how you identify 'crucial pain points', while providing efficient and reliable business solutions to stakeholders and other clients?
It is vital for businesses in any industry and of any size to recognize that personalization is no longer a choice. Consumers do not just buy products, they expect 'product as a service', which, simply put, means that they want the products of their choice at the time and place of their choice. This requires massive shifts in the logistics industry as it becomes tied up with the product itself. We have done extensive research on the unique needs of each industry we cater to, and it is more diverse than one might expect. For instance, auto-ancillary has relatively shorter delivery timeframes and strict schedules, and frequently suffers from low transparency owing to the disconnected nature of the supplier network. We work with our clients to offer custom solutions based on these challenges—just like with consumer products, there is no one-size-fits-all that works here.
How do you exploit technology in truly meaningful way to create business value for your clients?
India's road transport network is highly fragmented, as are most supply chains. This has historically led to multiple delays and near-zero visibility on shipments, especially in remote parts of the country.   We address this by using advanced algorithms and millions of transportation data points to provide the best network design and suggest the best transport partners and optimal fleet size to fulfill any given requirement. We use predictive market intelligence so that clients pay the right prices for any route and minimize unplanned transport costs. Plus, with our visibility solution, clients are informed about where their goods in transit are. And for each new client, we conduct a Procurement Process Assessment so that they can benchmark themselves against their direct competition and the market in general. This will help companies optimize their procurement decisions.
How do you ensure zero disruption or interruption despite growing data volumes and demand?
As more SaaS solutions emerge, the support ecosystem has evolved to keep pace with it. Our SaaS platform is hosted on the world's most secure cloud environments, which ensures best-in-class reliability, scalability, and data security for our customers.
Do you think the tech industry has the right skill set to provide best-in-class solutions and if the global logistics industry is ready to embrace technology?
Any new technological innovation is always driven by the early adopters to begin with. The logistics industry is becoming more technology positive. We have seen it happen for many SaaS solutions that were designed in India, and we are confident that it will happen for us too.
Anything new you have instituted to continue to embody the commitment to innovation and marketing approach in your contracts in the last few years?
Earlier this year, FreightFox collaborated with researchers at Yale University to develop responsive freight contracts, which not only consider the varying cost structures for truckers, but also account for supply and demand gaps to come up with fair freight rates. Responsive freight contracts will bring trust and transparency into the shipper-carrier relationship and enable greater efficiencies at scale. We will be testing this with a large Indian manufacturer over the course of the next year.