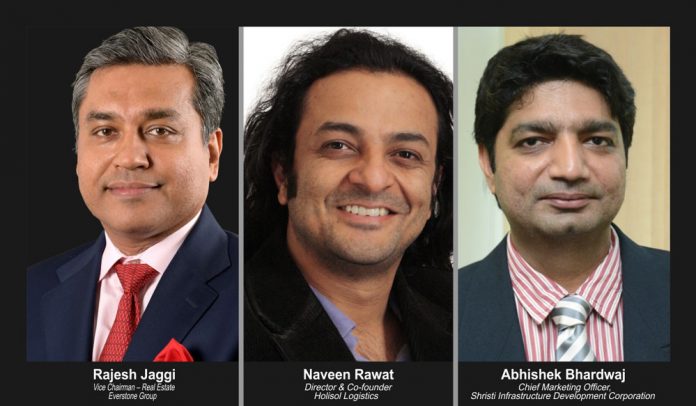 Indian e-commerce sector is rapidly increasing and shrinking delivery times are highlighting the need to have fulfilment centres in the city. CARGOTALK explores the possibilities of having small fulfilment centres in the middle of the city or Grade-A warehouse in the outskirts of the city or having a mix of both to keep pace with e-commerce demand.
Kalpana Lohumi
The warehousing sector in India has gained prominence in last few years, predominantly with the implementation of Goods and Service Tax (GST) in 2017. The Central government has also granted infrastructure status to the logistics sector including warehousing, in the same year. As the warehousing sector in the country was moving towards formalisation, the sector has also explored many new formats and one of them is in-city warehouses.
E-commerce has been the major driver of innovation in warehousing and the idea of setting up warehouses in the middle of a city will fulfil the requirement of being able to be as close to the customer as possible. Commenting on the role location plays in the game of 90-minutes delivery to the customer, Rajesh Jaggi, Vice Chairman – Real Estate, Everstone Group, says, "Growing urbanisation and e-commerce penetration has resulted in customers demanding faster and timely fulfilments. In highly populous and urban locations within India, the e-commerce sector is rapidly transforming from a two-day delivery to a two-hour delivery model for select SKUs. Presently, this is mostly popular for grocery /FMCG & other time-sensitive SKUs. A two-hour or 90-minute delivery is only possible if e-commerce and logistics companies invest in a fulfilment centre or stocking point within the city, in close proximity to high consumption/spend locations, and with good accessibility that ensures smooth movement of inbound and outbound traffic. For warehousing facilities outside the city, a two-hour delivery is nearly impossible as inbound trucks face severe traffic congestion and time restrictions while entering the city."
"A 'new normal' is emerging when it comes to the delivery speed that customers expect while ordering online. The narrative is being driven by the likes of Amazon, placing increasingly more pressure on others to respond accordingly. The one central requirement for a 90-minute delivery promise is a dense network of fulfilment centres located within the consumption hubs. The distance between the fulfilment facility and customer must be kept to a minimum to ensure quick deliveries are possible within the promised delivery windows," says Naveen Rawat, Director & Co-founder, Holisol Logistics.
Calling location an important factor in 90-minute delivery promise, Abhishek Bhardwaj, Chief Marketing Officer, Shristi Infrastructure Development Corporation, explains, "With the ongoing global pandemic in view, the warehouse industry sector in India has seen a high rate of growth. As exposure to the virus is a great cause of worry, more consumers are seen to shift from buying goods physically to buying the same through online portals. It is in this regard, that the warehouse sector is witnessing a rise in demand in the country. For a 90-minutes delivery promise, the key lies in the location. As in our case, warehouses of Shristi Infrastructure are strategically located in Siliguri and Raniganj that are the respective gateways to North and South Bengal. This will give the e-commerce companies a better scope to fulfil their delivery promise."
Presently, having fulfilment centres in the middle of the city is yet to make a mark in the country and developers are moving out of the city to peripheral markets where abundant land is available at a relatively cheaper rate. However, rapidly increasing sales and shrinking delivery timelines in the e-commerce sector highlight the need to have small fulfilment centres within the city. Considering the complexities related to cost and availability of land, the question remains what is more meaningful; a small fulfilment centre in the middle of the city or Grade-A warehouse in the outskirts of the city or having a mix of both to keep pace with e-commerce demand. On this, Rawat says, "A hub and spoke network involving both are required to be able to serve the burgeoning e-commerce demand and the challenges it is bringing to the supply chains in terms of speed, complexity, and efficiency. Regional fulfilment centres are required to replenish the multiple city fulfilment centres. These facilities will store much larger inventory in terms of SKUs and quantities. These will act as central stocking points for a region and offer efficiency and economies of scale. On the other hand, city fulfilment centres are required to enable on-demand fulfilment to end customers. These facilities will store smaller inventories both in terms of SKUs & quantities and will be frequently replenished from the regional fulfilment centre. These centres will enable on-demand deliveries."
According to Jaggi, "Both of these warehousing formats are relevant as they serve different purposes depending on customer delivery time expectations. A warehouse on the outskirts enables organisations to build inventory stock for the entire city/region spanning consumer verticals (FMCG/FMCD/Chemicals/ Pharma/Auto parts, etc.) and SKUs. This will typically allow organisations to make deliveries to their customers within 24 hours. On the other hand, an in-city fulfilment centre enables organisations to make faster and more frequent B2C deliveries throughout the day (no time restrictions) for very select time-sensitive SKUs."
"It is important to have a Grade-A warehouse strategically located in the outskirts of the city or at important locations acting as gateways to newer geographies. This can be coupled with smaller fulfilment centres in metros. This will ensure a 360-degree solution for the e-commerce customers who are looking for warehousing solutions," says Bhardwaj.
Q What are the challenges?
Sharing the challenges of setting up fulfilment centres in the middle of the city, Jaggi explains. "Being closer to consumption hotspots is always desirable, however the biggest challenge is to find decently sized, compliant land parcels at feasible pricing. For standardised automation facilities to be put up; the required area also needs to be standardised and such magnitude of land is predominantly available outside of the major cities."
Explaining the cost factor, Bhardwaj says, "While smaller fulfilment centres with automation facilities in and around the city will provide the necessary impetus for the growth of organised warehousing, the cost will definitely increase if it is located in the middle of the city. So, a detailed cost benefit analysis needs to be worked out."
The in-city fulfilment centres facilitate the shrinking delivery timeline requirements of e-commerce especially in fast-moving segments like grocery, FMCG & perishables etc. Rawat lists the major challenges in setting up in-city fulfilment centres:
Availability of suitable land/facilities; land usage policies in cities are usually not favourable to warehousing and hence industrial/commercial land/facilities will have to be used
High cost of land and rentals
High cost of construction for multi-storeyed RCC structures as compared to PEB structures
High automation requirements and costs to ensure optimal storage capacity utilisation and throughput maximisation.
"However, the major benefits of setting up these in-city fulfilment centres are that it serves the requirement of on-demand deliveries and minimises order to the delivery time and the last mile transportation costs," Rawat adds.
Why land is such a challenge?
Explaining the nitty-gritties, Jaggi notes, "There is a lack of data on small towns for better benchmarking and only local brokers and intermediaries deal in land and not major IPCs. Buying large land parcels is always a challenge due to low availability or when many small land parcels need to be aggregated. The scale of opportunity in smaller towns is not much; hence it is not very feasible to set up large parks. For large institutional players, it is very important that the scale of opportunity is bigger to provide a modern quality product and bandwidth, and for the management of international standards. Also, the local HNIs and developers engage in old age practices and follow undercutting in business model, which makes institutional product less competitive."
"To address the challenges related to land acquisition, our investment strategy is to strengthen the regional presence of our investment teams. This has enabled us to focus our efforts towards completing multiple due diligences processes parallel and in a time bound manner," he adds.
According to Bhardwaj, "For smaller centres land is not an issue and is generally available, though cost might be an issue. Availability of continuous stretch of larger volumes of land can be a constraint," in adding, "We have been ahead of the times in this regard since we already have our warehouses at strategic locations. With the increase in demand for organised warehousing during and post-COVID times, we are ready to cater to the existing surge. In fact, as a part of our expansion plan we are looking at expanding our existing facilities as well as exploring for newer spaces closer to the metros so as to provide one stop solution to the customers."
Explaining further, Rawat says, "One of the challenges regarding land for setting up warehouses in the city is the existing zoning laws. The current zoning laws in cities are not suitable for warehousing and hence these facilities will have to be set up in industrial/commercial zones and hence would be expensive."
"But land /real estate costs in cities are what they are. The way to overcome this costly real estate challenge is to maximise the storage capacity utilisation ensuring every possible cubic inch space within the facility is optimally utilised. As many a times, existing industrial/commercial buildings may have to be retrofitted, there needs to be a very strong focus on scientific layout and design covering vehicle access and vertical movement of goods. The other consideration would be to bring the handling costs down by maximising the throughput. Innovative automation must be used to meet the objective of serving customers quickly as required and at the same time keep the costs under control," he elucidates.
Policy infrastructure
The warehousing sector has made tremendous progress in the past few years due to backing of both union as well as state governments. Jaggi highlights the policy reforms and initiatives to boost infrastructure development across the country to streamline the logistics cost. He points, "Many state governments also offer incentives such as subsidies on capital interest and infrastructure interest as well as waiver of stamp duty, to set up warehousing and logistics parks in their respective state. Moreover, the warehousing sector comes under 'infrastructure' – the introduction of GST few years back and the push in terms of infrastructural development initiatives such as highway construction or Bharatmala and Sagarmala programmes have contributed to the growth of warehousing industry in India."
"There are areas where the government's support will help to strengthen the warehousing sector. If the process of finalisation of NCZ areas speeds up, the lands that could be diverted for purposes other than environmental conservation can be identified faster," he continues.
"Policy initiatives like GST, 100 per cent FDI in warehousing and the increased government emphasis on augmenting trunk infrastructure have been a plus for the warehousing sector. The draft logistics policy is under discussion and various states are also coming up with their own independent comprehensive logistics policies. What needs to be done on priority is to have a fully operational statutory framework in place at the earliest. Also, an attractive fiscal incentive mechanism and a friendly regulatory environment would go a long way towards India realising its logistics potential," concludes Rawat.