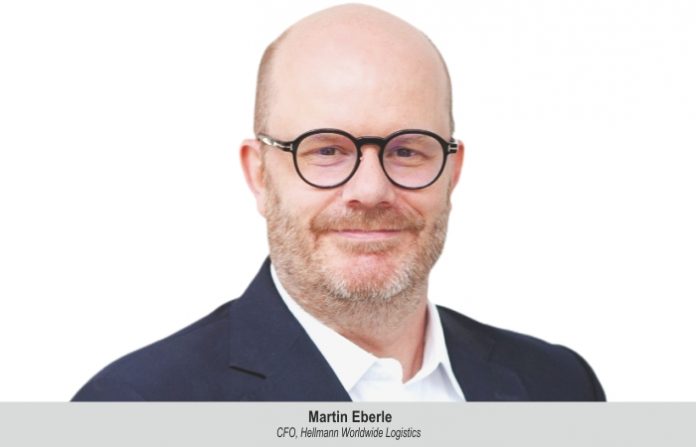 Transportation plays a big role in pollution and emissions worldwide, sustainability is important for us. We have many initiatives to increase our sustainability, says Martin Eberle, CFO, Hellmann Worldwide Logistics. By Q4 2023, we will have 150% of their shipments on Cargowise tech platform, he adds.
Today, where do trade activities with India stand? How do you think of India as an investment destination?
India is an important market for us. Of late, many foreign players have shown great interest in the Indian market, be it shipping or producing. In fact, we have, within our own network, witnessed increased business activities with India and I believe, this is going to continue in the years to come.
How are you planning to expand your network in India?
In India, we have about 20 branches. As the cities keep growing in India, we will open our own offices in those cities when it becomes viable. We plan to open five or six more offices in the next two to three years.
Tell us about the genesis of your business operations and offerings in the Indian market and abroad?
We are doing mainly CNN Freight and contract logistics. So that is the scope of our business. We have 20 branches in India and are planning to invest in a few more in the next two, three years. We operate in 60 countries worldwide and have a partner network of 489 branches in 173 countries to expand our network, we have begun operations in six countries in the past three years and are planning to operate in four more in the next 12 months.
How was the year 2022 for Hellmann International? What are the growth strategies adopted to achieve 2019 levels in the new normal?
2022 was a challenging year because the supply chain disruptions made it difficult to move cargo and that put a lot of pressure on our staff. Nonetheless, we were able to offer solutions to our customers and increase shipments throughout the year. Overall, we have recorded good financial results, which will help us to pursue our
strategic initiatives.
Can you elaborate upon your growth strategy to move ahead?
Our strategy is to grow our business. We are a medium-sized international network, so we must make sure that our inhouse companies have enough throughput. We feel we can work this out as a family company being long-term oriented, thereby also having long-term solutions for our customers.
Tell us about the recent innovations and developments done by your company?
Our company has seen a massive transformation. Until 2017, it was managed by the family members and was then transitioned into a non-family management. We have spent time in building up structures necessary for a company of our size. We have adopted a major investment package to significantly drive digitization forward. Whilst we have sound systems in place, they must be renewed, as they are in parts outdated. By this year-end, we will have 50 per cent of our shipments on the new system, which is Cargowise and by next year-end, we will migrate 90 per cent of the files. This is the big initiative to make us future ready for new innovations. Given that logistics is a people business, we have also invested in the initiation of a new corporate culture—the Hellmann Promise. It does not only define the values we stand for but also our common global vision: For the better. Together.
How much emphasis has been laid on sustainable operations to cut down on emissions?
Transportation plays a big role in pollution and carbon emissions worldwide. The topic of sustainability is important for us as a company but also for our shareholders because, as I said, we are a family company. We are not public listed, so the shareholders are concerned how the company uses its resources. We have a multitude of initiatives to increase our sustainability standards. One is buildings, we own to make them more energy efficient. Second is transport equipment that we own, trucks, trailers, to make them carbon friendly. We are working with startups to find new ways of doing it. And then, of course, for sea and air freight, we are working on initiatives such as SAF.
We are working on a project with drones for mid-range transportation. And I think it is important for us as a logistics supplier that we ensure transparency of emissions so that if a customer ships with us, he/she gets clear data about their carbon footprint. That is something we are working on, and with our "Smart Products" we have solutions in place that can secure that.
How crucial is technology to enhance operational efficiency, cut costs and transit time?
Digitalisation is something, which has been here for a long time and that will never be completed. As such, digital developments are key for making logistics more efficient and to fulfil the demands of our customers. As I said, we are changing all our main operational systems, but that is just to provide a platform on which we can build future innovations.
Do you think it is sufficient to fill the demand-supply gap or is there need for improvement?
Every time I come to India, I feel how vibrant this country is, how fast it is growing. However, I think India should consider improving the infrastructure to support the future growth that this country will undertake.
What are the crucial areas of concern now?
There are, of course, the major global challenges that we all face. The central issue here is sustainability and, in this context, climate change. On the other hand, the world is changing, and so is the geopolitical situation. I think India is in a good position to benefit from these changes.
What is your target for the coming years?
Technology, as I said, is the future. We will have our own digital system by 2024-end to track freight business. We are changing our finance system, and customer relationship management system. Everything will be digital soon.