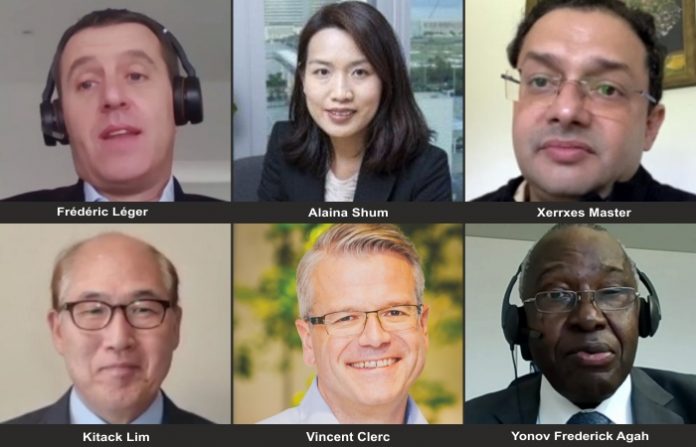 The 10th ALMAC was jointly organised by the Government of the Hong Kong Special Administrative Region (HKSAR) and the Hong Kong Trade Development Council (HKTDC). According to the experts, the collaboration between governments is crucial for vaccine's air logistics. The authorities should expedite the release and clearance of goods to avoid bottlenecks at borders.
In the Air Freight Forum on Day One of the 10th Asian Logistics, Maritime and Aviation Conference (ALMAC), air cargo community stakeholders shared their views on the industry's outlook. In a discussion moderated by Yvonne Ho, General Manager, Hong Kong and Macau, International Air Transport Association, Frédéric Léger, Director APCS Products, International Air Transport Association, said that collaboration between governments was crucial for vaccine air logistics, suggesting that authorities arrange fast-track vaccine delivery and expedite the release and clearance of goods to avoid bottlenecks at borders. "The key factors depend on where the vaccines will be produced, where they are going, where they will transit, how many doses per person, and the time between injections," Léger explained.
Alaina Shum, General Manager, Aviation Logistics, Airport Authority Hong Kong, said, "COVID-19 vaccines would generate about 65,000 tonnes of airfreight but with challenging requirements such as ultra-cold storage, cool dollies, apron shelters and airport-wide IATA certification." She added that Hong Kong International Airport (HKIA) was already fully equipped to meet these requirements well before the pandemic outbreak.
Magnitude and scope of India's logistical movement is huge
Explaining the nature of Indian logistics industry, Xerrxes Master, Vice President, Association of Multimodal Transport Operators of India, said, "The size of the Indian logistics industry is US$250 billion; it's a highly fragmented industry with hardly 10-15 per cent owned by organised players. So, one can imagine the magnitude and sheer scale of industry and what it is really capable of. However, slow but steady progress has been made at every step. Indian government, in the last five to 10 years, has really supported multi-modalism; one of the prime examples is the development of inland waterways and the coastline which has been neglected all these years and which is really not being used to its full potential."
"AMTOI also have worked tirelessly to submit a Whitepaper to the government to appoint SRO or self-regulatory organisations. It is not the business of the government to govern the industry, we have to self-regulate ourselves and report to the government that everything is correct and well and ensure that businesses are being done in a transparent, legal and proper manner," he adds.
Hong Kong as an International Maritime Centre
The pandemic has also created concerns for the maritime industry. During the Maritime Forum held  on Day One of the conference, Kitack Lim, Secretary-General, International Maritime Organization, shared his thoughts on business prospects and said the industry faces two major challenges – digitisation and carbon-dioxide emissions reduction. The industry could not avoid the issue of energy transition and the reduction of greenhouse-gas emissions and had to meet the Paris Agreement target of halving fossil-fuel usage. Lim said investment in research and development and infrastructure is one of the solutions, adding that innovations through digitisation and artificial intelligence (AI) were also necessary.
Vincent Clerc, CEO of Ocean and Logistics, A.P. Moller – Maersk, said, "The shipping industry had begun to rebound at the end of the second quarter of 2020 and demand from October to November had even exceeded expectations. The most relevant services and technologies had been digitised for some time, but the COVID-19 pandemic has accelerated the process with customers also looking for more digital solutions."
He believed the industry has already achieved higher standards than required by the International Maritime Organization in terms of sustainable development and carbon emissions reduction.
WTO addresses industry recovery
In the Closing Plenary session, Yonov Frederick Agah, Deputy Director-General, World Trade Organization (WTO), said, "The impact of the pandemic on the logistics industry has been widespread, with global air-freight and ocean-freight volumes shrinking substantially amid land border closures, along with a halt to business travel that is crucial for connecting trade and managing global value chains. There is an unusually high level of economic uncertainty right now. If the second wave of COVID-19 is better managed and vaccines are available soon, it could add three percentage points to trade growth."